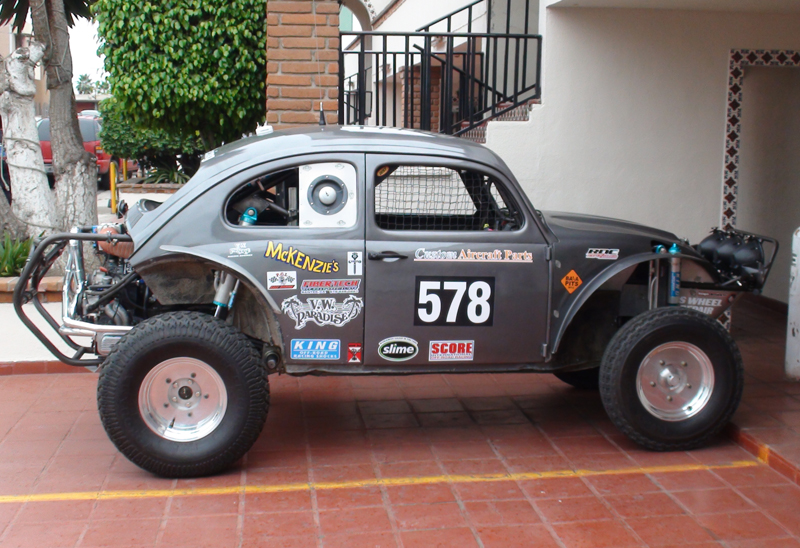 Still pretty on Race Day morning.....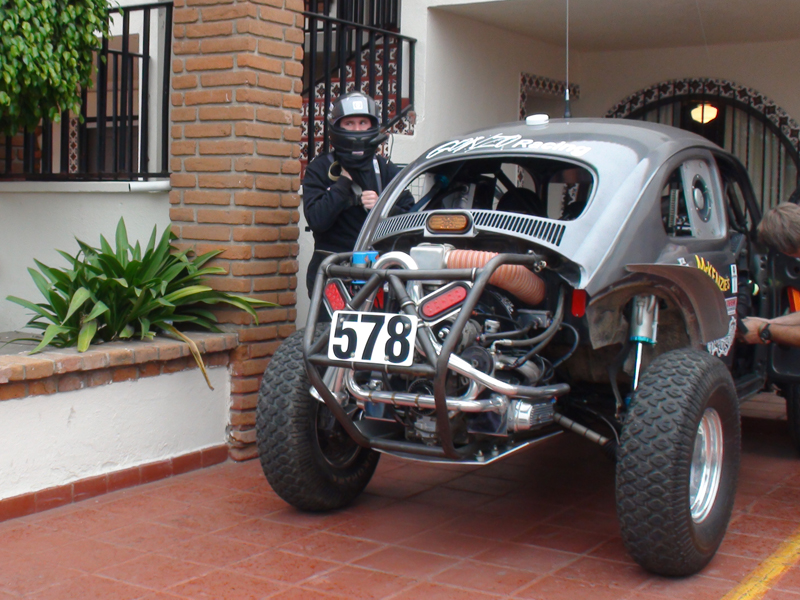 Trevor putting on his "game face"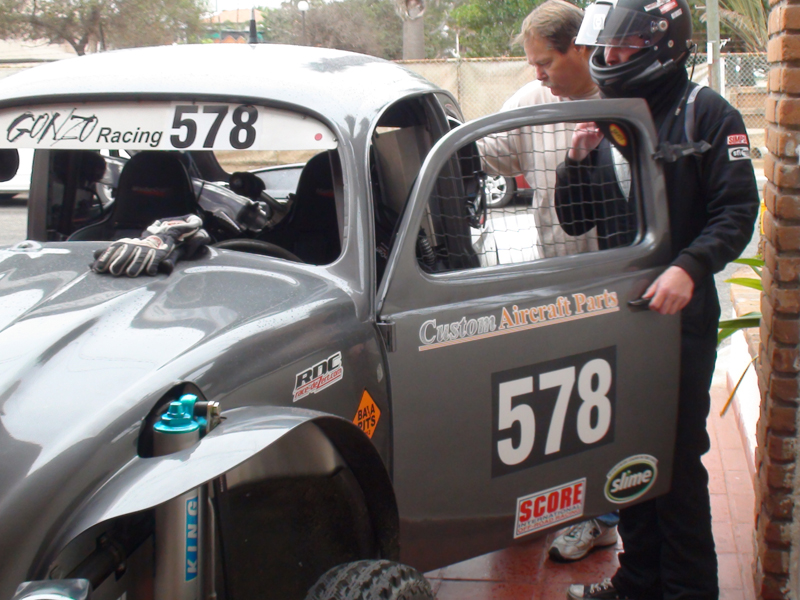 Trevor and Mark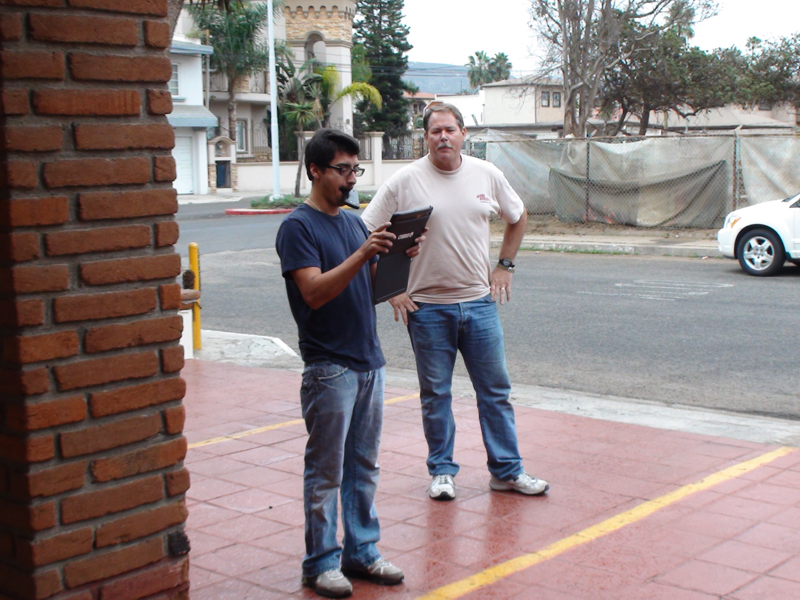 Victor and Mark
We can't thank Victor enough; beside being a great co-driver, he brought the "West side" chase team and our other co-drivers
to the party with him. I was tied up in Memphis for the entire time since the Baja 500 and without Victor's help, it would have
been tough to pull it all together in time.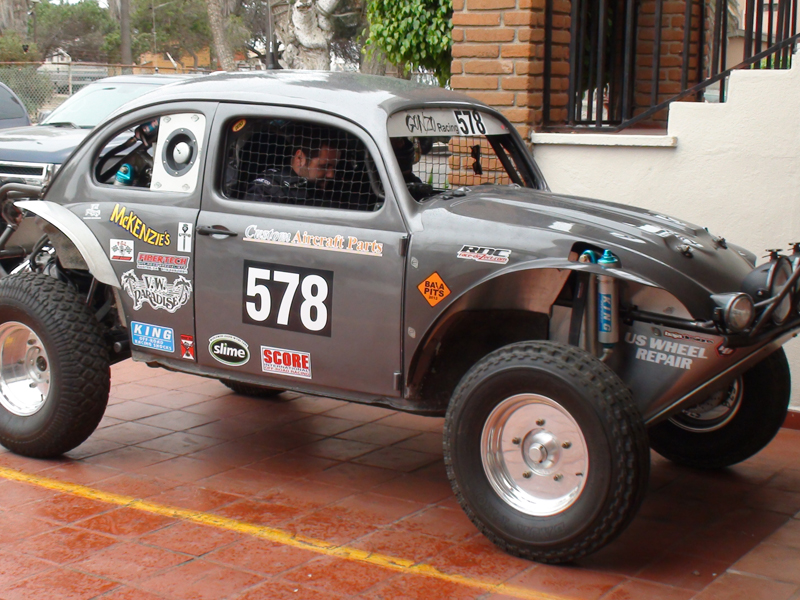 Trevor and Ruben about to leave for staging
Trevor says that Ruben is a great co-driver, he'd race with him any time!
Sal Fish shaking Trevor's hand and wishing them a good race at the start
Sal is the president and CEO of SCORE International, the sanctioning body for the Baja 1000 race. Reading his lips, it
looks like he's saying "Have a good race, see you in La Paz". Sal is there shake our hands at the start and finish lines
of every race.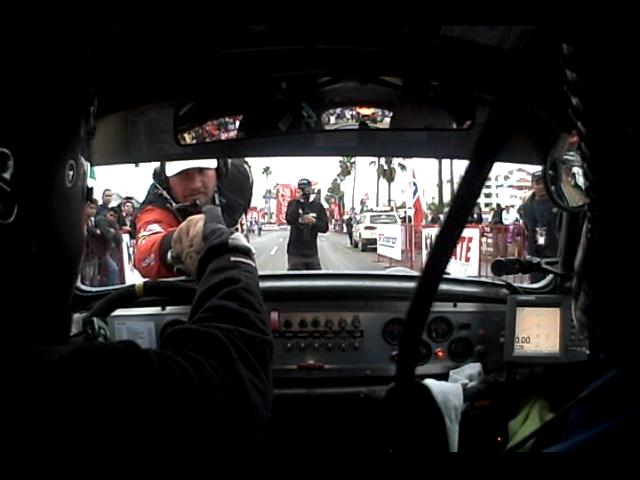 Trevor and Bill Ving, the official SCORE Starter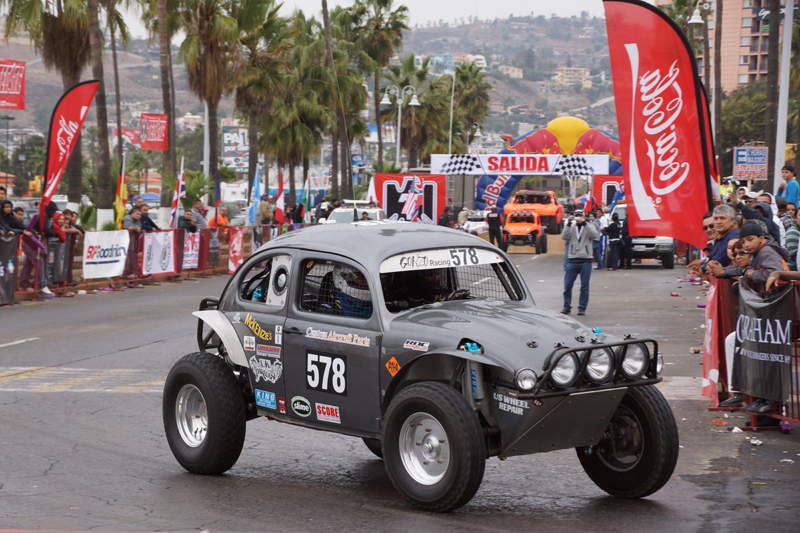 Trevor and Ruben starting the race!
It had been raining all morning and the pavement was wet - Trevor took it really easy here.
Photo courtesy of "Trackside Photo"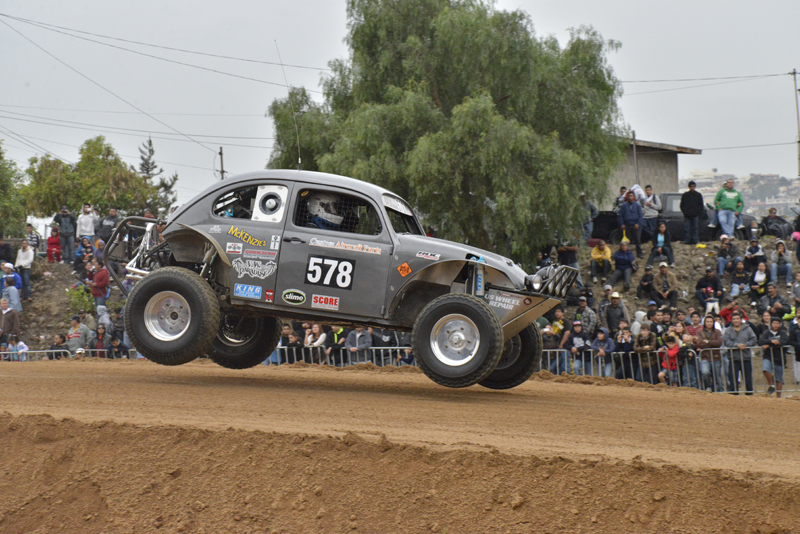 Trevor and Ruben at the "Wash Jump" just after the start
Photo courtesy of "Trackside Photo"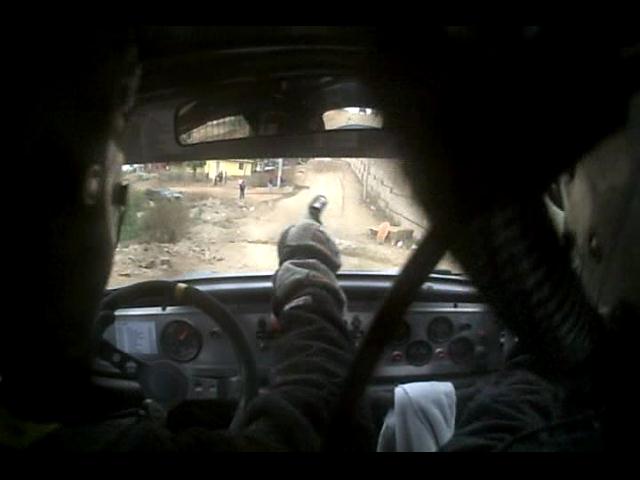 Trevor pointing out "OUR" concrete obstacle.....
You can see that some thoughtful race fan has marked it for us with a "boogie board". I'd be willing to bet
that there were some words that went along with the finger pointing.....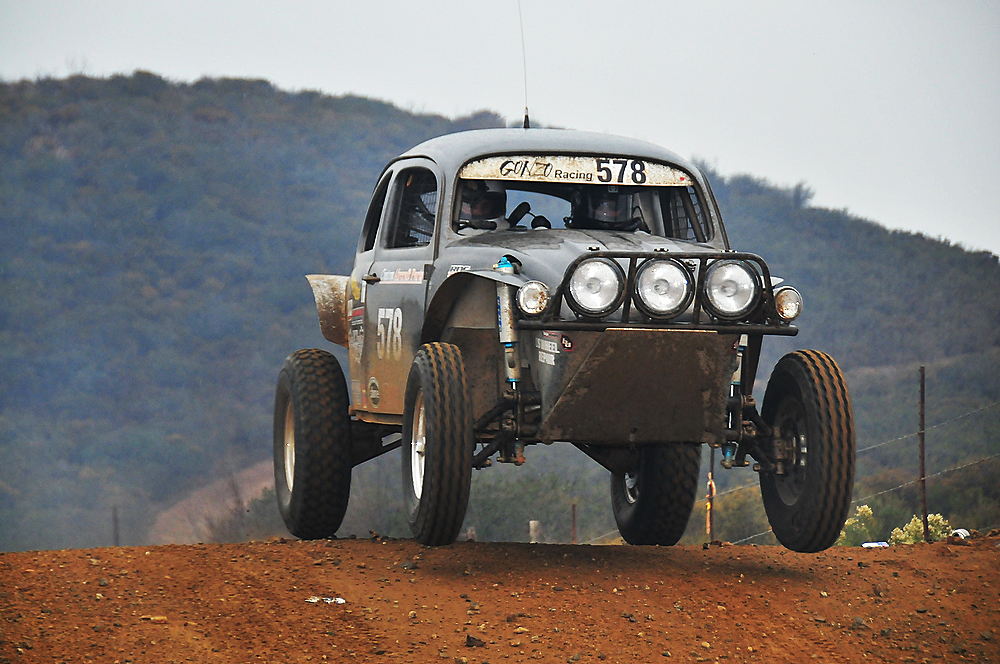 Heading to Ojos Negros
The course between Ensenada and Ojos Negros is a mixture of fast graded roads, water crossings, slow "technical" sections,
washouts, hill climbs and silt. It begins at the start line near the waterfront in Ensenada, follows the "Wash" (the Ensenada
storm drain channel) to the edge of town and then ranch roads climbing up the low mountain range for the remainder. It's
about 45 miles from the start line to Ojos Negros and the race doesn't really start until past this section. There are plenty of
opportunities to fail in this section; we are always amazed at the number of crashed race cars we see along here......
Photo courtesy of "Getsome Photo"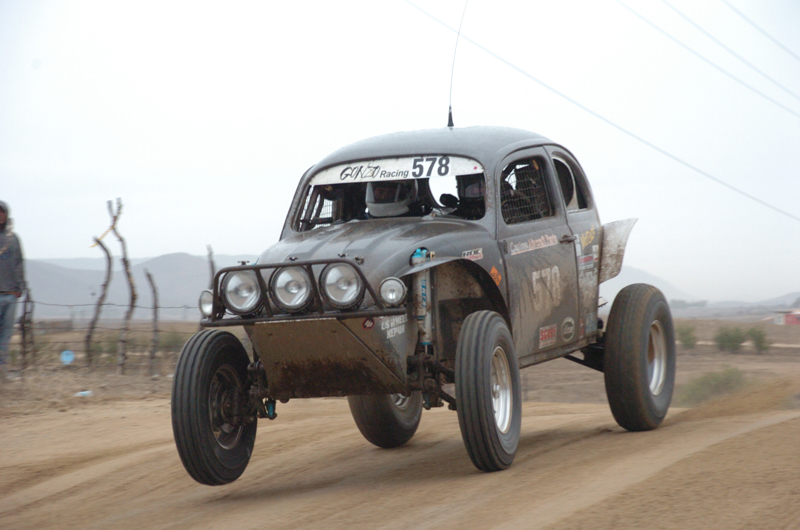 Trevor and Ruben running through the "Ojos Rollers"
High speed graded road just past Ojos Negros with fun "roller jumps". This is a favorite spectator area.
Photo courtesy of "Trackside Photo"
Trevor drove the first 140 or so miles very conservatively......
Photo courtesy of "Getsome Photo"

Trevor and Ruben at their first fuel stop, Baja Pit #2 (RM 87)
We dumped 12 gallons of fuel and inspected the car in 47 seconds, great job Baja Pits!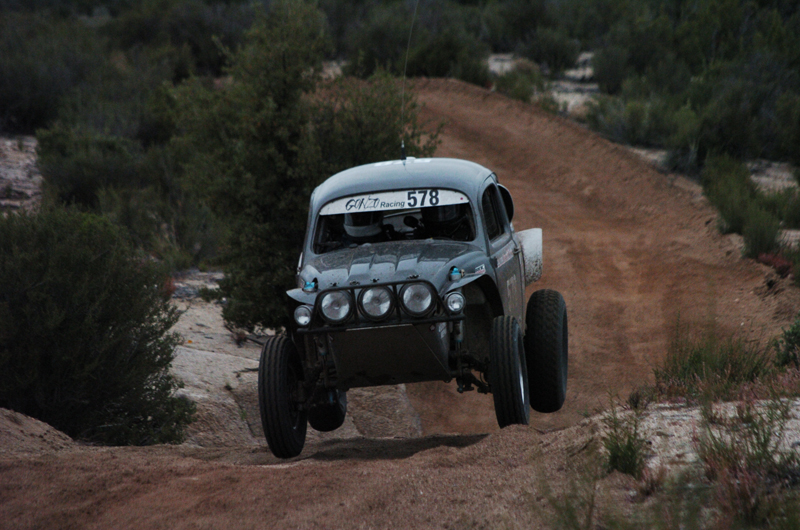 Somewhere between Checkpoint 1 and the "Goat Trail"
Photo courtesy of "Trackside Photo"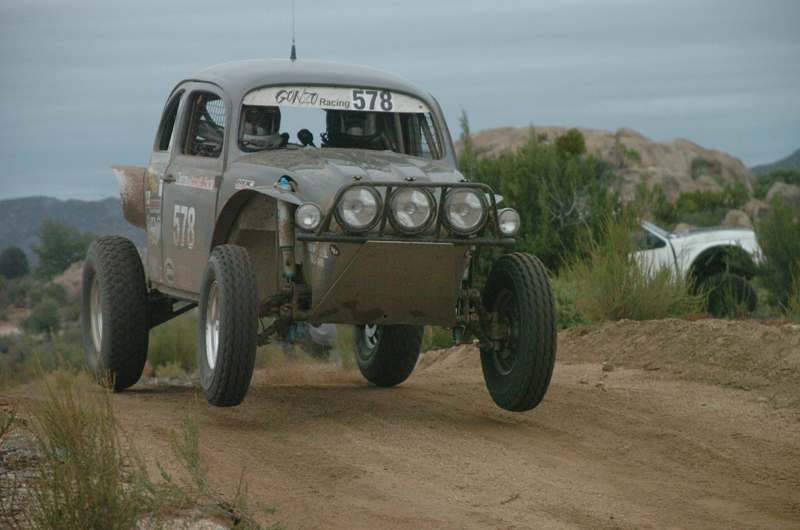 Also somewhere just before the "Goat Trail"
Photo courtesy of "Trackside Photo"
Trevor and Ruben on the "Goat Trail" just before joining Hwy 3 West of Valle de Trinidad
This is a very "technical" crude road leading down from the hillside to the highway. "Rock crawling"
skills are mandatory here, it's not much of a road........
Photo courtesy of "Dirt Focus"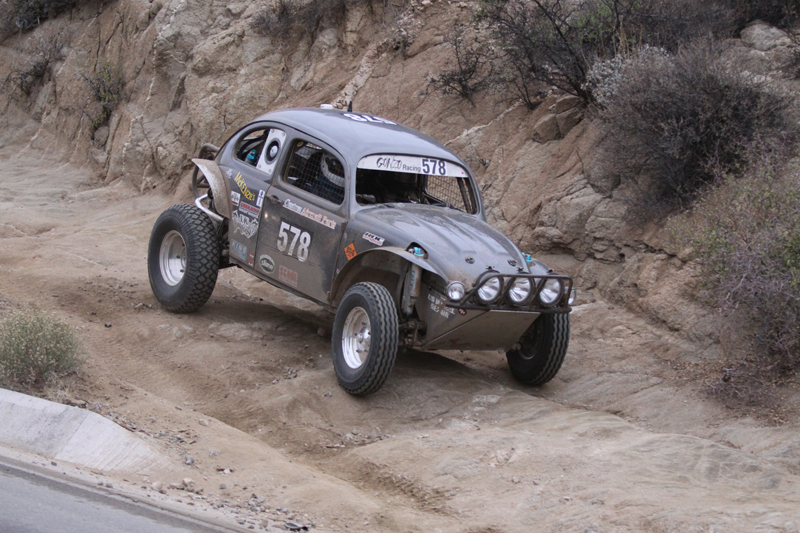 The end of the "Goat Trail"
Photo courtesy of "Dirt Focus"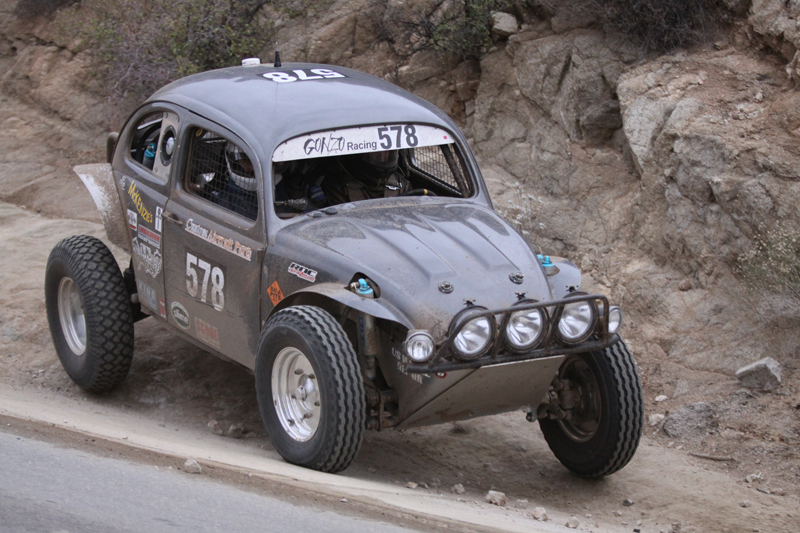 Exiting the Goat Trail and joining Highway 3 near Valle de Trinidad
Trevor and Ruben now become the responsibility of our "East side" chase crew, George and Bill
Photo courtesy of "Dirt Focus"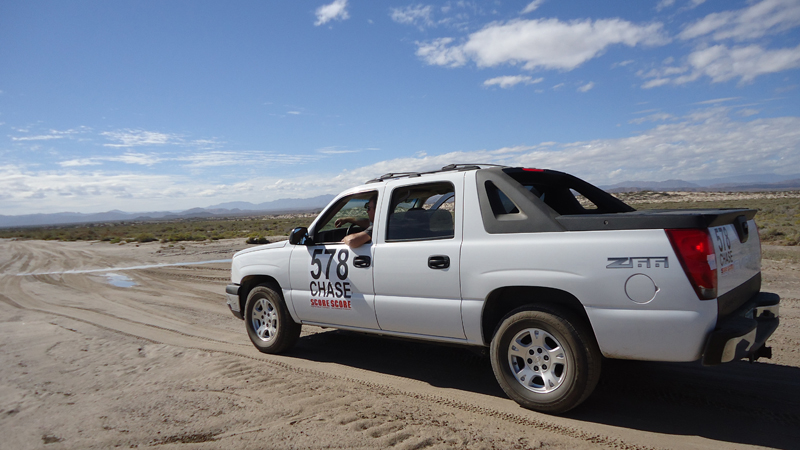 Our "East Side" chase crew, George Walters and Bill Jones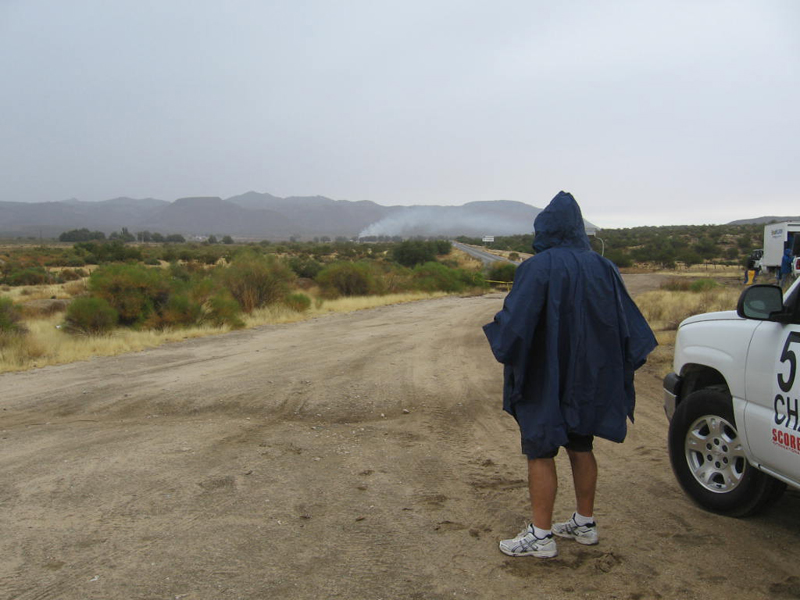 George waiting near Valle de Trinidad for the car - it's raining.....
Thanks guys, we couldn't have done it without you!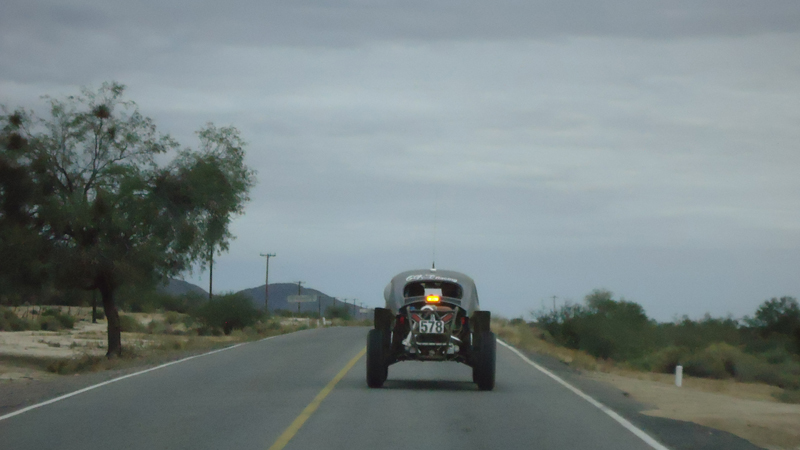 Following the car to San Matias
George and Bill followed the car to San Matias, where the race course leaves the pavement again.
They then "paced" Trevor and Ruben along Highway 3 to "Borrego" where the course turned South.
At that point, George and Bill backtracked to pit 3 to retrieve a spare tire we had positioned there and
then raced ahead to catch the car again at Campo Christina South of San Felipe.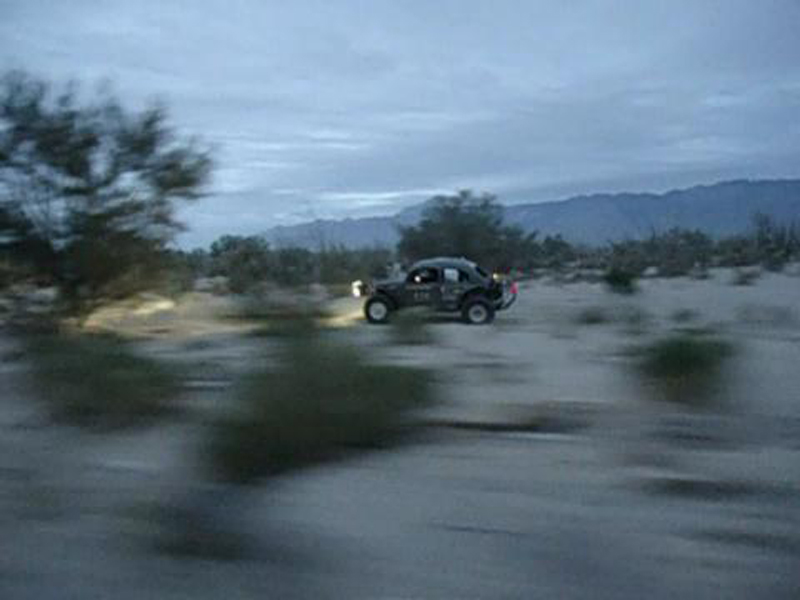 Trevor and Ruben running the Borrego "whoops"
This part of the course closely parallels Highway 3 for miles and is a fun section. It has some really
bad "whoops" combined with some smooth, high speed sections. That can make for an interesting
transition when you suddenly come upon one of the rough sections at high speed.....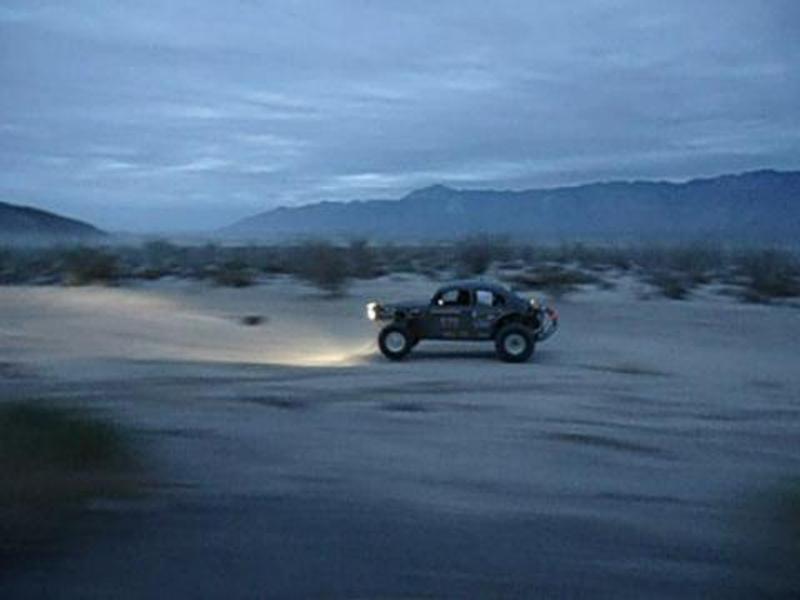 It's starting to get dark and the roughest section is just ahead!
The race course becomes very rough after this section; from "3 poles" North of San Felipe to "Campo Christina"
South of San Felipe, the course consists of seemingly endless miles of "whoops". This part of the race is hard on
both the drivers and the cars.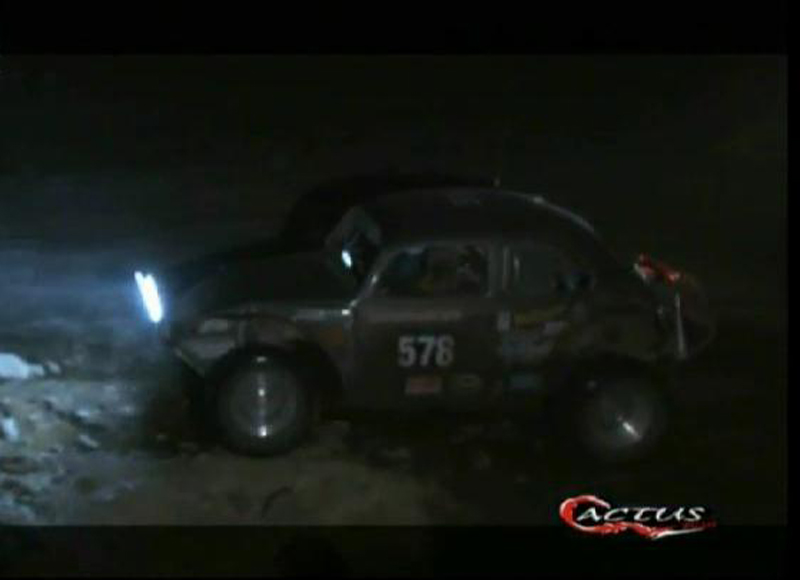 Trevor and Ruben in the Calamuje Wash
Picking their way through the boulders and water traps. The wash was much easier to navigate this
year; when we raced the Baja 1000 in 2010, the wash had much more water and swallowed several
cars whole......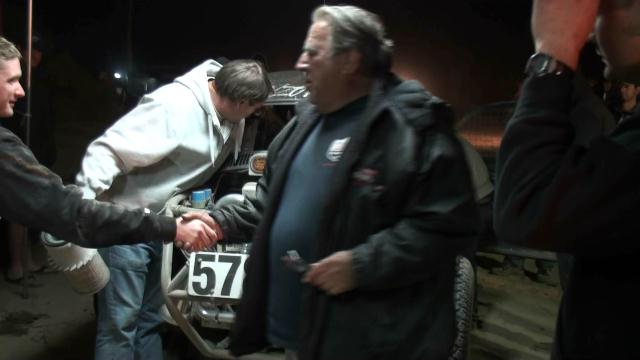 Trevor and Carlos Orozco (Mr. Baja Pits) at Baja Pit #7, El Crucero (RM 348)
Finally out of the whoops! Now the race really begins. Here, we performed a detailed inspection of the car, fueled, replaced
the air filter and added oil. This extended pit stop gave Trevor a chance to get out of the car for the first (and only) time, put
on a jacket, hydrate and get a little food. Victor replaced Ruben as the co-driver.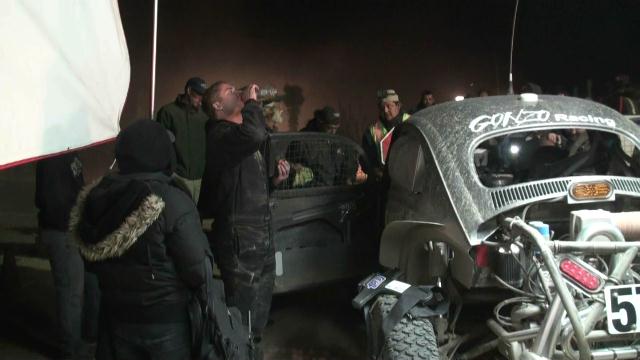 Trevor pounding down a Gatorade
Solo driving this epic race imposes some additional problems: where most teams install a "fresh" driver/co-driver team
periodically - minimizing "down time" during a pit stop, we are forced to make a couple of extended stops to allow Trevor
time to hydrate, eat and change into/out of cold weather clothing. Obviously, the additional time required could make a
difference in the outcome of the race.....
Mark trying to help Trevor get strapped back in
We wear "head and neck restraint" devices to protect ourselves from spinal injuries during a crash - they work great but
necessarily restrict our mobility. That makes it difficult for us to hook up our own seat belts - it's all done by feel when on
our own; an extra set of hands/eyes makes it much easier.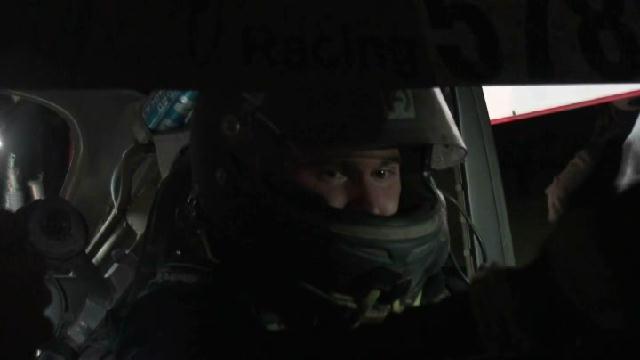 Trevor about to head out from Baja Pit #7 at El Crucero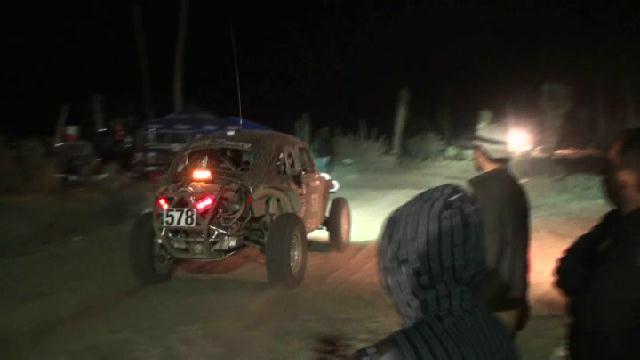 Trevor and Victor leaving El Crucero and heading for Bahia de Los Angeles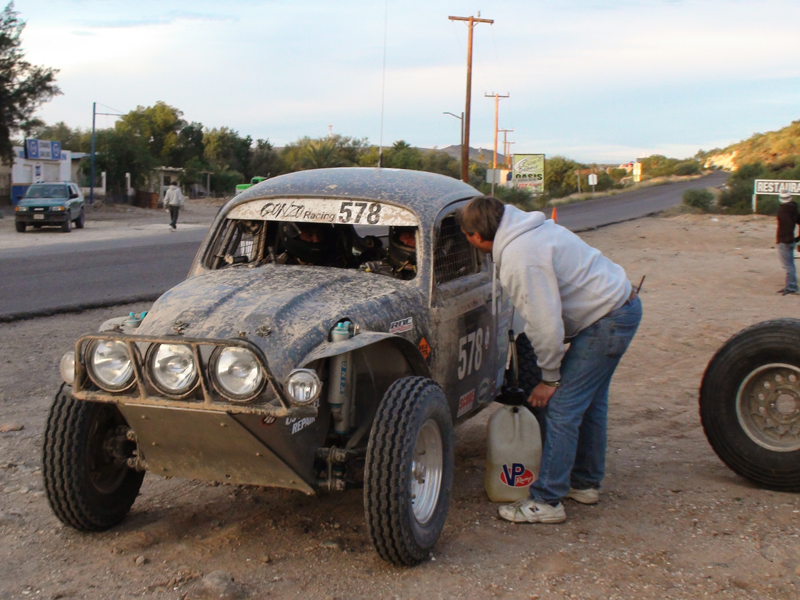 Mark and Trevor consulting during our "fuel crisis"
For some reason, the fuel we expected to have at Pit 13 wasn't there..... Our pit group alerted us to that fact early enough that
we were able to revise our fuel plan to make it to our next fuel stop. We really can't thank Baja Pits enough for all their support!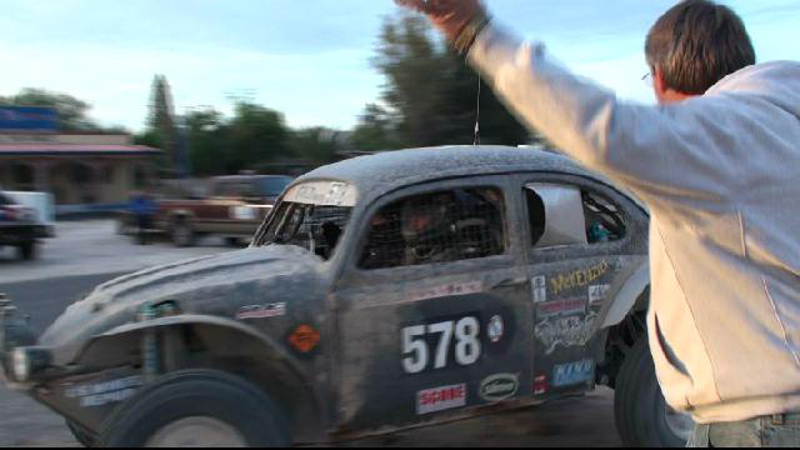 Trevor and Bobby pressing on after stopping to work out the fuel logistics problem
This unplanned stop was at San Ignacio, Race Mile 617. We also made a co-driver change here;
Victor got out and Bobby got in.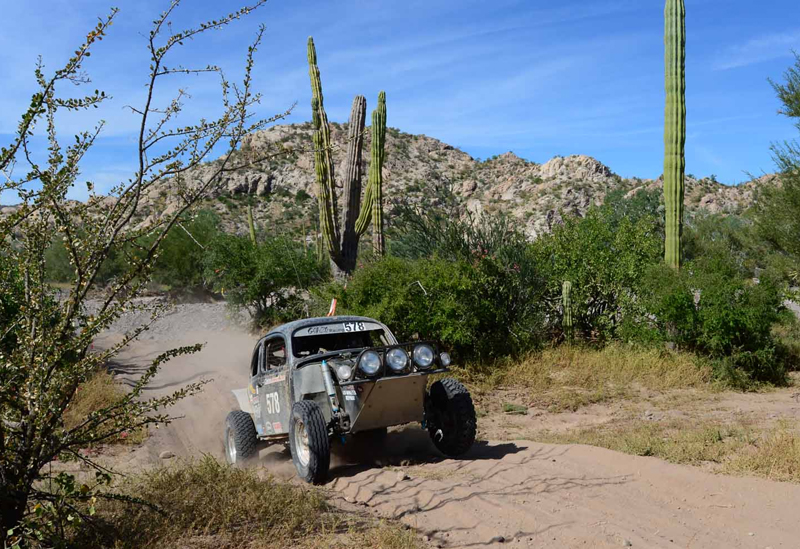 Trevor and Bobby just before Loreto
They had a tire change just before this photo and couldn't get the hood back on correctly; Victor carried it to Loreto where
we got it back on during the pit stop. After our "roll-over" at the Baja 500, it doesn't fit as easily as it once did. We'll have
to spend a little time re-fitting it I guess.......
Photo courtesy of "Trackside Photo"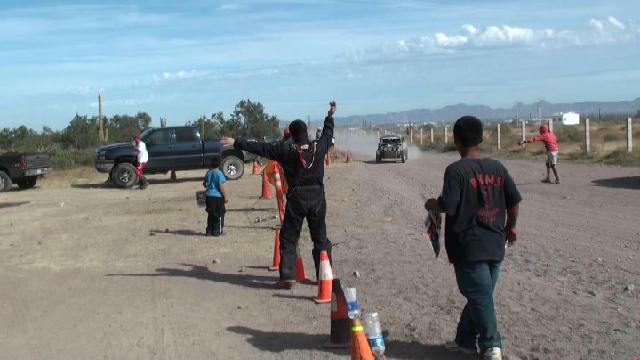 Trevor and Bobby c
oming into our Loreto Pit Stop (RM 835)
This was planned to be one of our extended stops and I was scheduled to get in the car for the final leg to the finish. Our plans
changed at the last minute because of the closeness of the race at this point. We had been battling for first place with YOLO Racing
for the last several hours and we wanted to do everything possible to win - that meant putting a smaller/lighter co-driver (Ruben)
back in the car and keeping the stop as short as possible rather than the extended stop we had planned.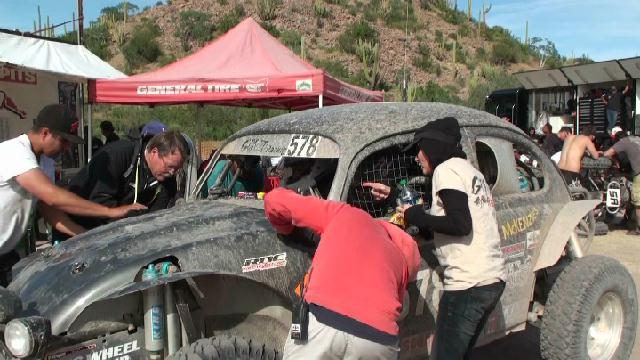 Finishing up our Loreto Pit Stop
We replaced the air filter, added oil, dumped 15 gallons of fuel, inspected the car and reinstalled the hood in just a couple of minutes.
Crossing a stream just after the Loreto Pit Stop
Image courtesy of Cactus Films
It was hot in the Loreto area, Trevor said this was refreshing!

Image courtesy of Cactus Films
Plus, the car came out looking good again!

Image courtesy of Cactus Films
On to Ciudad Insurgentes and then the finish line in La Paz; only 280 miles to go!

Image courtesy of Cactus Films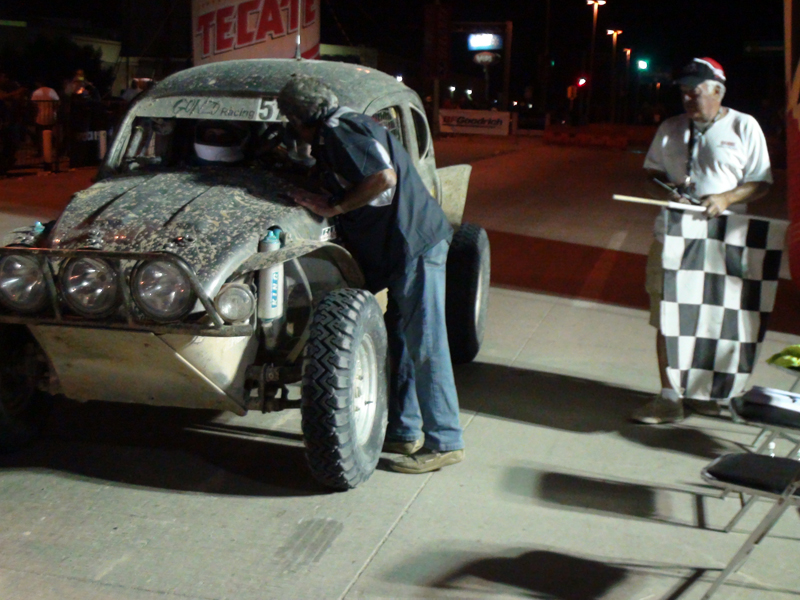 Sal Fish congratulating Trevor and Ruben at the finish line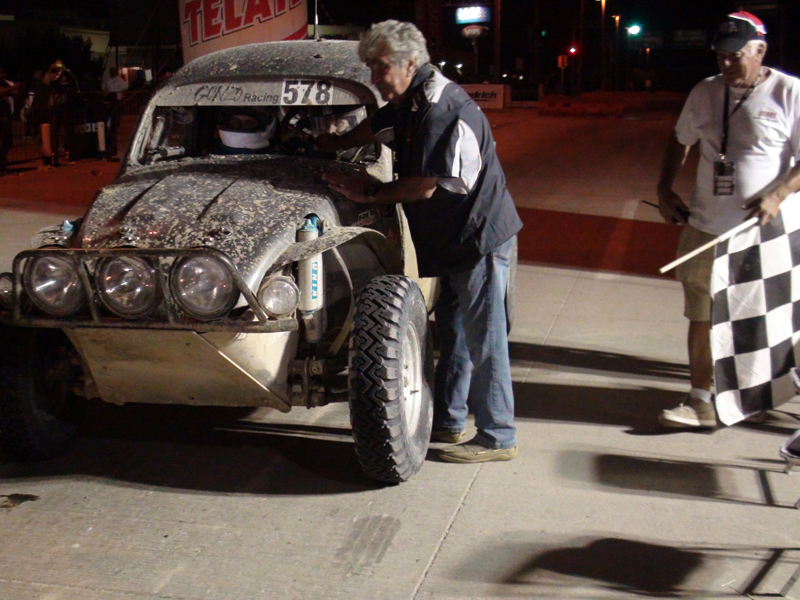 Sal handing Trevor his "official Baja 1000 finisher" pins
I gave Trevor a clean car the day before and look what he brings back.......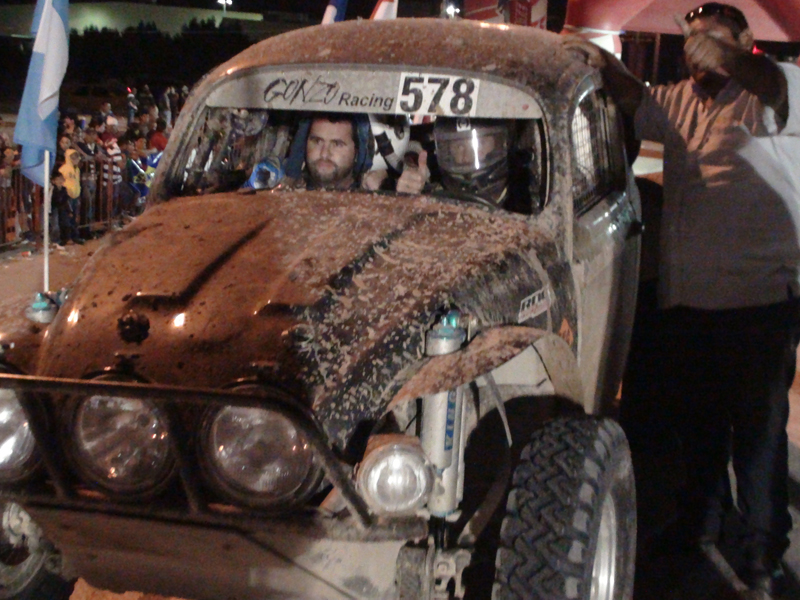 Trevor and Ruben just after the finish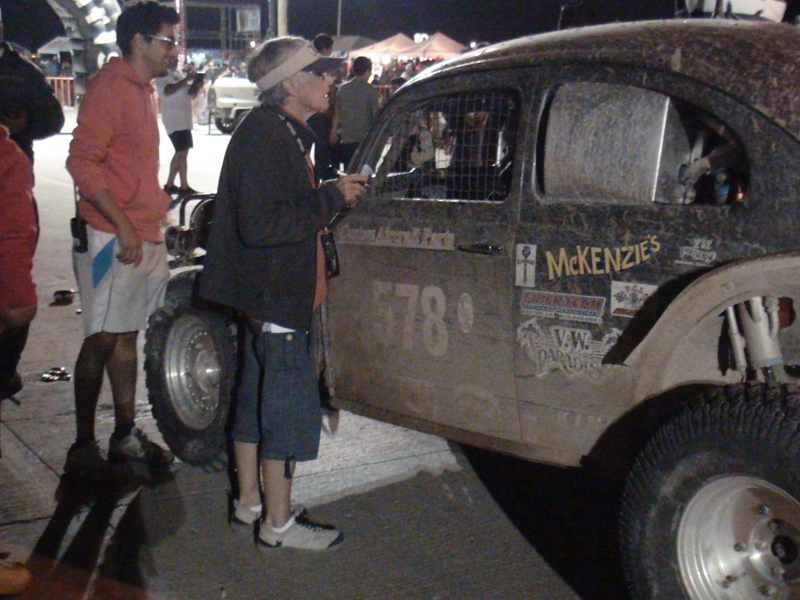 Judy Smith (Hot VW's Magazine) trying to interview Trevor at the finish
Trevor was exhausted; the interview was short.....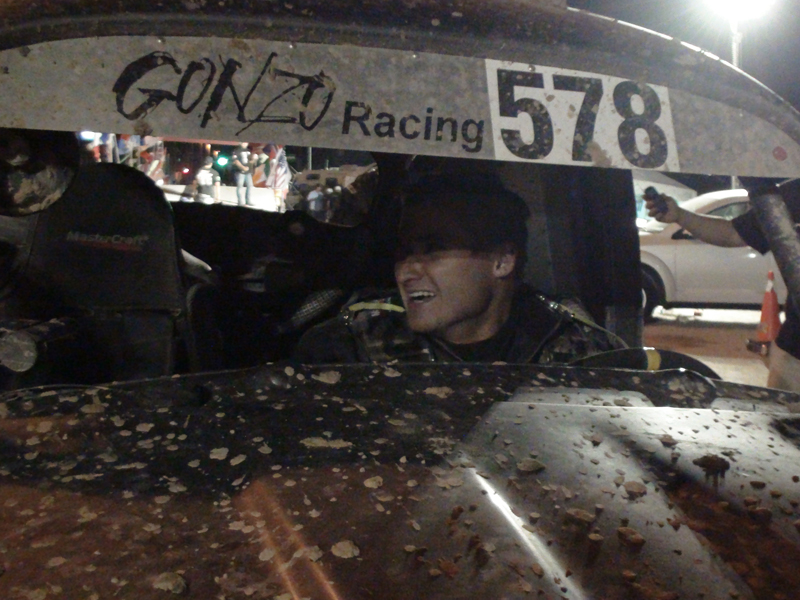 That's a happy Trevor!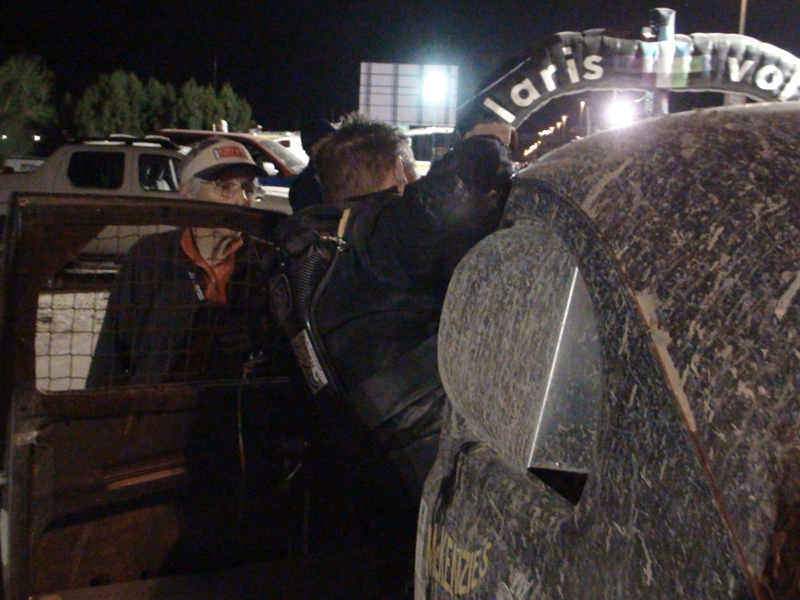 Trevor finally getting out of the car
He was stiff for several days; we had a laugh or two at his expense over it........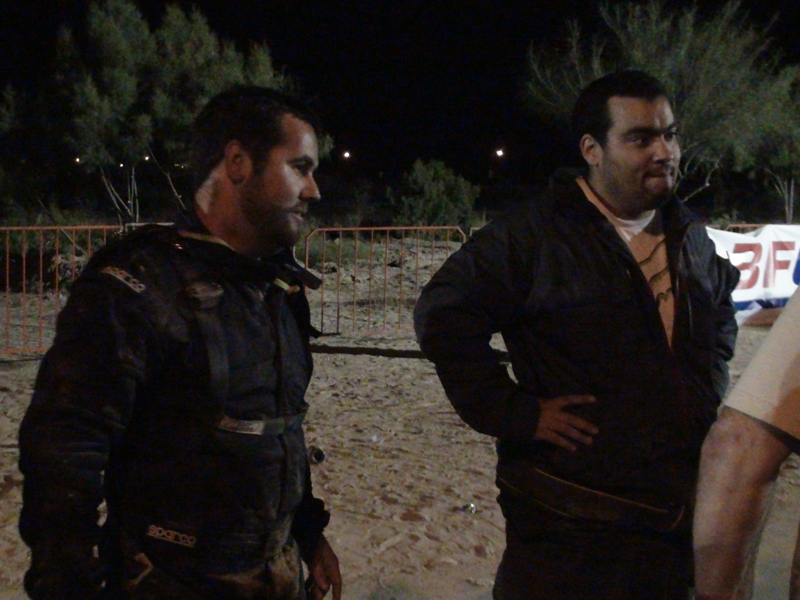 Ruben and Bobby at the finish (2 of our co-drivers)
Trevor, Victor and Mark at the finish line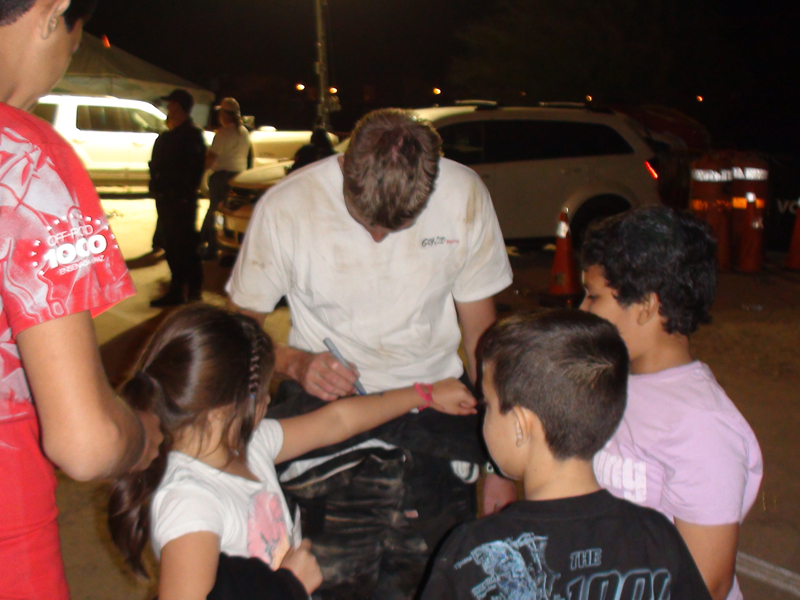 Signing a fan
The kids are great; we really enjoy interacting with them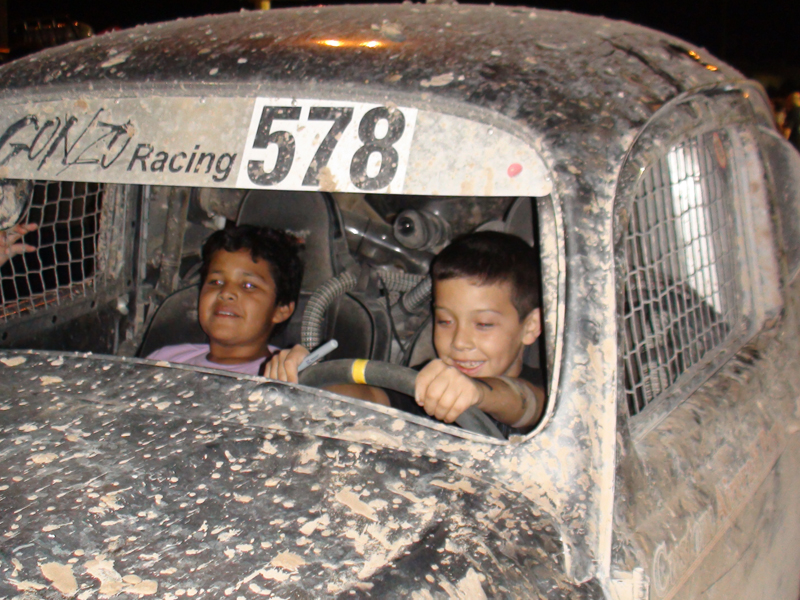 Our competition for next time!
Class 5/1600 is especially beloved by the Mexican race fans. I hope this is a moment these two will
remember fondly for the rest of their lives!