2010 Activities:
December 01, 2010
The car is back in our shop, waiting for us to get started on the post race inspection
and overhaul. We have only just begun the process, starting with a thorough cleaning
that allows us to actually see the structure of the car! Now that we can actually see
the basic structure, we can identify problem areas and begin engineering solutions.
At first inspection, the car looks to be in pretty good condition - though we did get
"nerfed" (rear ended) hard a couple of times, and there is some damage to repair in
the engine mount support structure as a result.
November 13, 2010
Spent today testing in Plaster City again, everything seems to be ready for the '1000.
Our new power steering pump mount is much more secure than the original version,
we think it will survive the race! We had Victor and Ivan Celis with us today, Victor
will be co-driving the Ensenada to El Crucero section with Trevor. We wanted to get
Victor some "seat time" before the race; he says he thinks our car is set up "perfect"!
Now we just have to spend a little time cleaning and attending to some small details,
then we're off to the races!

October 22, 2010
We spent several hours testing in Plaster City today; power steering is really nice! It makes
the car steer a little differently, so it was good to spend some time learning new techniques
for driving the car. Our power steering setup worked perfectly, but we're not happy with
the pump mount - it isn't as "stiff" as we'd like and we're concerned that it will fail during
a race - we're looking at different pump mount options. We are fortunate to again have
Archie Negrete with us for the Baja 1000, and Victor Celis is joining us for this race also.
Archie was able to join us for our Test/Tune session, and Victor met us back at our shop
afterwards for a preliminary discussion of our Race/Chase strategy. We plan to meet again
as we get closer to the race to finalize the details. We also expect to spend some time in Baja
pre-running some of the sections we're not familiar with - hopefully Archie and Victor can
join us.

October 10, 2010
The car is basically ready to run - we've driven the car around our shop area and have
seen that the power steering installation works as expected. We've done a preliminary
setting of our ride height, verified all the systems work correctly and have confirmed
our engine and transaxle are ready to go. Now our attention shifts to the "logistics" of
the race - arranging hotels, food, fuel, pit support, chase support, personnel support,etc..
We have not been ignoring those issues, but can now devote most of our attention to
them....
September 24, 2010
Trevor and I were at the shop until about 3:15 am this evening/morning installing our
power steering components. We have the Char Lynn unit installed and connected to
the steering rack; we have some minor sheet metal trimming remaining to finish the
mechanical installation. Next, we'll be mounting and plumbing the reservoir. Then,
it'll be time to fill the system and purge the air in preparation for our first use!
September 22,2010
All our high stress front suspension parts have been inspected/repaired and we are now in
the process of re-assemby. We've replaced the torsion packs, link pins and all the shock
mounting hardware in addition to rebuilding the steering rack. We're beginning to assemble
a "parts kit" of all the adapters and steering shaft material necessary for the conversion to
power steering; we have all the major components (pump, reservoir, Char-Lynn) on hand.
We hope to have the car ready for some test/tune sessions around the end of September or
the beginning of October. Trevor and I are working on arranging all the logistics necessary
to support a race that runs nearly the entire length of Baja California, a daunting task!
August 25, 2010
We've got our engine and transaxle back from VW Paradise and Power Box, they're
both in good shape and ready to re-install. All the rear suspension parts have been
crack checked by Power Box, and are ready for re-assembly. We have repaired all
the damage found in the rear half of the car, and took the opportunity to reinforce
some areas that were showing evidence of stress. Hopefully, the rear end of the car
will never need repair again...... Once we have the rear end re-assembled, we can
turn the car around in our shop to access to the front end. We'll start the same process
with the front end then, disassembling, inspecting, repairing and re-installing all the
suspension components. We are also intending to upgrade our steering to include a
Char-Lynn power steering unit when all the other prep. is complete. We have all the
components on hand, just need to install and test them.
June 28, 2010
We have the car apart and are having the engine and transaxle serviced while we
inspect and repair the basic structure. We've found a couple of areas where we will
need to do some crack repair and reinforcement, but overall the car is in great shape.
Finding the time away from work to prep the car has been difficult since our return
from the Baja 500........
June 08, 2010
We've returned from the 2010 Baja 500 and have the car in our garage. Our initial
impression is that the car is in great shape considering what it just accomplished! We
can see only one small structural crack at this point, not a big deal. Once we get all the
mud washed off the car, we'll be able to do a more detailed inspection.
June 01, 2010
The car is at our home in preparation for travel to Ensenada on Thursday morning.
While here, we are closing out all the final issues before we leave the start line. We've
inspected/secured all the critical areas of the car, tested all the systems, packed the tools
and spares and loaded the course into the GPS units. Now, we just have to wait. We
find ourselves alternating between excitement and pure terror....... No matter how it
turns our, it will be an adventure!
May 29, 2010
Up early to drive to Ensenada for some "pre-running" of the Baja 500 race course. We
arrived at about 0945 and immediately unloaded Trevor's car to get started. We were
hoping to get to Ojos Negros by about 10 am but didn't get there until about 11 or so,
limiting what we could get done before dark. We had intended to run the first 220 miles
before calling it a day, but that was not possible with our late arrival. So, the new plan
was to run the Ojos to RM 75 and RM 220 to Valle Trinidad sections. Trevor's car
did great on those sections, though there were a couple of very difficult sections in the
vicinity of RM 250 - 260....... By the time we got to Valle Trinidad, it was getting late -
too late to continue to the West coast of Baja.
May 22, 2010
We drove down to Ensenada yesterday to drop off our dump cans and spare tires at our
rented house. It's been many years since I've been down the west coast of Baja, I was
surprised at how good the toll road is. It only took us about an hour to get there from
South San Diego, and we had no trouble finding the house. While there, we did a little
"recon" of Ensenada, getting comfortable with the area. I spent today finishing up all
the planning and paperwork - all that's left to do is one final inspection of the car.
May 15, 2010
Fabricated and installed mounting tabs for our new Baja Designs "Fuego" HID lights
today. We mounted and wired the lights, they work great and will give us much needed
coverage to the sides for those "technical" sections we'll be working through at the '500.
We'll be going over the car carefully in the next few days, doing some final engine and
suspension adjustments, checking fasteners, vibration proofing everything we can and
organizing our spares. Hopefully, by the end of this week, it will just be a "waiting game"!
May 08, 2010
We had a great Test/Tune session at Plaster City this morning; the car ran great and the
suspension seems to be as "tuned" as we can get it. The new torsion bars seem to have
taken a set, so we can adjust them to their final pre-load. We were glad to have both
Archie Negrete's (Jr. and Sr.) with us today - they have graciously offered to be our chase
support team for the Baja 500. Archie Jr. is also a listed Co-driver for us at this race so
we wanted to get him some seat time today. Trevor is still planning on solo driving the
entire race, but we think it's important to have a backup plan!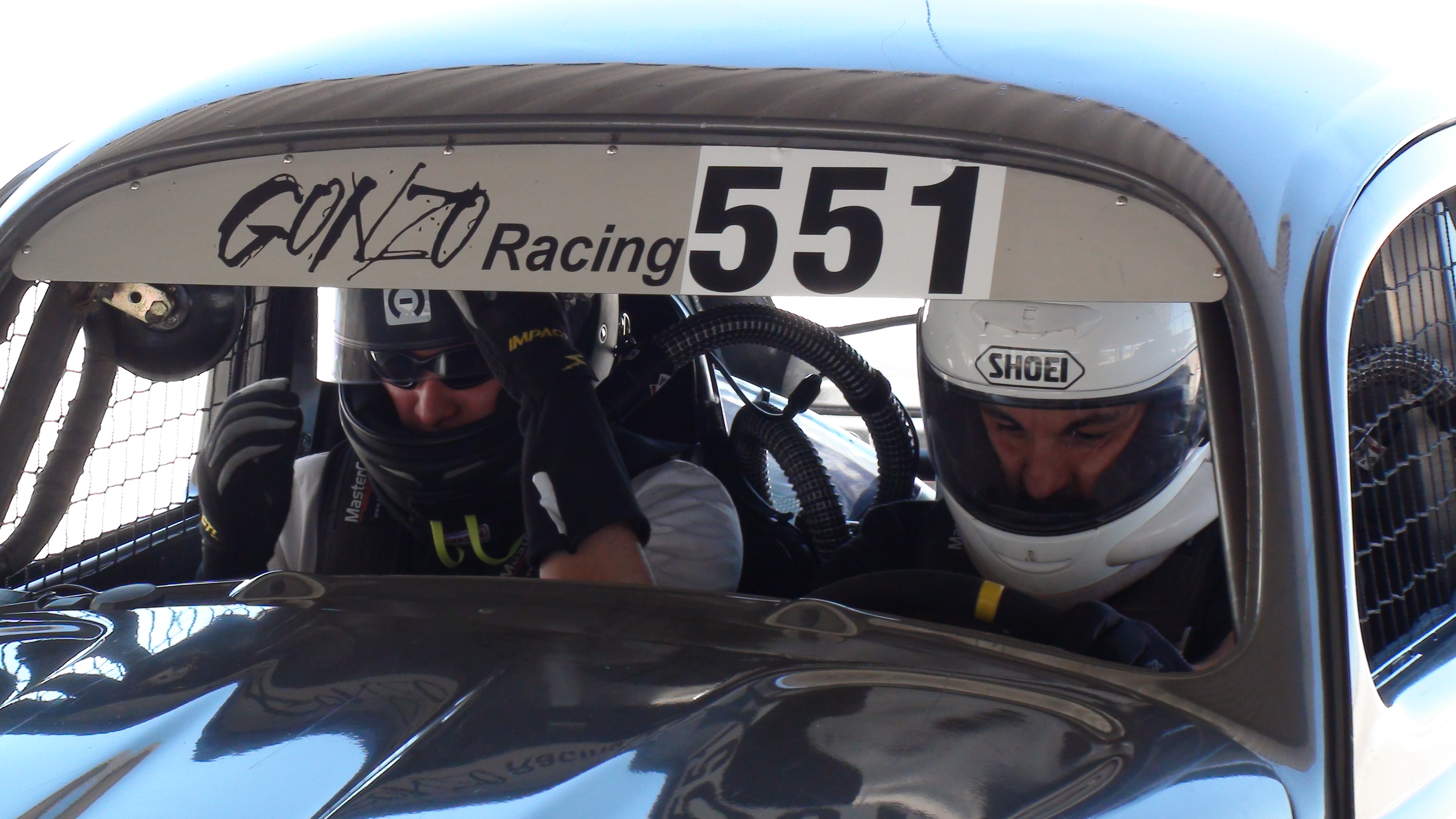 Trevor and Archie getting ready to head out


Plaster City Test/Tune Day - 05/08/2010
May 07, 2010
We brought the car home last night in preparation for our test/tune day tomorrow. Spent the day
finishing up a few little details that needed to be taken care of before we go to the desert - bled the
brakes, checked tire pressures, water supply, etc.. Our new Baja Designs Fuego HID lights came
in today; just have to mount and wire them now.....

April 30, 2010
Finally got our paint color matched and were able to complete the co-driver door repair today! TCP
Global did a great job matching our paint; it's very difficult to see where the repair is. We now have
plenty of paint on hand for the inevitable "dings" to come..... Tomorrow I'll re-install the door and
window net. That leaves only the addition of our new driving lights to go. Hopefully, we'll get them
tomorrow and can start making mounting and electrical provisions for them this weekend. Finished
up all the pre-race paperwork tonight, we just have to pay the SCORE balance due sometime before
we start the race!
April 29, 2010
All the basic "prep." work is complete, there is nothing left but for us to add a couple of new lights
to the front bumper. We've decided that we don't have enough headlights for the Baja 500; we have
only three 8" HID lights on our front bumper currently. That's enough for limited night time driving,
but we feel that more light will allow us to drive faster at night. We have 2 Baja Designs "Fuego"
HID's on order - they should add some much needed peripheral lighting to our existing driving and
spot lights. Once they are on hand, we can modify our front bumper to accept them. Hopefully, they'll
be here in the next couple of days. Still waiting on our paint match so we can complete the co-driver
door repair........ Planning on a test/tune day at Plaster City in early May sometime. Most of the pre-
race paperwork is done, waiting for the course map to be released before we finalize our "chase" strategy.

April 24, 2010
Attended the Baja 500 starting positions drawing at the new MasterCraft facility in Santee - there
was a nice turnout given that there were two different races taking place on the same day...... We
drew the first starting position for 5/1600, so we will keep our current race number, #551. That
saves us from having to worry about ordering and installing new race numbers on the car, one less
thing to do! Afterwards, we re-installed the transaxle, axle/cv assy's and engine in the car. Almost
done with the rear end of the car, hopefully we'll get started on the front end on Monday or Tuesday.
April 21, 2010
All the remaining parts we were waiting on have arrived - now it's up to us to do the final
prep for the Baja 500. The rear end suspension is complete; we crack checked all the "high
stress" parts (no problems found), did a thorough inspection of the torsion housing and rear
cage elements, replaced the torsion bars with new TCS bars and re-assembled everything using
new hardware in all the load bearing areas. Next on the list is re-installing the transaxle, axle/cv
assemblies and engine. Once those items are crossed off our list, we'll be ready to move to the
front end. There, we'll be replacing the torsion packs and doing a detailed inspection of the
beam, trailing arms and spindle assemblies. While we're there, we'll inspect/repack the front
wheel bearings. We also intend to add a cage element under the hood to better support our spare
tire. We hope to have the car ready for a test/tune session by end of next week. Still have to
get a paint match to finish the co-driver door repair......


April 9, 2010
Our detailed inspection of the car hasn't revealed any problem areas so far, the entire "cage"
looks to be in race ready shape. The passenger side door body damage has been repaired and
is ready for paint - once I get some paint matched we'll complete the job. All the filters have
been cleaned and re-installed, all the sand and brush fragments have been vacuumed out and
the cage has had the LPS 3 protective coating re-applied. We are now waiting for our new
axles and torsion bars to arrive so that we can finalize the suspension prep. Our transaxle
is being reassembled at Power Box and should be back on hand in the next few days. The
engine is ready to reassemble as well, hopefully we'll have all the remaining parts by the end
of next week for re-assembly the following week. We submitted our entry form for the 2010
Baja 500 a couple of days ago and have arranged for a house in Ensenada for pre-running
and the race.
March 30,2010
We've got the car back at our shop and have begun the post-race disassembly/inspection process. We
have the engine and transaxle out of the car for freshening; that also gives us better access to the
"frame horn" area of the car for evaluation/repair. So far, we don't see any major problems. We
did bend the steering rack mount in the Matomi Wash "Rock Garden", so we've removed the rack
for inspection/overhaul and will be replacing the whole mount structure. Then, it'll be on to a little
bit of "body work". We had some inadvertent contact with desert brush that left some minor dents
in the co-driver's door....... We've decided it's time to replace the "fatigue limited" parts: axles,
torsion bars, etc., so those items are on order from McKenzie's. We'll be cleaning, inspecting and
crack checking for the next couple of weeks. Hopefully all our new parts will be "on-hand" by then
and we can re-assemble the car in plenty of time to do some testing before the Baja 500 in June.


March 19, 2010

Finally, the official race results have been posted - we finished in 2nd place with an elapsed time
of 7:57:25 and an average speed of 31.2 mph with no penalties. We are thrilled to be "in the
money" this time, we can put it to good use getting the car ready for the Baja 500!! We expect
that there should be some "contingency" awards coming our was as well as the SCORE prize
money for 2nd place in our class.


March 17, 2010

We're back from the 2010 Mastercraft Tecate SCORE San Felipe 250, trying to get everything
cleaned up and put away. We haven't had time to do a detailed inspection of the car yet but
our first impressions are that there is no significant damage to repair. There is some small
body work to do, and our steering rack mount is bent but otherwise the car looks ready to race
again! Given that our next race will likely be the SCORE Baja 500 in June, we want to
carefully inspect the car to make sure it's ready - I've got to catch up on all the household
stuff I've ignored due to the SF 250 first though!


March 7, 2010
We just returned from a quick "pre-run" trip to San Felipe. We took Trevor's Daily Driver
down to run some of the "new" sections of the course, we had a great time! Unfortunately,
we didn't have enough time to run the whole course, but we were able to at least run the
sections that were new for this year. It looks to be a fun and challenging race this year with
a new wash (the Chanate) and a new route from Morelia Junction to the Matomi Wash. The
Chanate wash is a scenic and fun route from the "back" of the course to the San Felipe side.
We saw lots of motorcycle pre-running in the Chanate, but didn't see any other 4 wheel traffic
there. Most of the 4 wheel traffic seemed to be running the Morelia to Matomi section.


March 2, 2010
Final Prep is complete, the car is 100% ready to race. SCORE has revised the GPS map twice,
they say that today's revision is the final version...... Our GPS is loaded with the SCORE map
and the MAG 7 Pit locations but will be updated with the PCI map which includes markings
for danger areas when it's released. All our support equipment is packed and ready to go!


February 28, 2010
We are in the "final prep" stage of getting ready for the 2010 San Felipe 250 on March 13th. The
car is basically ready, we are just doing a final inspection and making sure all the fasteners are
secure. The GPS has been loaded with the updated race map and the fuel cell is full of C12. All
the "paperwork" is complete, the pit services have been arranged and the satellite phones have been
ordered. We hope to be able to do a little pre-running the weekend before the race - the course is
considerably different from the last two years and we'd like to get a feel for the changes.
January 29, 2010
Our cage inspection went without any problems noted, we had a good time talking with Bill and looking
at his current shop projects. We brought the car back to our shop afterwards and spent a little time doing
pre-race prep. Basically, the car is ready; we just need to go over it and check all the fasteners for security.
Now we are waiting on the SCORE starting position drawing to determine our new race number. Once we
know our new number we can submit our IRITRACK and Pit Service forms. We'll also need to get new
numbers on order for the car and chase vehicles.


January 28, 2010
Inspecting/Prepping the car for the 2010 San Felipe 250. This afternoon we'll be re-installing our engine
after some "top end" freshening. We have an appointment with Bill Savage at SCORE Tech tomorrow
to have our annual cage inspection performed. Hopefully, Bill will not have anything for us to attend to!

January 12, 2010
Installed a ProAm shifter in place of the original EMPI shifter box we've had since the beginning.
While the original shifter worked fine, we always worried about the "adjuster" portion we had on the
linkage- if it came loose during a race, it would cost us at least an hour to fix. The new ProAm shifter
has no adjuster in the linkage to cause problems. All the adjusting was done during fabrication of the
linkage, any fine adjustments can be done in a matter of seconds at the shifter with no disassembly
required. Here are a couple of photos: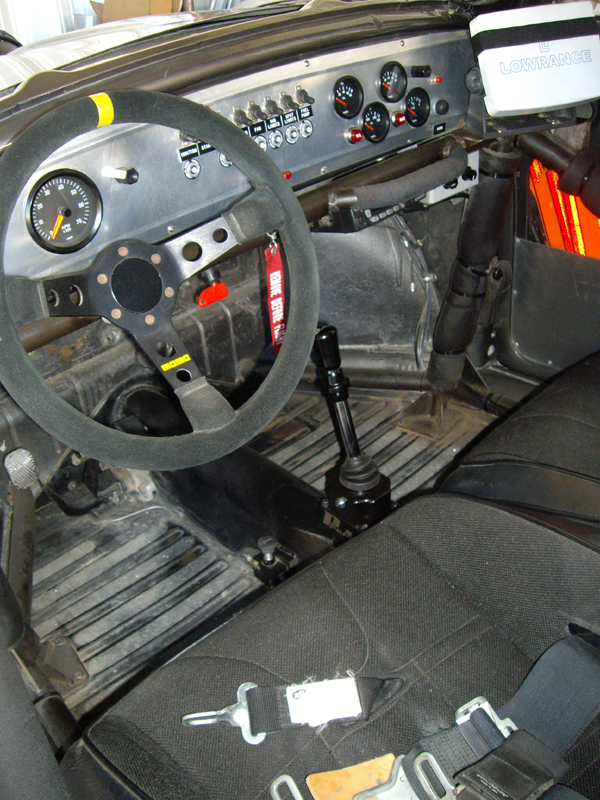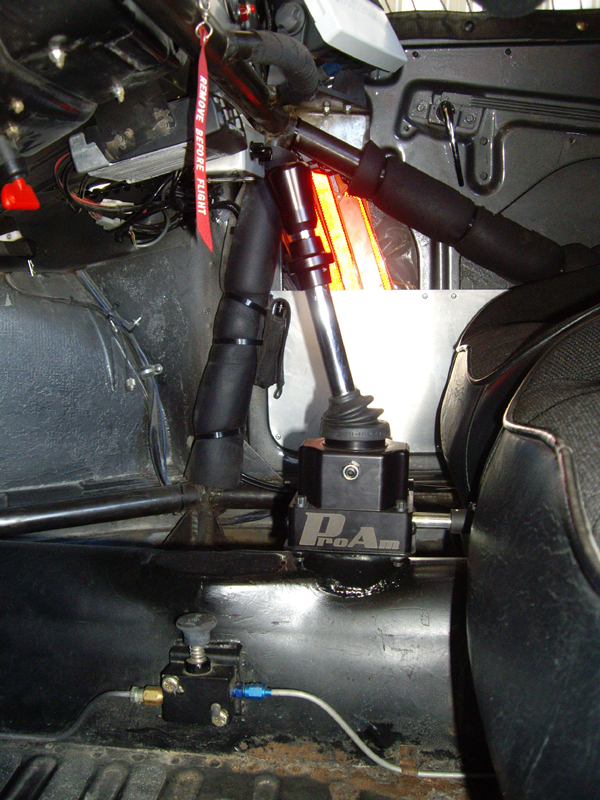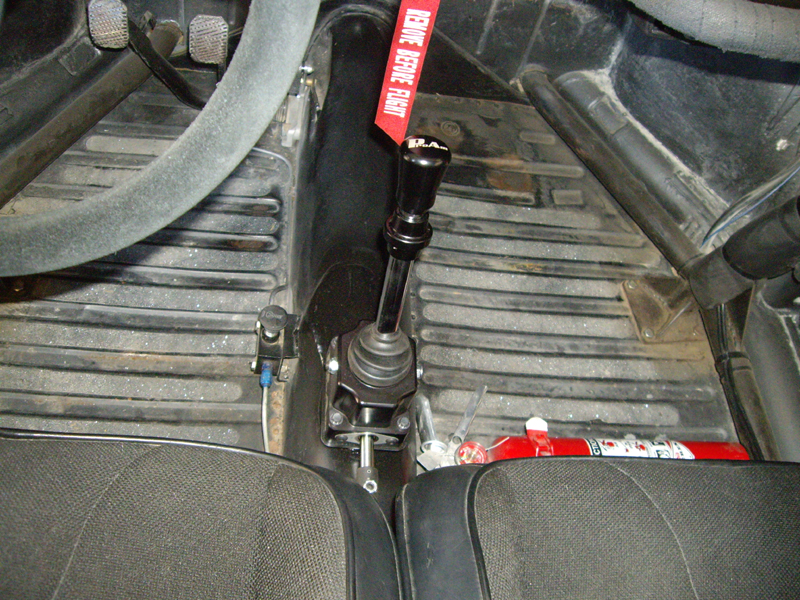 January 2, 2010
During our annual Christmas/New Years Baja trip, we took a day trip down to Coco's Corner to visit with Coco
and see how he's doing. He seems fine, but said that he hasn't had many visitors/customers for the last several
months. He was busy the day we dropped by however, we had to wait our turn to talk with him! He's hoping
that the "Baja 1000" will come near his place this year, he needs the business! Here's a photo we took during
our visit: