December 27,2013
We haven't been down to the shop for a couple of weeks; I was out of town for over a week and then came home just a couple of days before Christmas. Yesterday, the family spent the day at Disneyland...... I wouldn't recommend Disneyland on the day after Christmas; it was very crowded and the ride lines averaged between 90 -120 minutes..... We were very fortunate to be able to go with a friend who is a Disney "celebrity" - we didn't have to wait at a single ride (felt kind of guilty about that)! Later, we dined at Disney's "Club 33". It was probably the best day our family has ever had at Disneyland!
Now that we have the Christmas celebration behind us, we can start planning our 2014 racing events. Our first race will be the "SCORE San Felipe 250" in late February. We will be doing a test/tune day in the next week or so; hopefully it'll be uneventful and we can just verify that the car is working as expected. Following that, we'll work on any "open items" that may need attention prior to the race. Once any problems we may find are resolved, we'll move on to "final prep." and start thinking about logistics. We've already made preliminary contact with our team members to check on their availability for this race but we will need to start making concrete plans for co-drivers and chase crew assignments.

December 10, 2013
We spent a little time at the shop yesterday, just doing a few little maintenance things on the car - checking tire pressures, cleaning some minor rust from the cage and re-applying an anti-corrosion coating. The car is ready to race but still needs to be maintained while in a "storage" condition. We are hoping to get the car out this month some time for a test/tune.
November 18, 2013
We're back from San Felipe, we had a great time watching the race go by! It was surprising to see how few cars actually made it to race mile 254...... We arrived at our spot around noon and were in position to see a couple of quad racers struggling up course shortly before the first Trophy Truck came through just after 1pm. We stayed until about 7pm and headed home after we saw the first 3 5/1600 cars go by; they all looked good but, as usual, Avina had a substantial lead and just looked faster than everyone else..... I think they may have recognized us when they went by, they gave us a few "beeps" in recognition. Congrats guys, very well done as always! Sure wish we could have run this one. Next year.

November 12, 2013
We're getting ready to head down to our house South of San Felipe to watch the race this weekend; it'll be a combined work/pleasure trip. We haven't been to the house since the beginning of summer so it'll need a little work by now...... I think Friday will be our major race viewing day so I'll try to get what needs to be done on Saturday...... Then again, it's Mexico and there's always "Manana"!

November 11, 2013

Spent a little time at the shop today splicing the blue light into the dust light circuit. As you can see below, everything seems to work just fine. We installed a "Weather Pack" type connector so that we can remove the whole unit from the car for service without having to cut the harness. All that we have left to do is to wrap the wires and secure them so they don't flop around......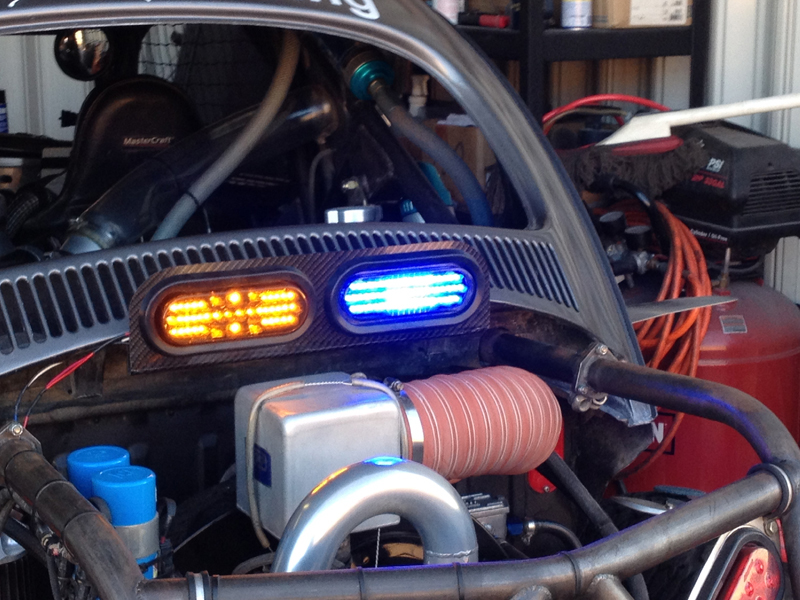 Blue Light spliced into Dust Light circuit
October 27, 2013
Trevor and I have been working on making a new bracket for the yellow and blue lights required now for 5/1600 in SCORE. We previously were required to have only the yellow light but since the sale of SCORE our class rules have changed slightly. We talked about the possible options and looked around the shop to see what materials we had on hand; the more we thought about it, the more we liked the idea of making one from carbon fiber. The hard part was making a mold; we finally settled on using a piece of acrylic sheet heat formed into the necessary shape. Once we settled on that idea, it only took a couple of hours start the lay-up of the actual part. Here are a couple of photos: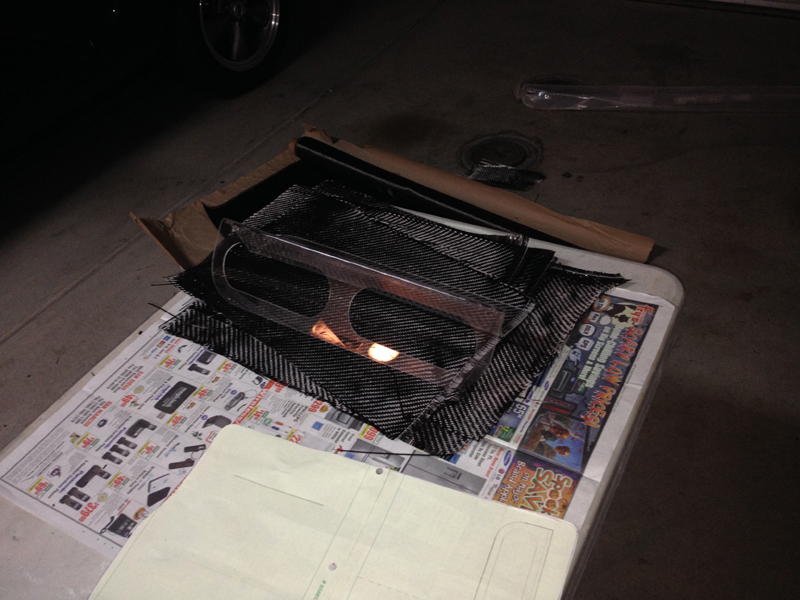 Acrylic mold and carbon fabric ready for lay-up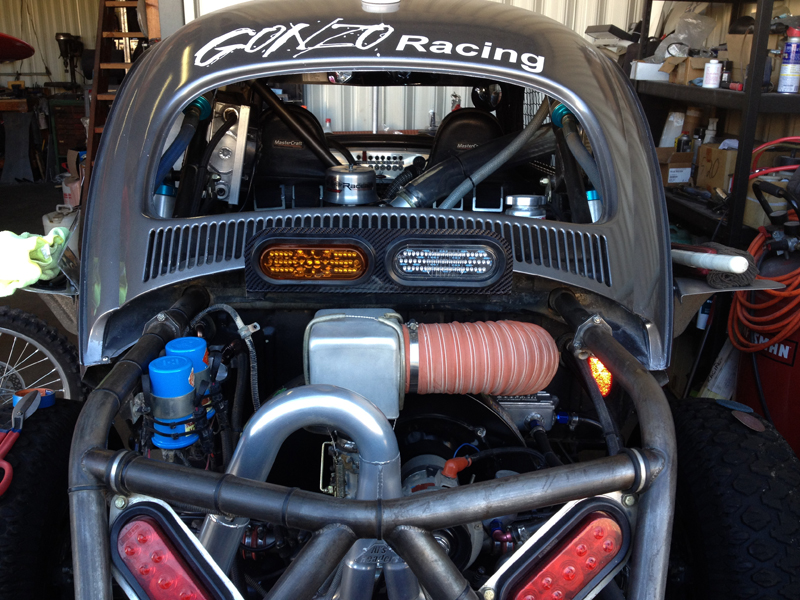 Finished part installed on car 18 hours later
(Yes, we could have made it out of aluminum faster but we "needed" some carbon fiber on the car!)
October 24, 2013
We've started the process of bringing the car into compliance with the HDRA rule set as required by SCORE. There are a few minor differences including some lighting changes that require us to make some new brackets to install a rear facing blue light in addition to the existing yellow light. There is also a requirement for an additional fire extinguisher mounted to be accessible from outside the car. We've had these things installed previously but only temporarily for the 2011 SNORE SoCal 250; we want to incorporate them more permanently on the car now that they are required by SCORE. It's also time to check the date of manufacture on our seat belt/shoulder harness assemblies, they may be approaching their expiration date (though I think we have another year on them).....
October 19, 2013
Trevor and I attended the Fiber Tech open house this afternoon, it was good to see some of our racing friends while there. There we several "race" cars on display, notably a 5/1600 that I hadn't seen before. We looked at it pretty closely and were disappointed to see that it was "illegal" by SCORE rules in several areas. I guess the temptation to cheat is just too great for some. I think we've proven that it's not necessary to cheat in order to win major races.....
September 17, 2013
Trevor and I were down at the shop yesterday for a few minutes checking on the car; just making sure the tires stay inflated and the battery charged..... Basically just in a "storage" condition, ready to pull out and race at any time. Everything looks good but we will have to spend a little time cleaning some minor rust off the roll cage at some point. We'll also need to replace the seat belts before our next SCORE race (they'll expire at the end of this year). This break from racing has allowed us to put some money back into the bank after the 2012 season; we really stretched our finances to run all three SCORE Baja races but winning our class at the Baja 1000 made it all worth while! Unfortunately, it made racing the 2013 season difficult for us. As long as we can find the time in our schedules, we plan to be back racing in 2014.

August 19,2013
Nothing much to report for now, the car is still waiting for us to find the time to actually race. Trevor and I are both ready to go; it's just a matter of finding the time. As usual, my schedule has me out of town more than I'd like making it hard to plan for a race. We at least need to find some time to get the car out for another test/tune session!

I was at the Grand Sierra Resort in Reno on a layover Saturday morning and saw some Vegas to Reno racers staggering in to the hotel at 5am, I was envious...... I know how exhausted they felt, having been in the same position many times but I still missed being a participant.
July 18, 2013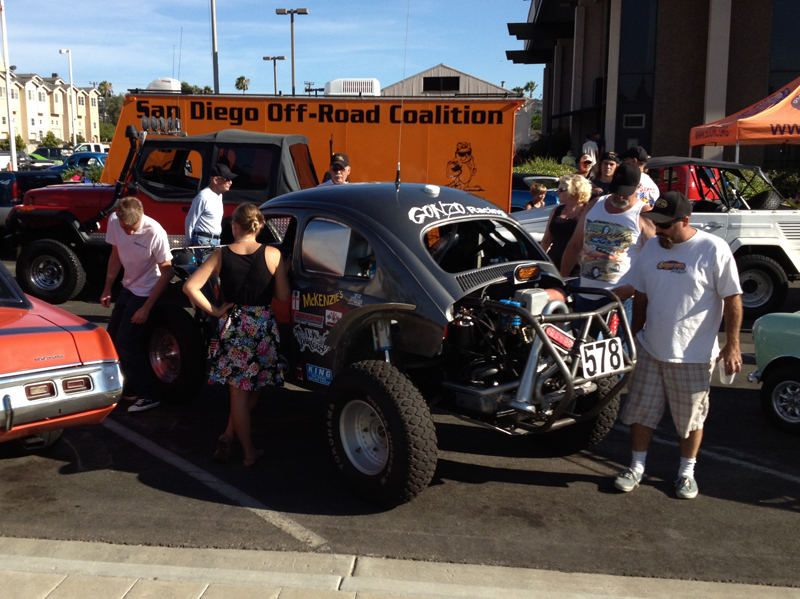 We brought the car to the annual El Cajon "Off-Road" car show yesterday; we had a nice showing with lots of interest in the car and our class 5/1600 win at the 2012 Baja 1000. Since we didn't race the Baja 500 this year, the car was in "race ready" condition - a rare thing for this time of year (it's usually apart for overhaul immediately after the race)! That gave us this unusual opportunity to just show the car for a change. As always when we show the car, we noticed several people taking "spy" photos of some of the details. We always get a kick watching them; some try to be covert and others are very open about it. We really don't worry about it; our car doesn't have any secrets to give up - it's just an honest, reliable and well tuned 5/1600. I think we've already posted every detail of our car's construction/set-up on our website anyway.....
There were probably over a hundred cars there but it seemed like only a few real "race" cars; lots of pre-runners, sand cars and rock crawlers but only 3 or 4 actual race cars. We found it a little disappointing in that sense but it was fun to see the whole spectrum off road vehicles in one place.
July 7, 2013
Trevor and I spent the day at the shop getting the car ready to show at the El Cajon "Off-Road" night on the 17th. We tried to polish out some of the most noticeable scuffs and "pin-striping" and spent a little time cleaning the roll cage and re-applying the rust inhibitor. We also installed a matched set of wheels (all Centerlines) - we didn't want to show it with a mix of brands..... We're looking forward to showing the car, hope to see some of our friends there!
June 17, 2013
We're just back from our house at Bahia Santa Maria; we spent the last week enjoying the early summer weather on the beach. The temps were in the mid to high 80's - perfect beach weather. Trevor and I took our dirt bikes and spent hours running portions of old race courses through washes and open desert. We also explored a few washes we hadn't been in before. It was a little warmer there than on the beach.... The upside for us is that the warm weather keeps the casual vacationers away and we have the place to ourselves! It was nice to actually just relax and play for a change; no race to run and no business to conduct........
May 09, 2013
Between Trevor's work/school schedule and the lack of available racing funds it looks like we'll be sitting out the Baja 500 this time around. The car is prepped and ready to race but that's only a portion of the time and expense involved with making a serious effort. The entry fees, insurance, fuel, hotels, chase/pit support and post race expenses add up to thousands - only to be followed by even more expenses resulting from repairing/prepping the car following the race. The time involved is significant as well; we typically spend hundreds of hours prepping for a specific race then hundreds more prepping the car for the next event. Pre-running, planning pit and chase strategies, rounding up a chase crew, etc. all take time that we don't have right now. We've decided to sit this one out for those reasons. We did the same thing in 2011; we basically "took the year off broke", using the additional free time to work a little extra/earn money for racing in 2012 - that worked out really well for us!
I don't know at this point if we'll race at all this year - Trevor is working hard to finish up his undergraduate studies at UCSD (in addition to two part time jobs!) and that doesn't leave much room for racing at this time.
On the "up" side (for me), not having to spend every free moment working on the race car means that I've been able to complete the annual inspection on my airplane and I actually flew it last week! I tell my friends that the race car is like a "black hole"; I go to the hangar intending to work on the airplane or just go fly, and end up working on the race car instead - it kind of just "sucks me in" when I'm near it....... Now that the car is prepped with no race in sight, I'm free to play for a change!
April 29, 2013
We were down at the shop today for most of the afternoon cleaning up the "disaster area" that it had become over the course of several races. We never seem to get caught up with picking-up the shop when we're racing; we go from one race to the next with the car in a constant state of overhaul and the shop eventually becomes cluttered to the point that it's difficult to find room to work..... We had a busy race season last year so the shop was particularly bad. Now, at least, we can move around and get things in and out of the shop without tripping over stuff. That's one advantage of not racing for a few months! I can actually get to my airplane again - I have been so involved with the race car that it's been neglected for nearly a year. It's due for it's "annual inspection" before I can fly it again; now that I can get to it, I'm thinking about doing it this week. It would be nice to do something unrelated to racing for a change!
April 18, 2013
Spent the day at the shop taking care of a few issues; I found a couple of things that could explain the power loss we experienced at our recent test/tune. The timing was indeed too far advanced (partially the result of incorrect markings on the crankshaft pulley), likely the reason for our problem. There was one other possible contributing factor - the fan belt was very loose, allowing slippage resulting in the fan turning too slowly and allowing the cylinder head temperatures to rise when under load.

Since this was the first serious run on the engine since overhaul, I also checked the head stud torques and re-adjusted the valves while there. Following that, I ran the engine to check and adjust the timing while allowing for the inaccurate markings on the pulley. Hopefully, that'll take care of the issue! Since the torsion bars/packs were new prior to our test/tune, the suspension has "settled" a bit; I re-set the front and rear ride heights to compensate. I think one more test/tune session before we commit to our next race.....
April 17, 2013
As I thought, my free time this month has been spent dealing with non-race stuff. My job requires me to be absent from home a great deal; when I get home I usually have to take care of all the stuff that "slid" in the meantime..... This time, it was 3 broken cars and a leaky faucet. I managed to get all the cars back in shape, repaired the faucet and also negotiated a new lease for our Bahia Santa Maria house (I'm too cheap to pay someone else to fix all that stuff!). Not bad, but no race stuff has been getting done. Tomorrow, I'm planning to spend some time at the shop investigating the engine issues we encountered at our test/tune session. I'm planning to verify that the timing marks on the pulley are correct; first, I'll find the actual mechanical TDC and then note where the pulley indicates TDC to be. Hopefully, there isn't a significant difference but I've been concerned for some time that the markings are off..... We've had a couple of events that look like the timing is to far advanced - but the markings show us to be exactly where we want. The other possibilities are bad fuel and a lean fuel/air ratio. We'll eliminate one thing at a time, starting the process tomorrow.
March 31, 2013
Not much to report, we had to go down to Baja this week to begin negotiations for a new lease on our property south of San Felipe. Our family has had the property there for over 30 years with a string of 10 year leases and it's time again to renew...... Between that and doing all our taxes, what time off I've had this month has been devoted to non-race stuff. The same will probably be true next month as well; I have to go back down to complete negotiations and sign the new lease on my next block of days off. Not much time to think about race stuff. Having to spend my time off on the beach south of San Felipe isn't all bad though!
Trevor and I want to get our car back on the dyno sometime soon; our test/tune session last weekend revealed an engine tuning issue that we want to be sure is resolved before we commit to a race (we had the same problem at last years' San Felipe 250 and it cost us the race). We had some "pinging" and power loss issues, probably due to the timing being a little to far advanced. We set it correctly according the markings on our "degree pulley" but it's an aftermarket pulley and I'm not convinced that the markings on it are correct. I want to mechanically determine where TDC actually is and then compare that to what the pulley markings indicate. I think we're going to find that the ignition is further advanced than the markings show.......
March 24, 2013
We had a good test/tune day out at Plaster City today - we were able to get all the items on our test list done without any major issues to deal with. The car worked as expected and we were able to put a few "break-in" miles on the engine, transaxle and new torsion bars. We also spent a little time fine-tuning our rear shocks; we believe that we have improved the stability of the car when in the big "whoops" without sacrificing handling elsewhere. We anticipate that we'll see higher average speeds at our next race as a result.
March 23, 2013
I've been out of town for work over the last week, finally able to get out for a test/tune session tomorrow. We're hoping to spend some time fine tuning the rear suspension after we do the basic "does everything still work" testing...... We're also giving a couple of rides to some friends who helped us at the 2008 "SCORE Primm 300" and haven't been able to arrange a ride with us until now.
March 11, 2013
We missed the San Felipe 250 this weekend; between my work schedule and Trevor's school commitments we weren't able to make it to the race. It looked like a fun course this year! The car is ready, only a test/tune session away from the next race (not sure what that'll be yet). Trevor has a break between school quarters coming in a week or so, we're hoping to get out to Plaster City for a testing session then.
March 01, 2013
The car is finally "race ready"; today I finished up all the last details that needed to be closed out for the car to be ready. Now, it's just a matter of finding time to get out to the desert for a test/tune session. Trevor is tied up for the next few weekends with school stuff so we'll probably have to wait until late March or early April. With new torsion packs and bars, we need to put a few miles on the car before it's really ready to race; the new torsion packs and bars need to "settle" so we can set the final ride height front and rear. Otherwise, we would have to re-set them during a race and that's not the ideal time to be messing around with the suspension set-up......
February 27, 2013
We didn't make it down to the shop today, but I did spend a few hours there yesterday. We're closing out our race-prep. checklist; we have the front end entirely done with the ride height set, the skid plate and sheet metal installed and the alignment set. The rear ride height is also set and the transaxle skid plate and the rear bumper are installed. I held off on installing the engine skid plate; the oil drain plug was showing a little oil "weep" so I want to install a new crush washer before I cover it with the skid plate. I picked up a few spares today so I can take care of it next time. Once that's done, I can install the engine skid plate and we'll be ready to test/tune.
We have new torsion packs/bars front and rear so we expect them to "settle" some in the first 50 - 100 miles. That will be one of our test/tune objectives - allow them to settle and then reset the ride height. Another objective will be to spend some time fine-tuning the rear shock bypasses - we think we can improve the handling in the larger whoops a bit without sacrificing handling in the smaller bumps......
February 25, 2013
We finished up the engine installation and drove the car around the shop a couple of times today - no problems or leaks noted. Just a few more things to do; re-install the skid plates, attach the front end sheet metal, set the "ride height", check/set the alignment and replace the battery disconnect switch. After that, it's time for a test/tune session then start looking for our next race opportunity. The San Felipe 250 is out for us due to a work conflict and Trevor has been asked to team up with a 1/2-1600 racer for the '500 so we may not enter that race ourselves...... We are not abandoning our class; we wanted to race San Felipe but I somehow failed to schedule a vacation to cover the time slot and can't otherwise arrange for the days off...... We'll have to see how things unfold.
February 24, 2013
Installed the CV's, axles and engine today. Greasing the CV's is my least favorite part of race prep., it's a messy job that seems to take days to clean up..... Following that, we mounted the engine and began the process of connecting all the hoses and wires. That usually doesn't take very long but we had "visitors" during the effort; that's guaranteed to double the time required! We should have the engine running and the car driving the next time we go to the shop. Now we just need a race we can afford to run and time off from work......
February 23, 2013
Trevor and I were down at the shop for a few hours today. I finally found an Allen wrench that I had lost inside the car weeks ago. It had slipped out of my hand while removing a set screw and disappeared; I finally found it lodged under the driver's seat between the brake line and the tunnel. It had been driving me crazy trying to find it! Anyway, I got a couple of things done while Trevor worked on a school project. I removed and inspected the pedal cluster, installed a new clutch cable and re-secured the pedal cluster then mounted the transaxle. I connected the shifter and checked to see that it's working properly and finished up by priming the engine oil cooler system with fresh oil. Next time, I'm planning to grease the CV's and install them and our new axles then start thinking about mounting up the engine (picked it up from Paradise Motor Sports yesterday). We're really just a couple of days away from being race ready. We had hoped to race the San Felipe 250 but it doesn't look like it's going to work out this year for a number of reasons.
February 15, 2013
We picked up our transaxle from Power Box this afternoon so now we're just waiting on our engine. While we had the transaxle apart, we changed the gear ratios a little bit; they were somewhat unusual for a 1600 car so we wanted to bring them in line with the more common ratios. We'll give it a try, we can always go back to what we've had for the last 5 years - it's only money......
February 9, 2013
Spent a few hours finishing up the rear suspension tonight - we've got a "roller" again. It's nice to have the car off the jack stands; no more worries about knocking it off while we're working on it..... Now that we're to this point, we really are just waiting on the engine and transaxle. We've talked with both Paradise Motorsports and Power Box; we expect to have both components back in our shop soon. Assuming I have a few days off and our CV's come back from inspection with no problems noted, once we have the engine and transaxle the car should be race ready in only a couple of days. We'll then start planning a test/tune day at the desert. Watching our Baja 1000 race video (the paralleling Highway 3 part - thanks George and Bill!), we can see that we may be able to squeeze some more performance out of the rear suspension; it looks like the upper compression zone is a little soft, allowing the rear end of the car to "bottom out" on the larger whoops. We're thinking that adding a little more compression resistance to that bypass zone will allow us to run a bit harder in the "big stuff". A "test/tune" day will let us experiment with it under the conditions at that location (Plaster City). Ideally, we would test in the same area in which we were going to race - that's pretty far out of our way though. We'll just find a section of Plaster City that is similar and tune there......
February 8, 2013
I finished up the front suspension this afternoon; it's race ready and we have only to re-install the skid plate and put the hood on for the front half to be complete. The rear suspension is going together now; the new torsion bars and spring plate grommets are installed and the spring plates are "indexed" and secured. The trailing arms are installed but not fully secure at this point; I still need to tighten the trailing arm to spring plate bolts, mount the micro stubs and attach the shocks. Once that's all done, I can mount up the rear wheels and we'll have a "roller" again. Still waiting on our engine and transaxle to come back from overhaul; once we have them, the car should be ready to run in just a couple of days. I'm back to work on Sunday - probably no time to work on the car for a couple of weeks. We were hoping to race the San Felipe 250 but I just got my work schedule for March and it doesn't allow time off for it at this point.....
February 6, 2013
Home from Memphis early this morning, napped and then down to the shop to work on the car. I got the front suspension re-assembled less the shocks. New torsion packs, link pins and link pin bushings were installed along with the freshly inspected trailing arms and spindle assemblies. Everything is greased and working freely, ready for the shocks and wheels to be installed. Once that's done, I'll move to the rear suspension - more of the same; new torsion bars and spring plate grommets will be used in the re-assembly process. Basically, both the front and rear suspensions will be new for our next race. Once the rear suspension is done, we'll just be waiting on our engine and transaxle to come back from being serviced. Our transaxle needed a little work - our 3rd gear was coming apart so it was time to replace it. Our gear ratios were a little unusual so we are replacing 3rd and 4th with more common ratios since we have to change 3rd anyway. We'll see how that works for us, we've been living with the old ratios for 5 years; it may require an adjustment period for us to get comfortable with the change.
February 1, 2013
We picked up our suspension parts from Power Box after being crack checked this morning; there were a few areas that needed a little attention with the TIG torch. Trevor got them all squared away in under 30 minutes and they are ready for a final cleaning, blacking and installation. While he was doing that, I spent some time re-fitting the hood. I installed new DZUS fasteners on the hood and relocated the holes/springs on the body so that everything lines up easily again. So far, that eliminates the "wrestling match" that installing the hood had become after our Baja 500 roll-over adventure....... Progress will be at a standstill for a few days while I attend to some work related training; I hope to have the car back on it's wheels by the end of next week though.
January 29, 2013
I didn't get around to re-fitting the hood today but I did get a few other things done; I replaced the engine air filter element, the helmet air filter element, and the fuel filter. I also "dressed" the tie rods - I buffed out all the nicks and scratches that could have been failure points then re-finished them, followed by re-installation. The steering was reconnected and adjusted after inspection of the steering rack; I refinished and re-installed the steering shaft from the rack to the Charlynn unit and then to the steering wheel, making sure that the steering wheel was centered when the rack was at "mid-travel". That way, we'll have the same amount of steering available both left and right. Any further steering wheel "centering" will be accomplished by adjusting the tie rods when we adjust the wheel alignment. I replaced all the front suspension beam torsion adjuster hardware - the large "set screw" that secures the center of the torsion packs in the adjuster is a common point of failure so we replace them every race. Next time, I plan to re-fit the hood!
January 27, 2013
Trevor and I were down at the shop for a few hours today; we got the oil filter inspected, cleaned and re-installed and the steering rack cleaned, inspected, re-assembled and re-installed. We are really at the point of needing all our suspension parts back from inspection - the basic chassis is ready to re-assemble. I'm planning to go back down on Tuesday for a few hours to try to re-fit the hood; after our Baja 500 roll-over incident it no longer fits as easily as we'd like and requires a bit of effort to install. I want to re-install all the DZUS fastners so that the hood goes on without any fuss. It may take a few hours but it'll be time well spent.
January 21, 2013
I've been out of town for the last week or so, finally able to get a few things done today. We've got both of the small cage repairs completed and the cage has been cleaned and re-treated for rust prevention. We spent a little time installing a new front beam plastic bushing on the left side; the original was stuck to the trailing arm and had been rotating in the beam. I'm not sure why that happened, it was all well greased when assembled prior to the Baja 1000. Anyway, the beam is ready for the new torsion packs and the trailing arms to be installed. I haven't had time to work on the fitment of the hood - since the roll-over at the Baja 500, it doesn't fit as easily as we'd like and I want to rework the fit. That's the first thing on my list for the next time I'm home for a few days. We removed both of our "cornering lights"; one wasn't working right and we dropped it off with Baja Designs today for repair. We normally remove those lights unless we know we'll be doing extended night time racing - we expect our next race to be finished before dark. At this point, we are really just waiting for our parts to come back from being crack checked, then we can start the reassembly process.
January 12, 2012
We attended the 2012 SCORE Awards Banquet this evening where Trevor received a plaque for 3rd place overall in class 5/1600. We really weren't worrying about the season points last year, we were concentrating on winning the Baja 1000! Having won our class at the Baja 1000, we were very satisfied with how our season went - but it's always nice to receive another award! We were really at the banquet to honor Sal Fish, the president and CEO of SCORE International. After 39 years at the helm, he has decided to retire and pursue other interests; this was Sal's last SCORE event and we wanted to be there. Here's a little video of Trevor accepting his award and thanking Sal: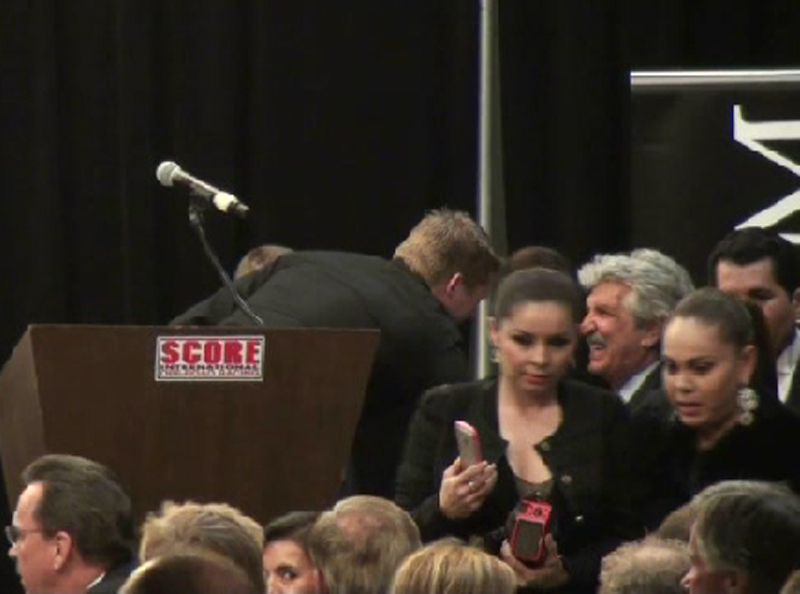 Trevor and Sal at the 2012 Awards Banquet

January 11, 2013
I think we have all the new hardware and parts on hand now; it's now a waiting game for us to get our
engine, transaxle and suspension parts back from inspection/overhaul. Once those things are back in our control, we can start reassembly - normally just a couple of days to be ready for a test/tune session. While we wait, we'll clean, inspect, repair and re-black the basic chassis and the rear trailing arms. There are a couple of small issues to take care of that we're aware of - neither of which will take more than 5 minutes to repair. We are watching the transition in ownership that SCORE is currently undergoing with interest; hopefully racing in Baja will continue as before only better......