2014 SCORE Baja 1000
THE RACE
Contingency and Tech Inspection
Race Day
Post Race

Trevor and Ruben hitting the start line jump at 56 mph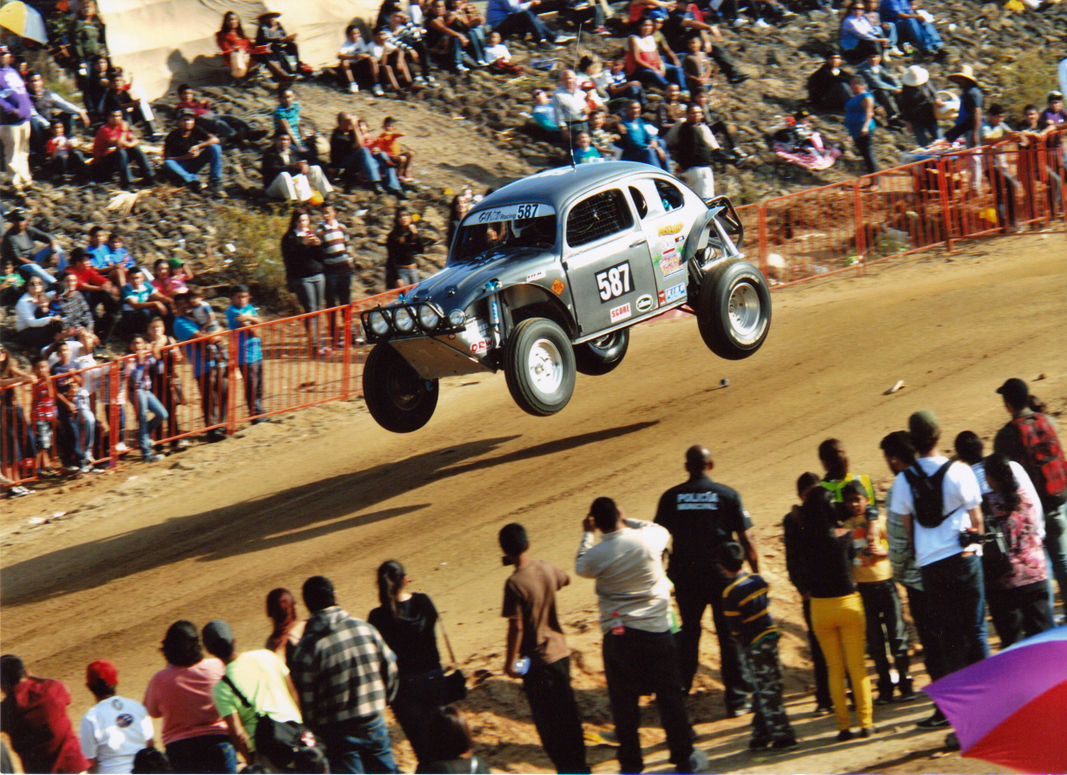 It's a gentle slope, so we don't get very much height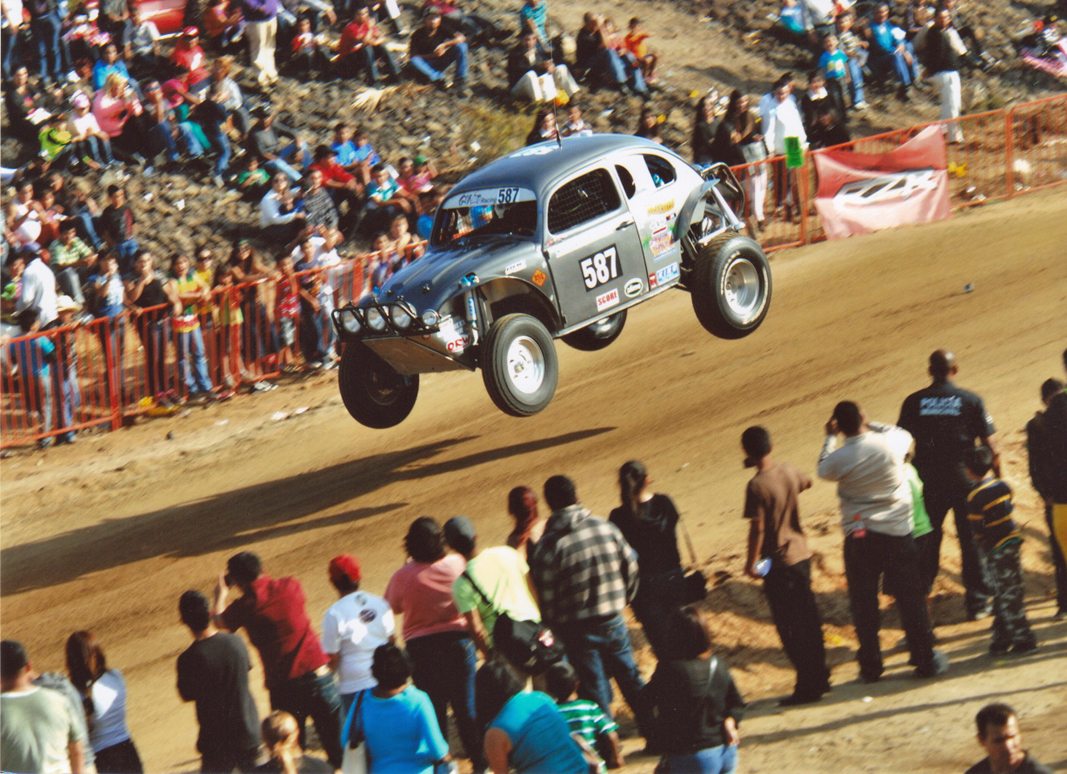 It looks good though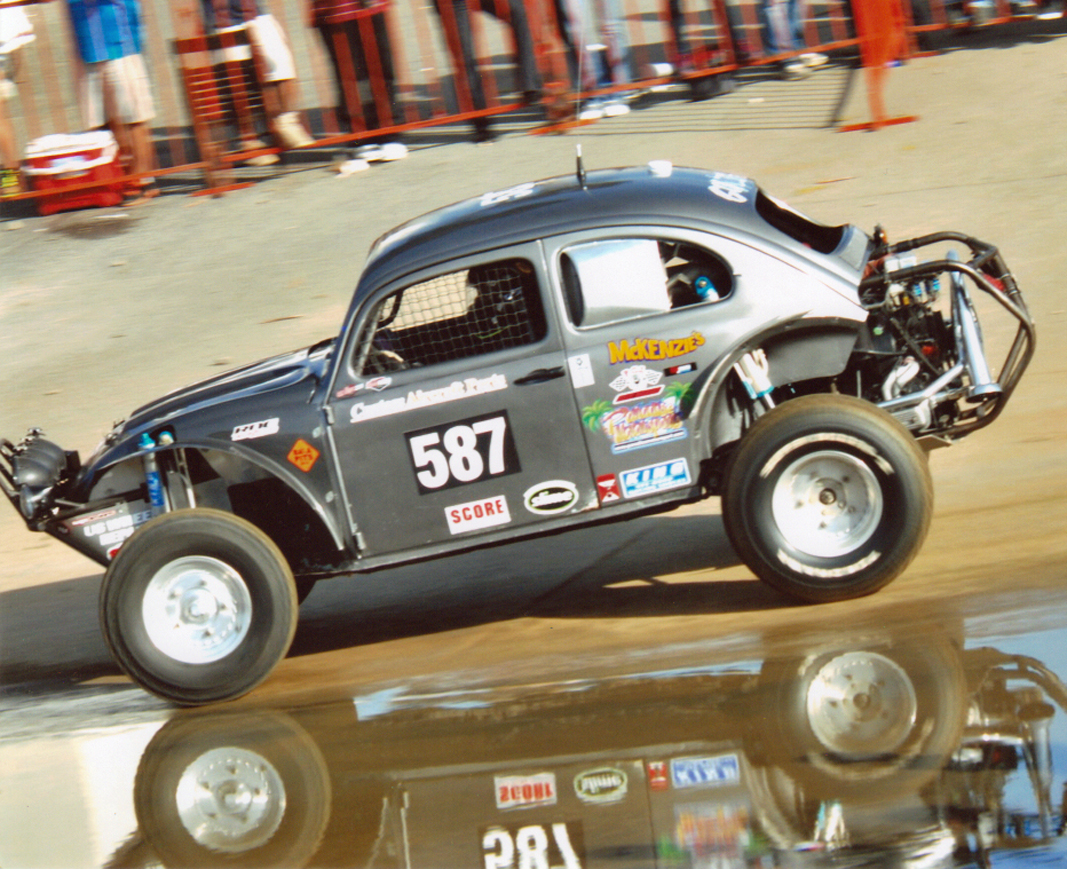 Off to the races!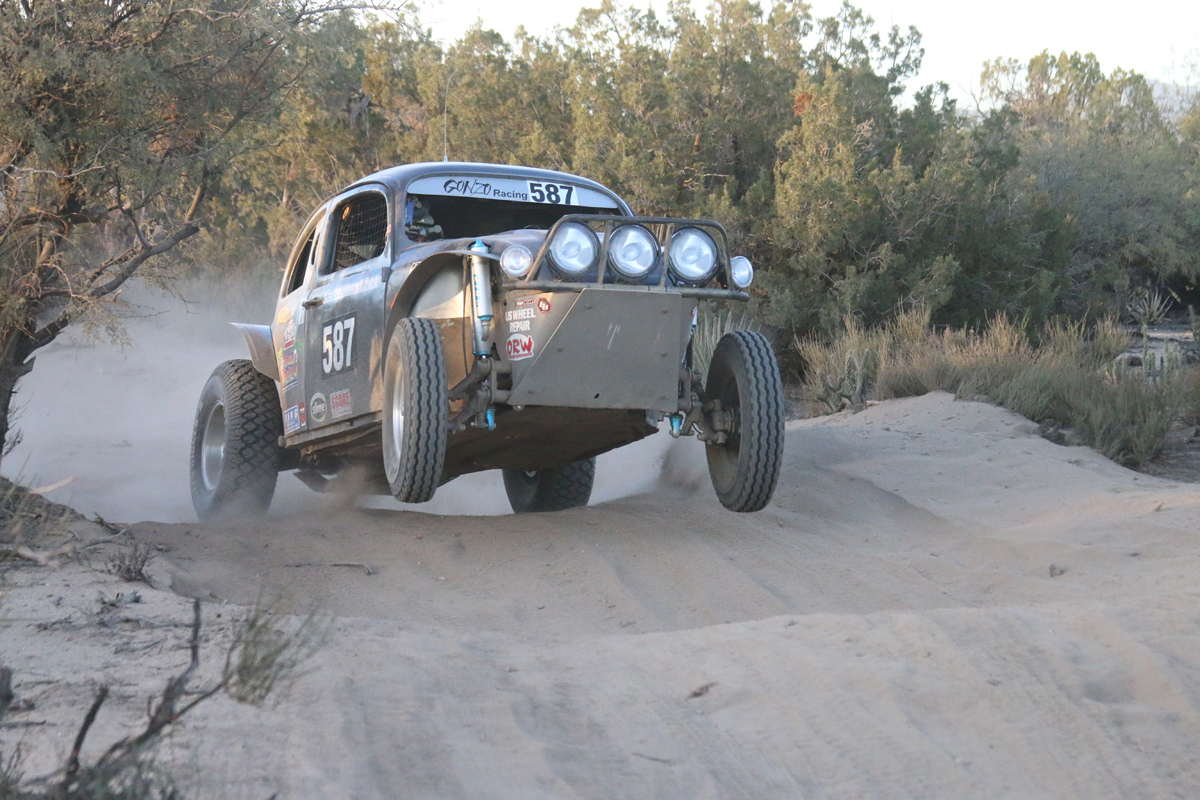 Coming through race mile 82
Photo courtesy of "DirtFocus.com"

Race Mile 82 and things are going well
Photo courtesy of "DirtFocus.com"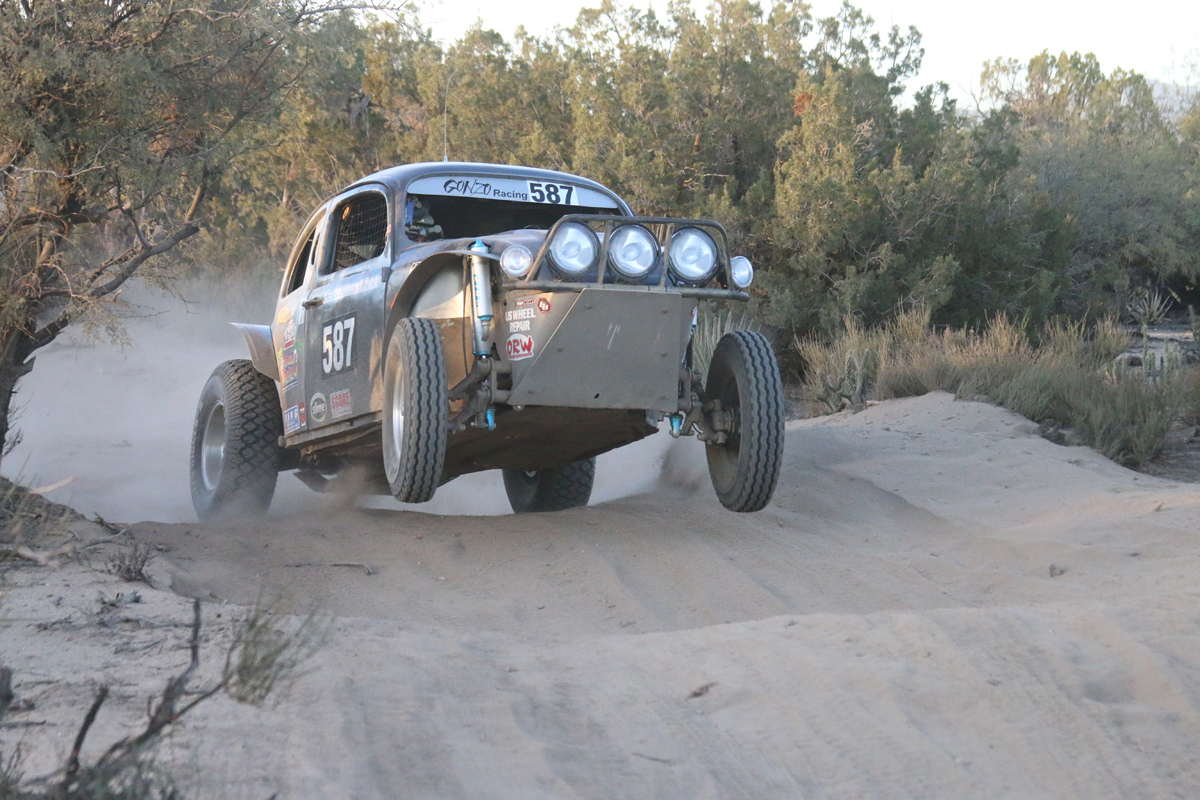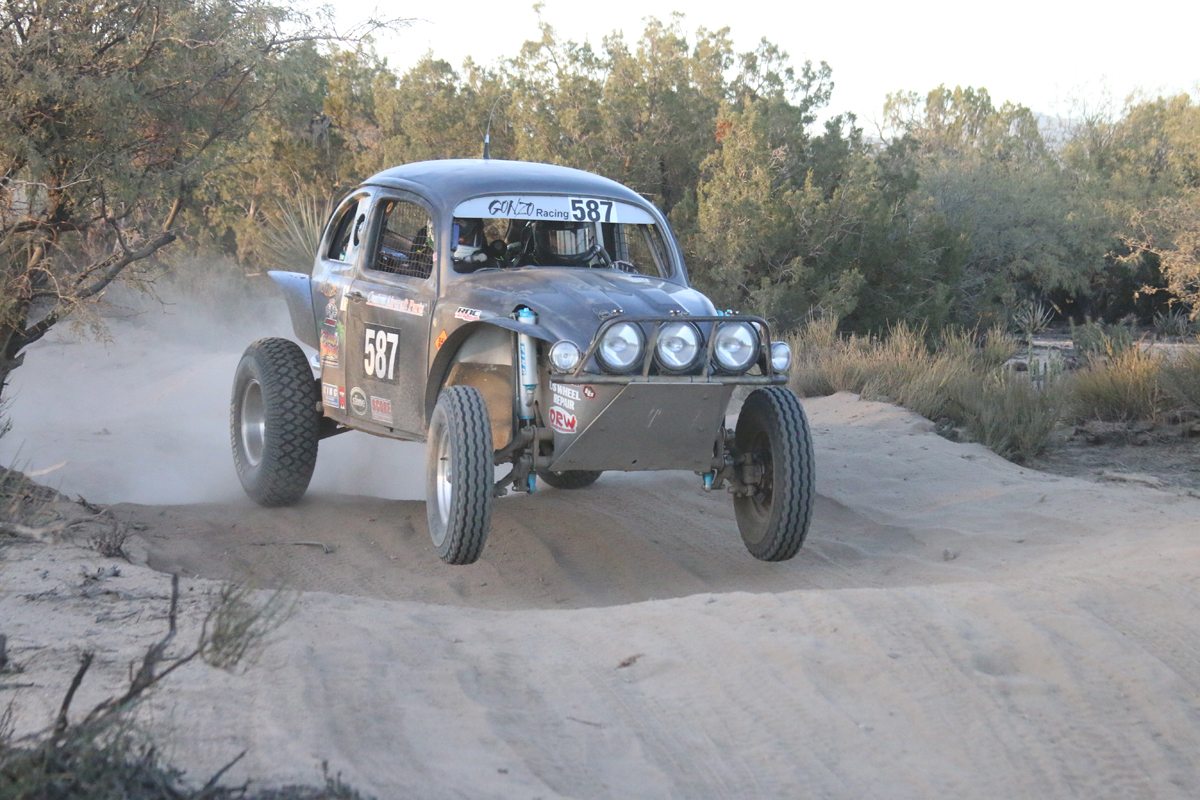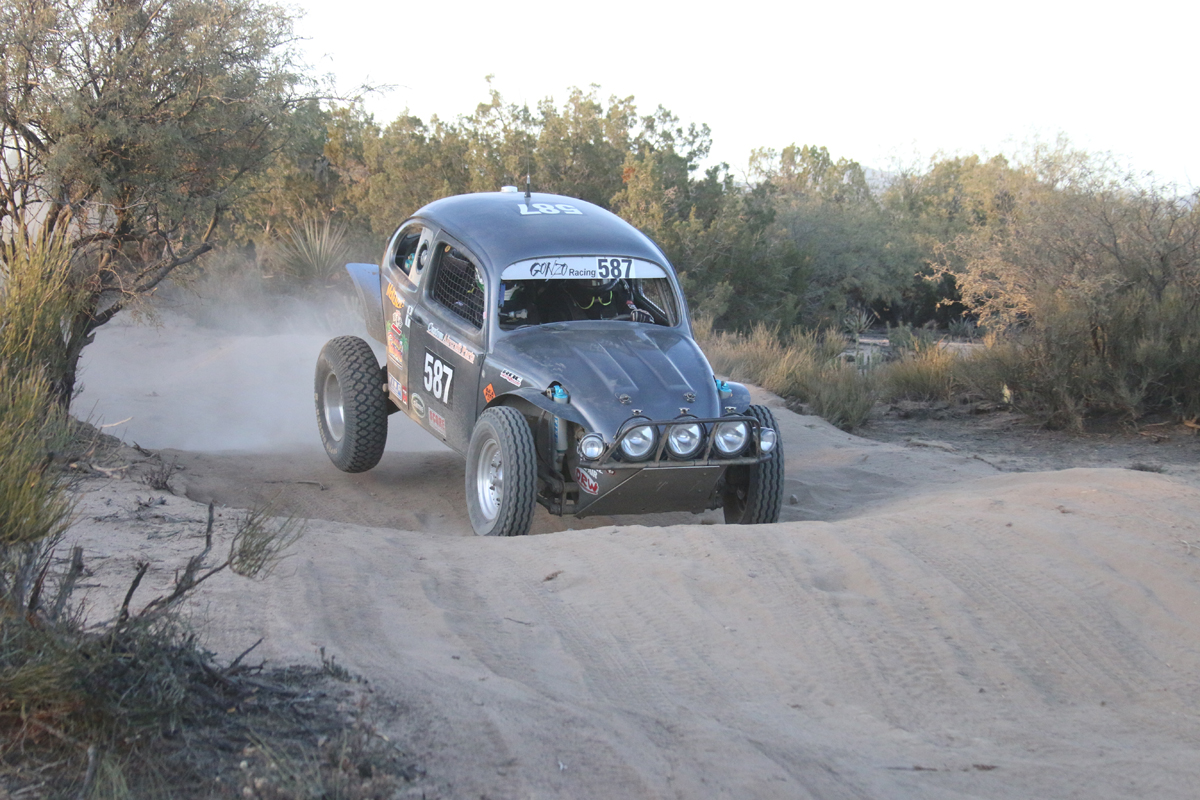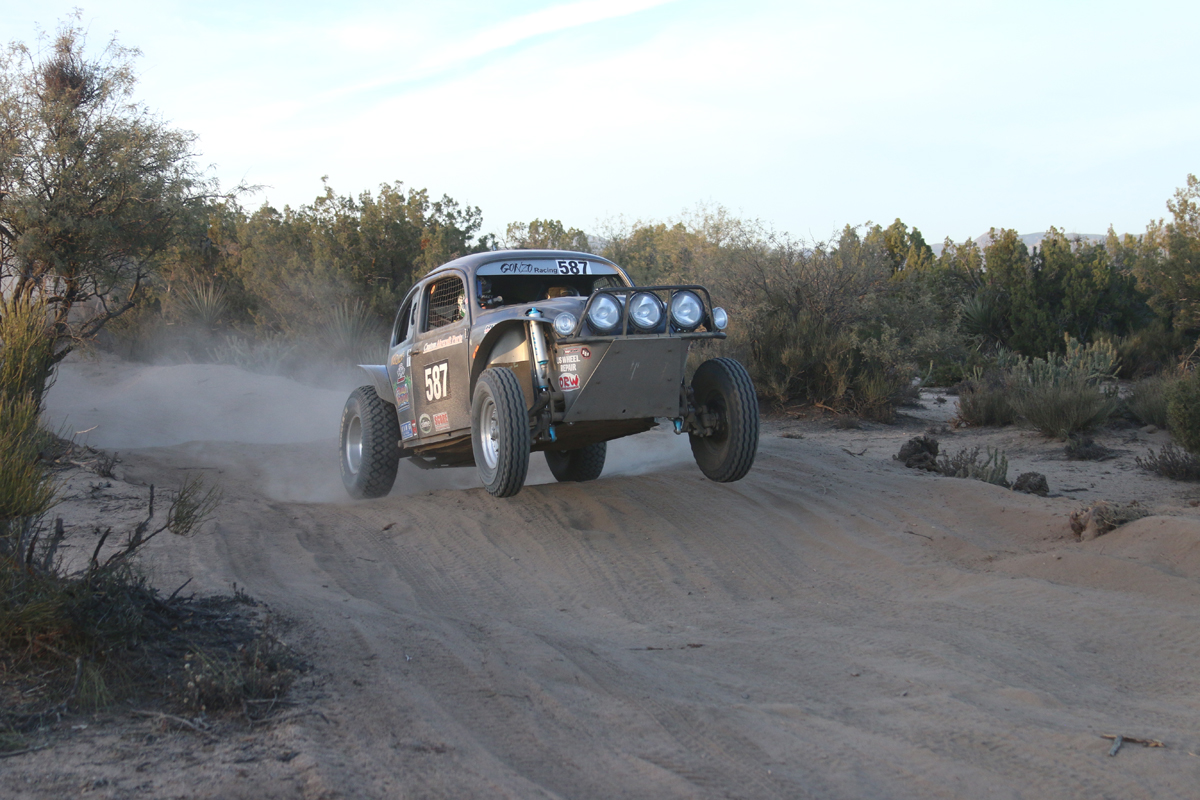 The whole sequence
All six photos were taken in just a couple of seconds as Trevor and Ruben negotiated this short section
of "whoops". For a short wheelbase car, these sections are a challenge; if we can get up to speed before
we hit them, we'll just "skip" off the tops and keep going at high speed. If we can't get up to speed, as in
this case where we come out of a turn and hit them, the car is forced to follow the contour of each bump
at much lower speed.
Photos courtesy of "DirtFocus.com"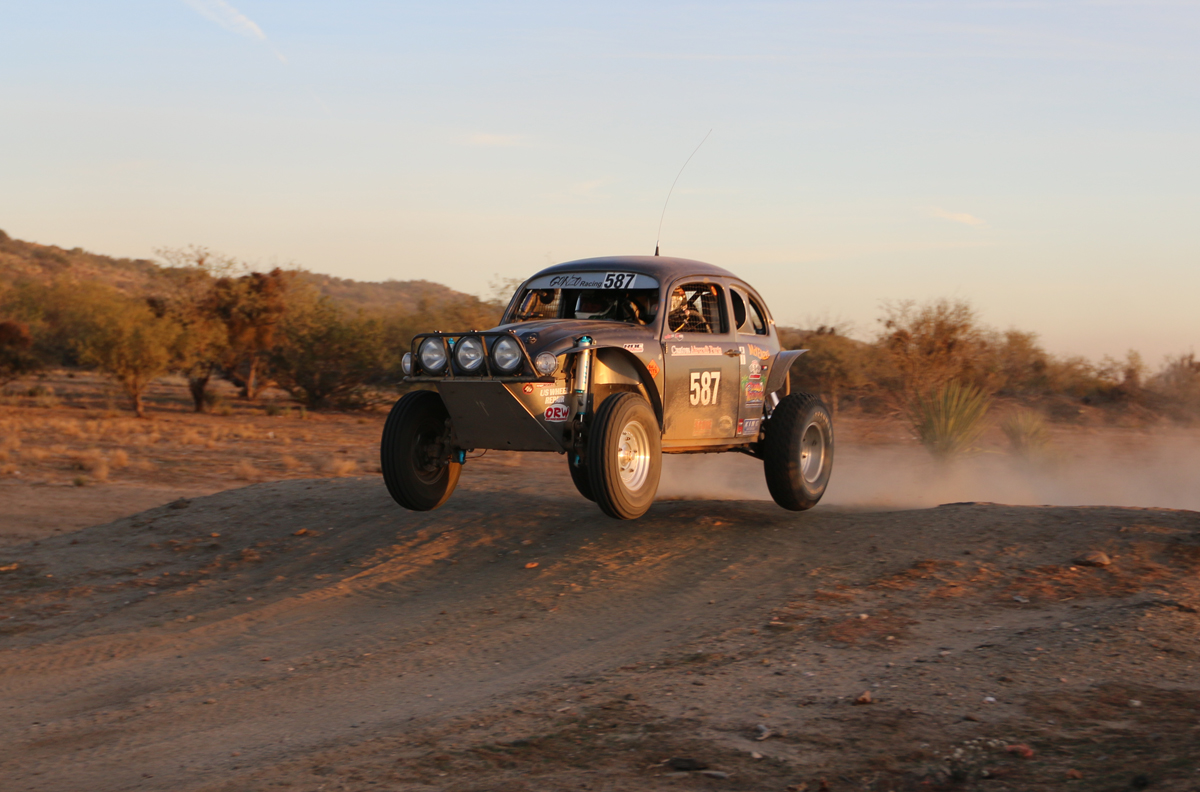 Race Mile 84, now we're racing!
Photo courtesy of "DirtFocus.com"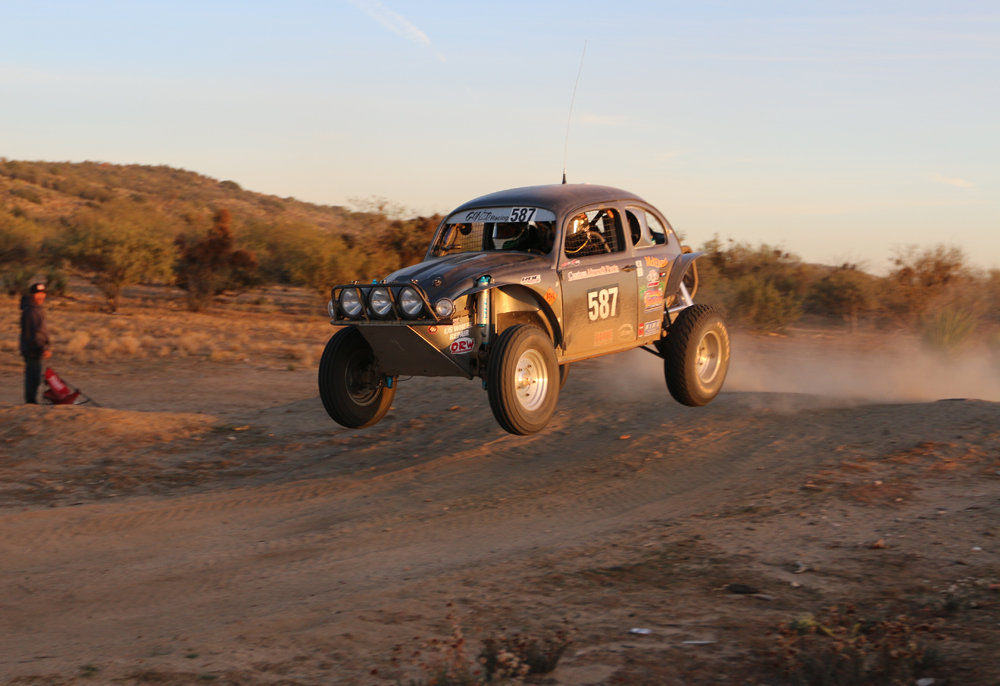 The car jumps really nicely - no bad habits
Photo courtesy of "DirtFocus.com"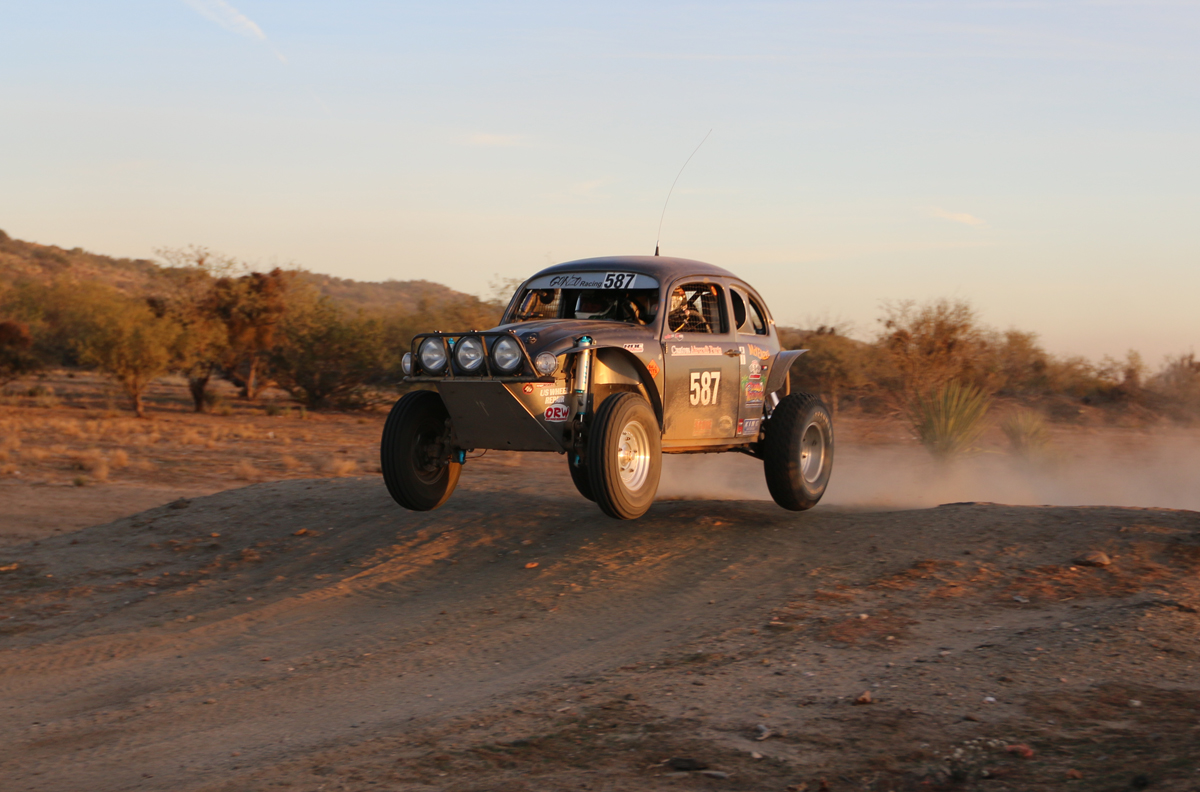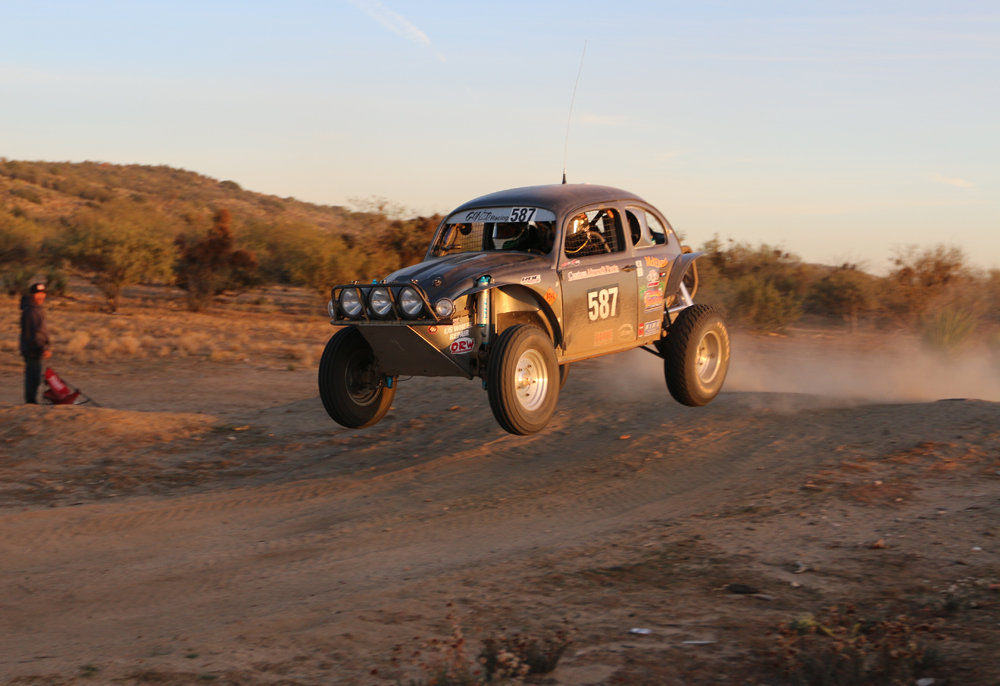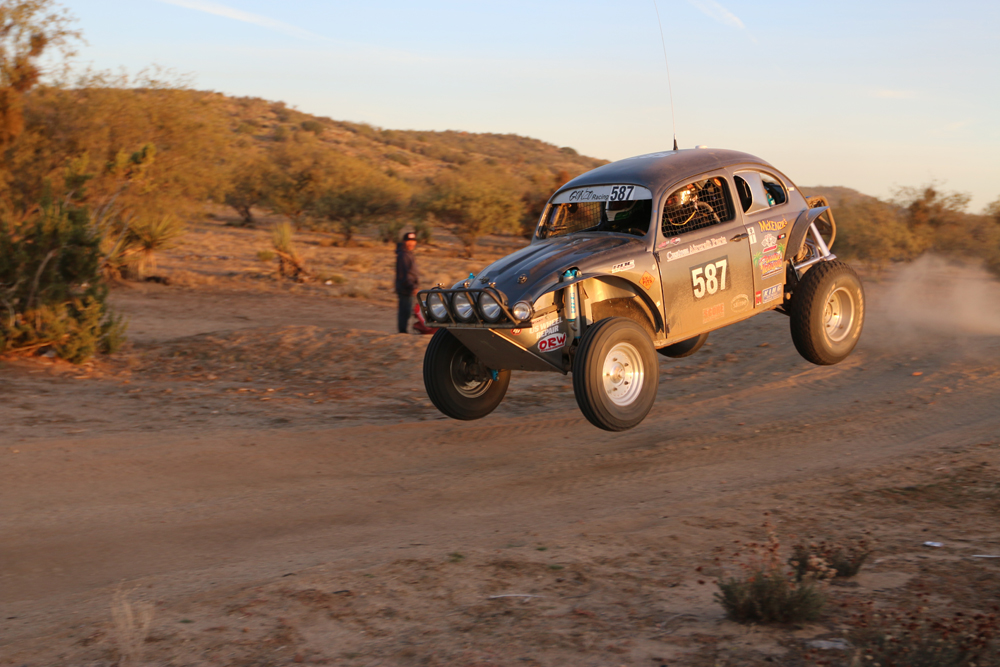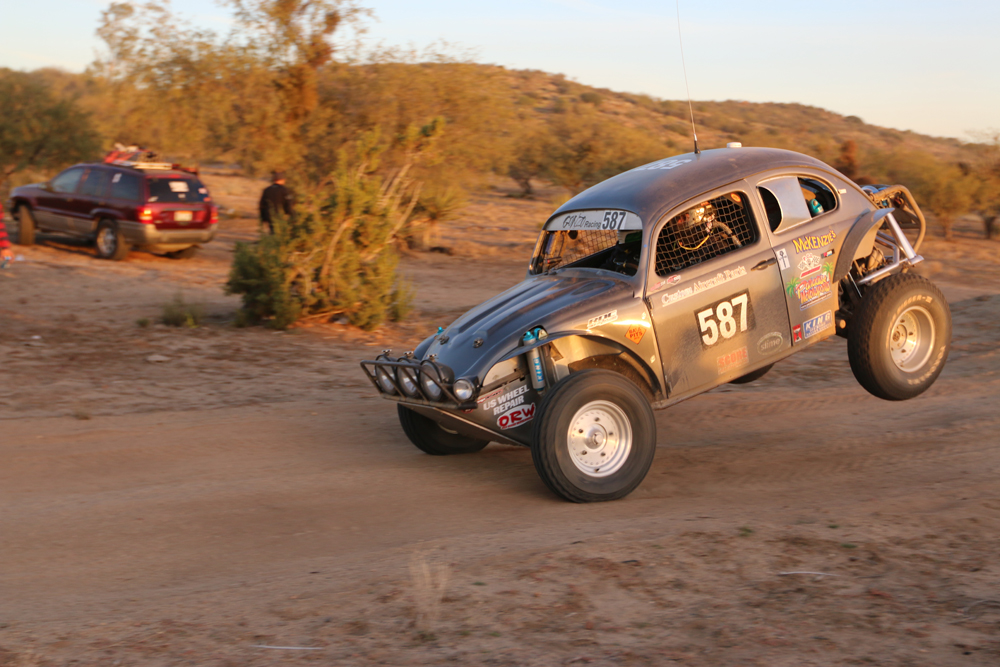 Jump Series
Photos courtesy of "DirtFocus.com"

Near Valle Trinidad
Approaching Baja Pits #3 at Valle Trinidad, race mile 128. I know this is before the pit
because Trevor still has a "spare" tire on the right rear; he changed to a full size at pit 3.
Photo: MyBajaPhoto.com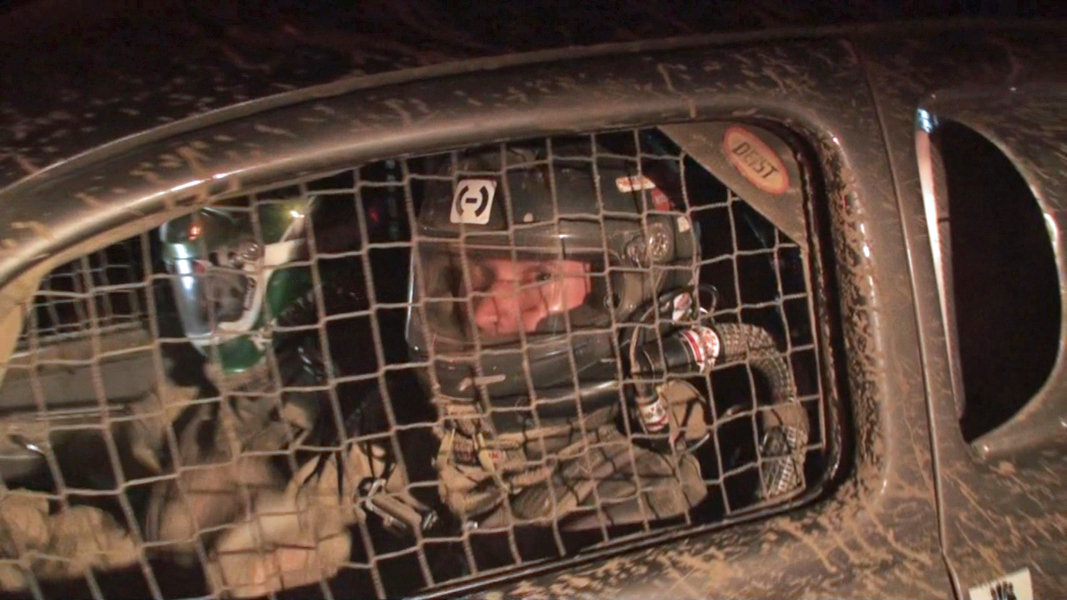 Trevor and Ruben arriving at Baja Pits #7 - El Rosario, RM 308
Our first major pit stop and co-driver change point. We did a full service on the car and got Trevor out
for a few minutes to hydrate, eat and mingle with fans while I worked on the car. Ruben got out here.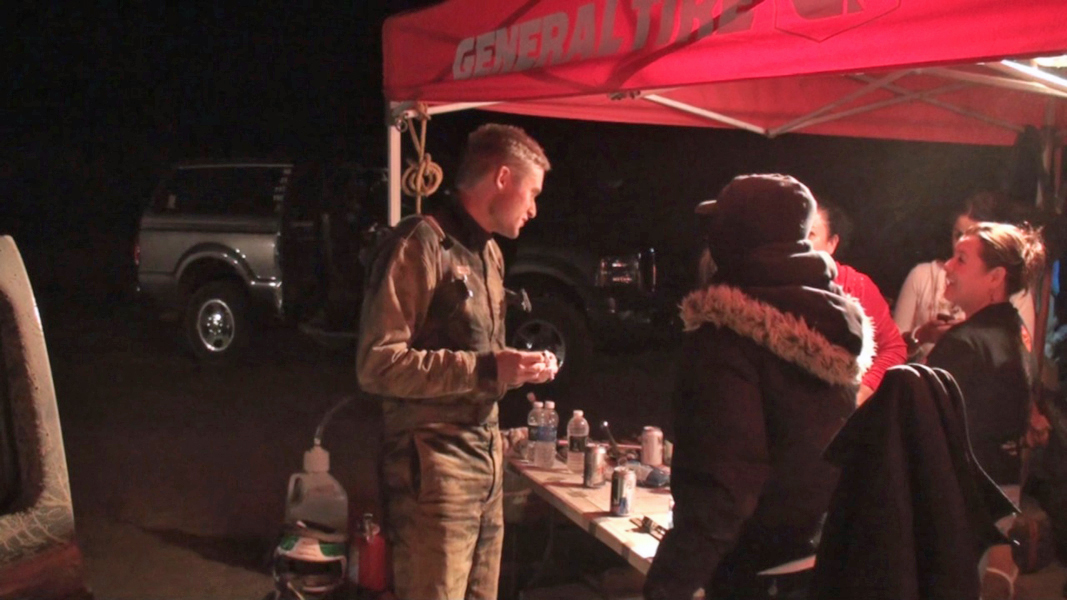 Fans asking to take a photo with Trevor during the pit stop
These ladies came to visit during our pit stop at El Rosario; they had talked with Trevor during
contingency and very politely asked if he would take a photo with one of them while here; Trevor
kindly agreed to do so.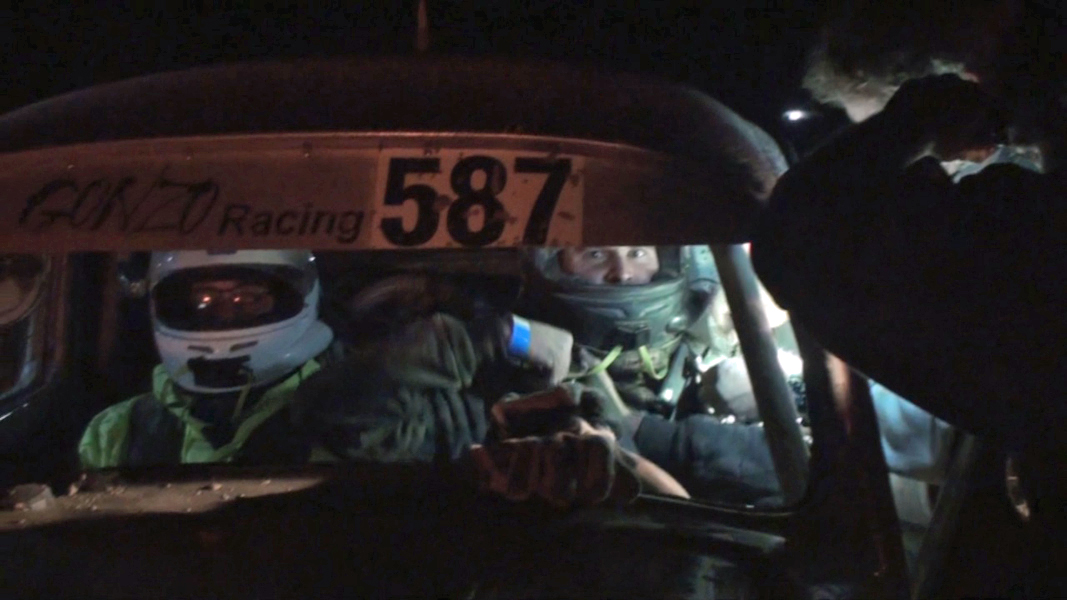 Trevor getting strapped back in, Ivan is the new co-driver
Ivan waited patiently while we serviced the car and got Trevor fed and hydrated.... Surprised he didn't
fall asleep waiting for us! This was Ivan's first time co-driving with Trevor; he did an outstanding job!

Leaving El Rosario
Next stop, Laguna Chapala - race mile 431. We'll drive ahead and wait for them there - they'll take on
some fuel and continue to Coco's Corner, then El Crucero where we'll wait for them to pass by.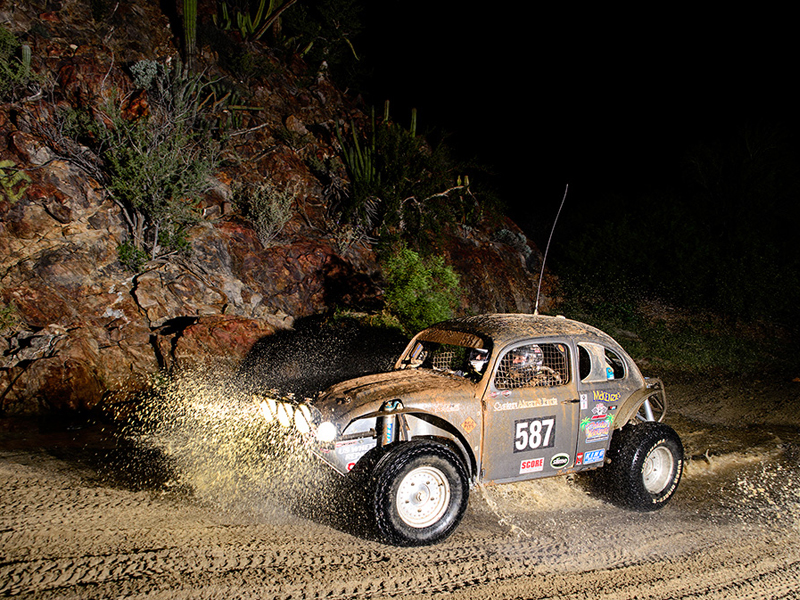 Calamajue Wash?
This looks like the Calamajue Wash, south of Coco's Corner at race mile 450 or so.
Photo: MyBajaPhoto.com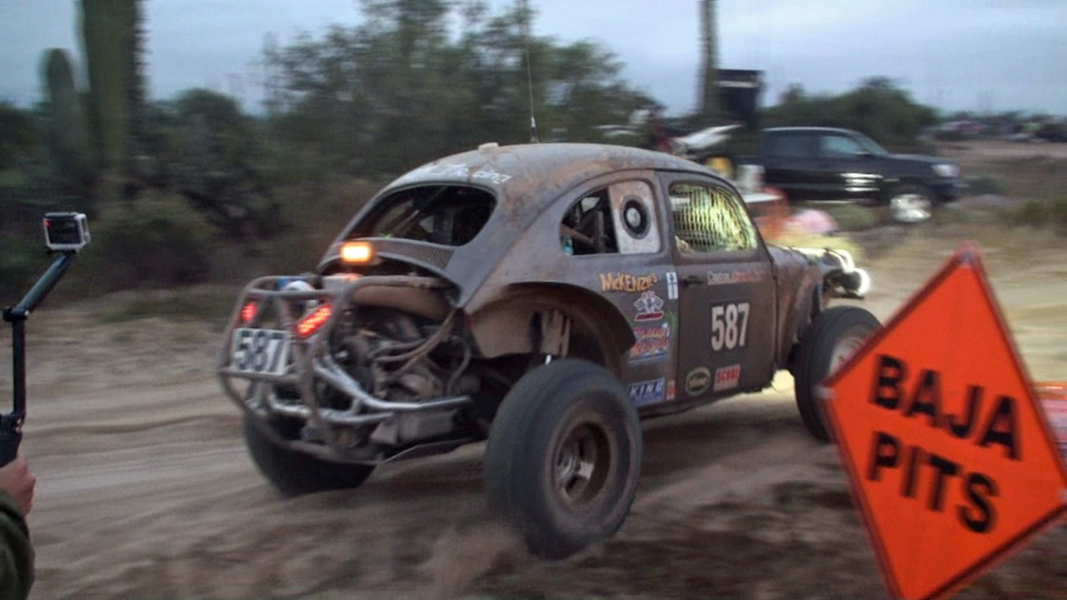 Baja Pits #10 - El Crucero
Trevor and Ivan passing through El Crucero - race mile 472. They stopped for just a second for us to
do a quick visual inspection and make sure everything was good to go. The next time we see them will
be at the Viscaino Highway crossing, race mile 665 or so.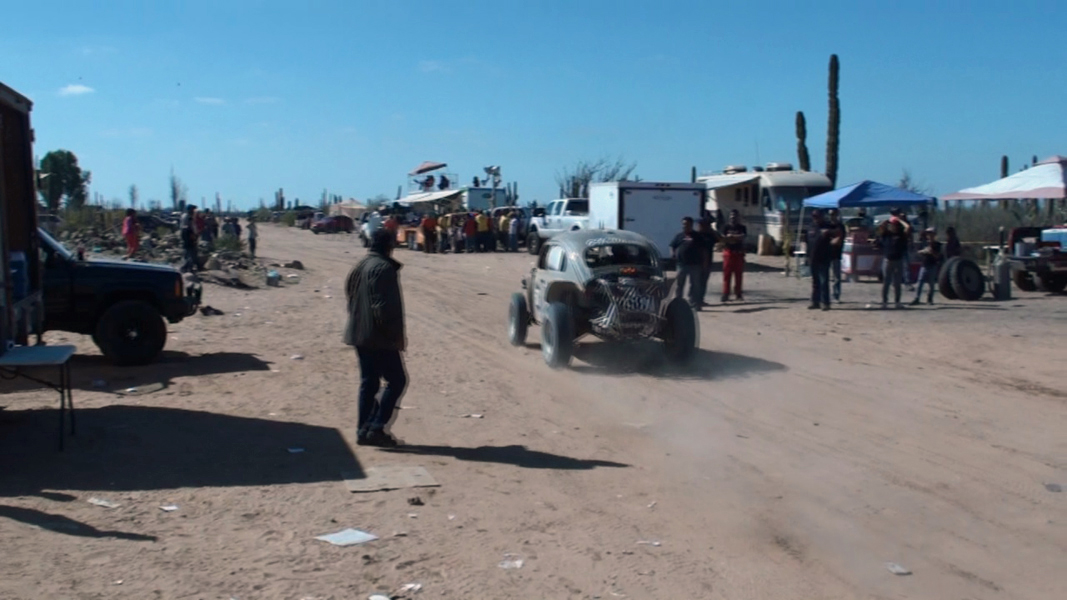 Just after the Viscaino highway crossing
Trevor and Ivan just after crossing the highway at Viscaino. Viscaino is just south of the north/south
dividing line in Baja California. Next stop: San Ignacio - with lots of silt to contend with before they
get there....... We'll do a full pit stop in San Ignacio along with a co-driver change.

Trevor pulling in to Baja Pits #15, San Ignacio - race mile 735
This was our second major pit stop with a co-driver change - Ivan got out and Bobby got in. We had a few
mechanical and electrical issues to take care of here; we replaced the battery, a tire and one of the axles
(one of the CV boots was torn and it's just easier and faster to replace the whole assembly).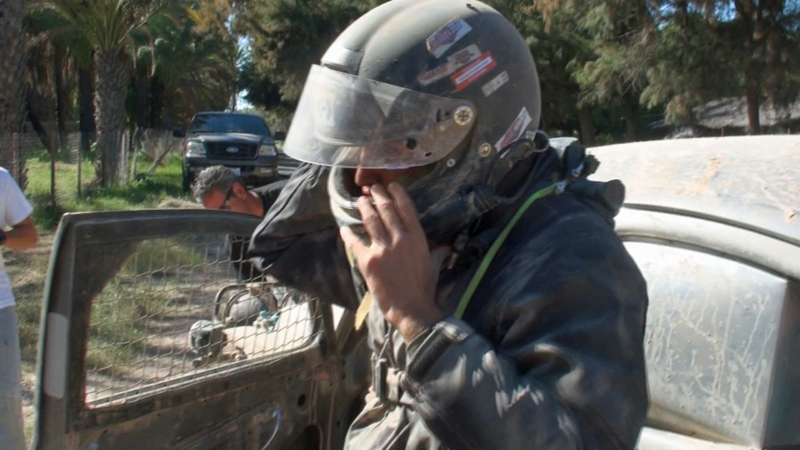 Trevor getting out for a few minutes
During our extended pit stops, Trevor gets out to eat and hydrate while we take care of the car. It's an
opportunity for him to try to relax a little, stretch some sore muscles and change into/out of a jacket.

Trevor showing a little fatigue...
He's been driving for about 20 hours by now and has already raced the equivalent of a Baja 500 and a
San Felipe 250 "back to back". We're in 2nd place at this point, closing on 1st.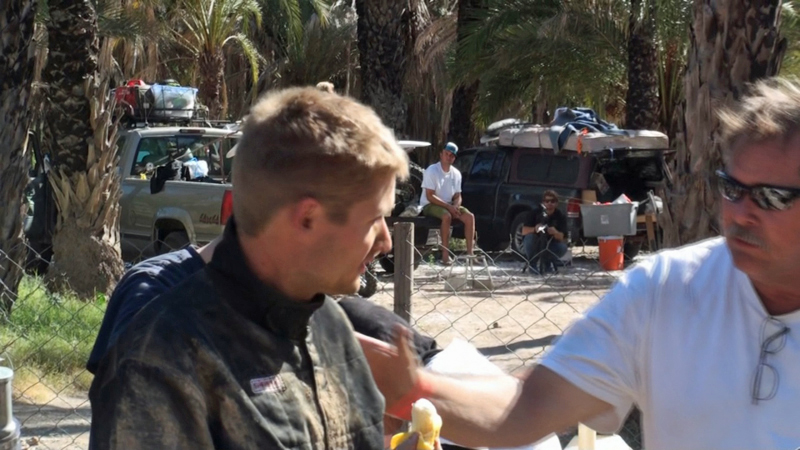 Mark checking on Trevor
A rare opportunity for me to ask how he's doing - I'm usually concentrating on the car while he's
getting something to eat or drink. Teryl (Mom) is in charge of the physiology stuff, probably more
important than my role.....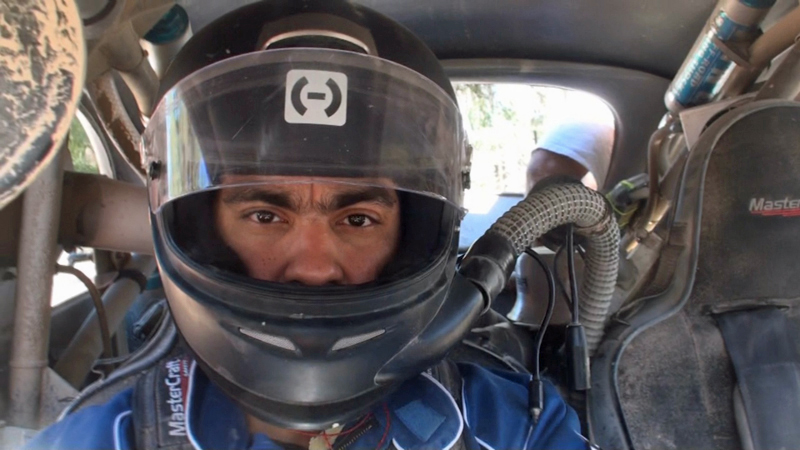 "Bobby" ready for his leg from San Ignacio to Loreto!
He's been in the car waiting for us to get our act together for some time; we had several problems
to deal with before we sent them on their way.....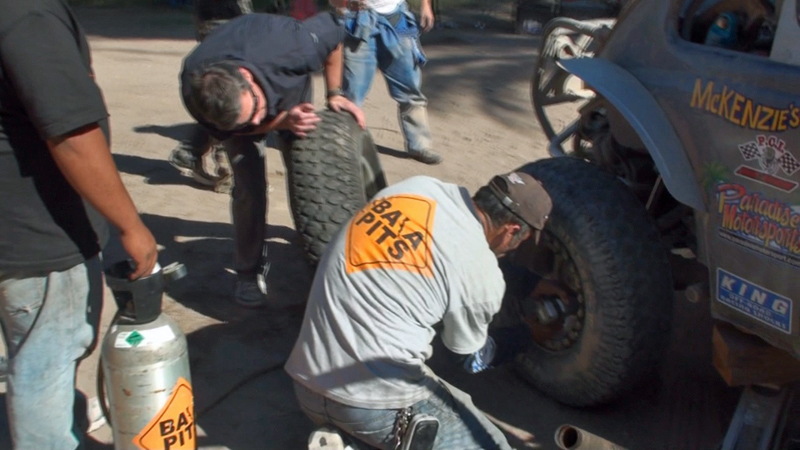 The San Ignacio Baja Pits crew changing a tire for us
They also changed the axle on that side due to a torn CV boot - great job guys!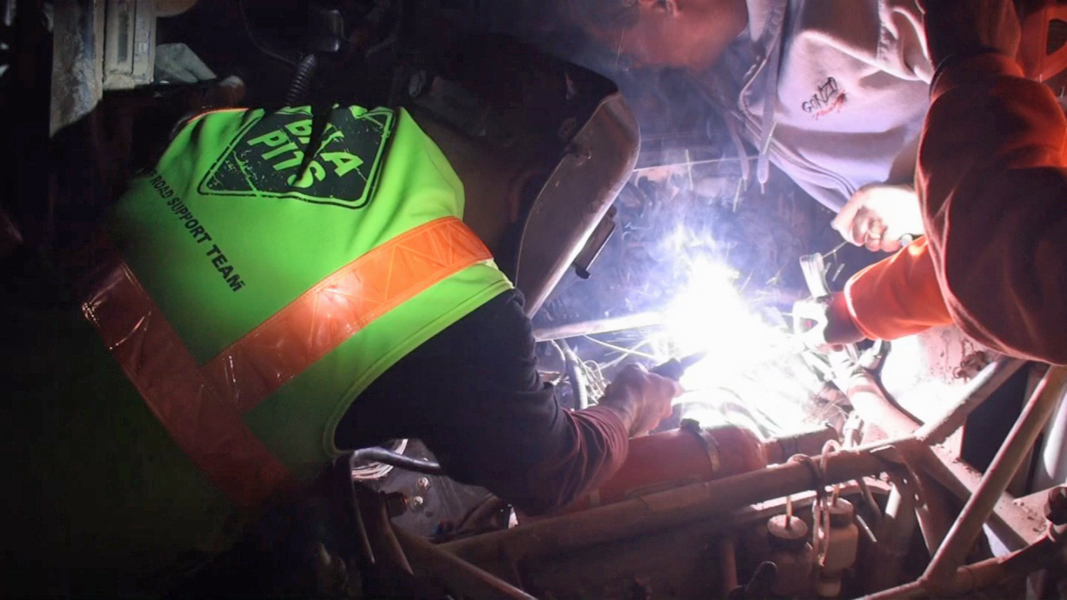 Baja Pits #19, Loreto - race mile 967
Our third and final major pit stop. Trevor arrived here with a broken power steering unit bracket; we welded
it up, gave him another battery and changed co-drivers for the final leg. Bobby got out here and Victor got in.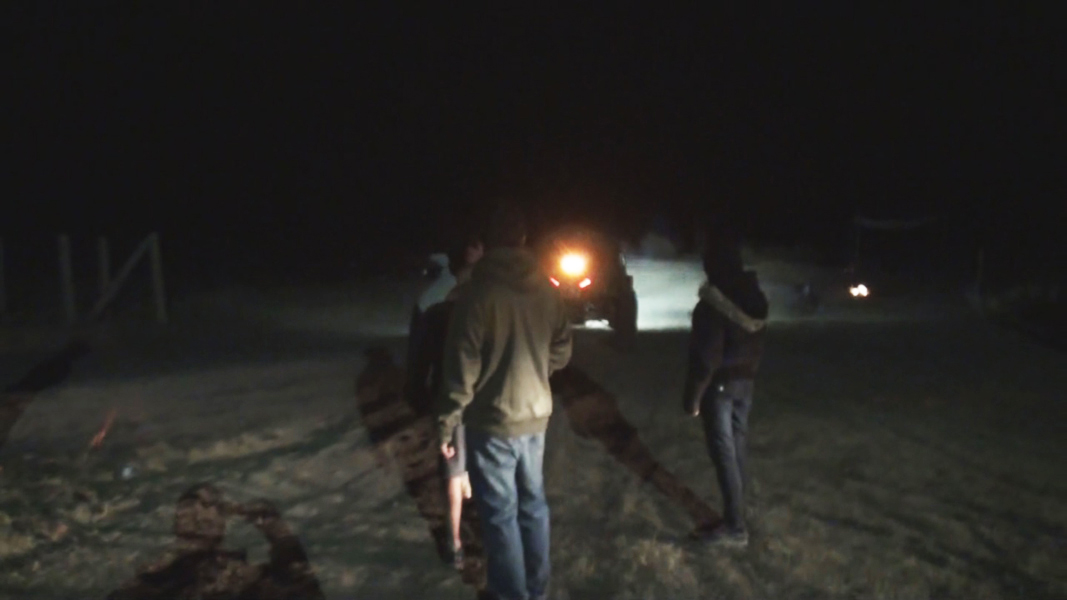 Leaving Loreto
Repairs complete, co-driver swapped, fueled and fed. We'll see them again at race mile 1086, San Carlos, just
before they leave the highway for the last time before La Paz. Everything looking good for a strong finish!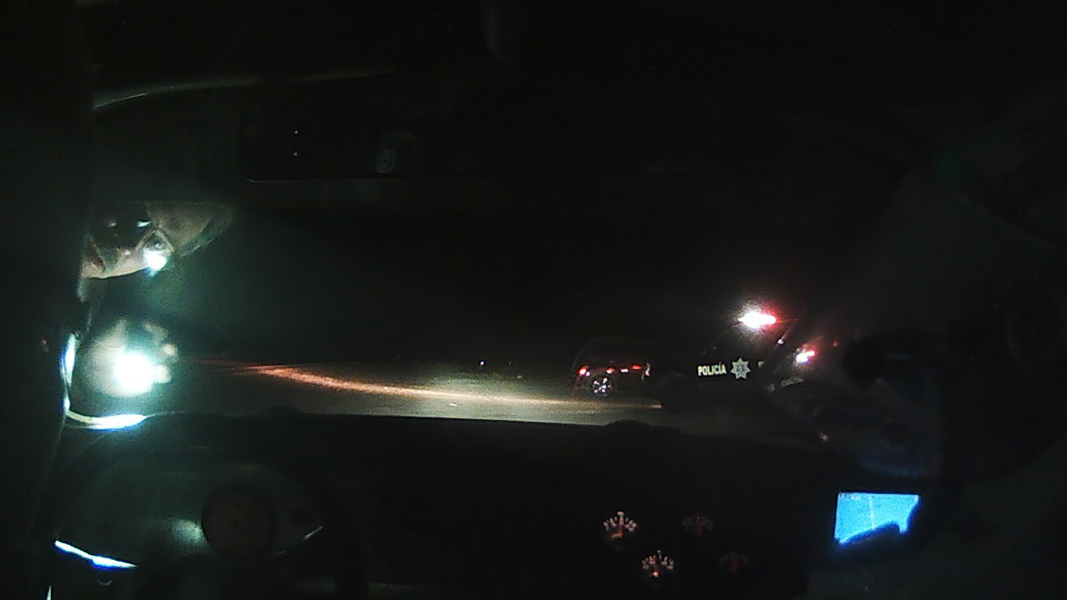 Last chance stop at San Carlos - race mile 1086
This is the last time we'll see the car before the finish line 189 miles later; the last opportunity for us to
check on the condition of the car before it enters a portion of the course that is very difficult for us to get to.
Everything looked good and Trevor gave us a "thumbs up" - no sign of the structural or electrical problems
that were about to bite us......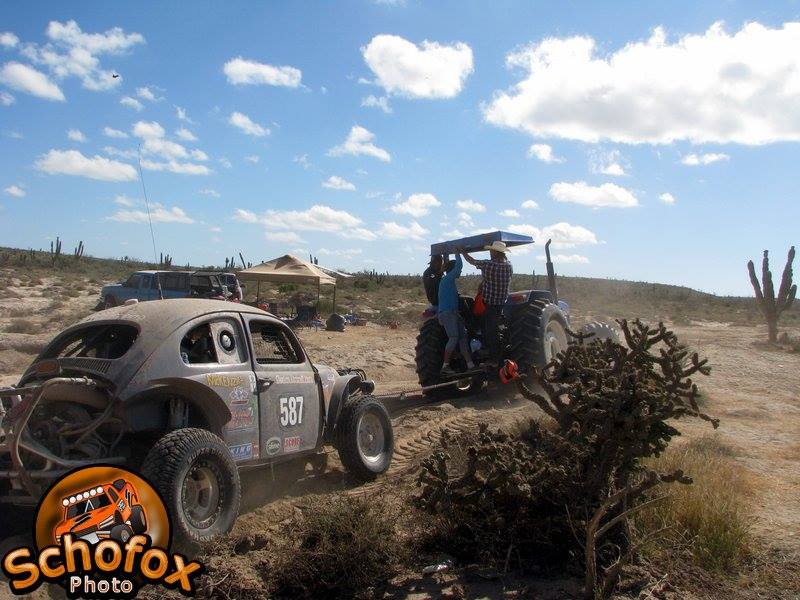 Getting towed out of silt
Somewhere between San Carlos and Punta Conejo - you can see that the front suspension
is "sagging" now. That's due to the failure of one of the front "torsion adjusters", and it's
all "downhill" mechanically and electrically from this point on......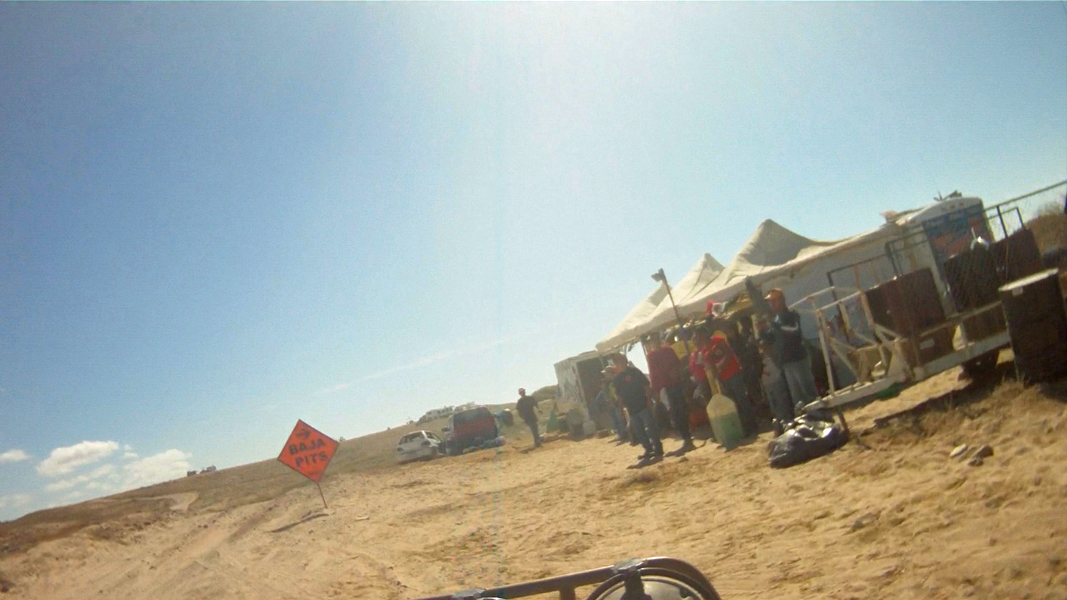 Baja Pits #23, Punta Conejo - race mile 1200
Our final fuel stop before the finish line. Trevor had intended to make repairs to the failing front suspension
here but decided against it, knowing that the remaining section to the finish line was not that challenging and
that the time taken to make repairs could cost them a "finish".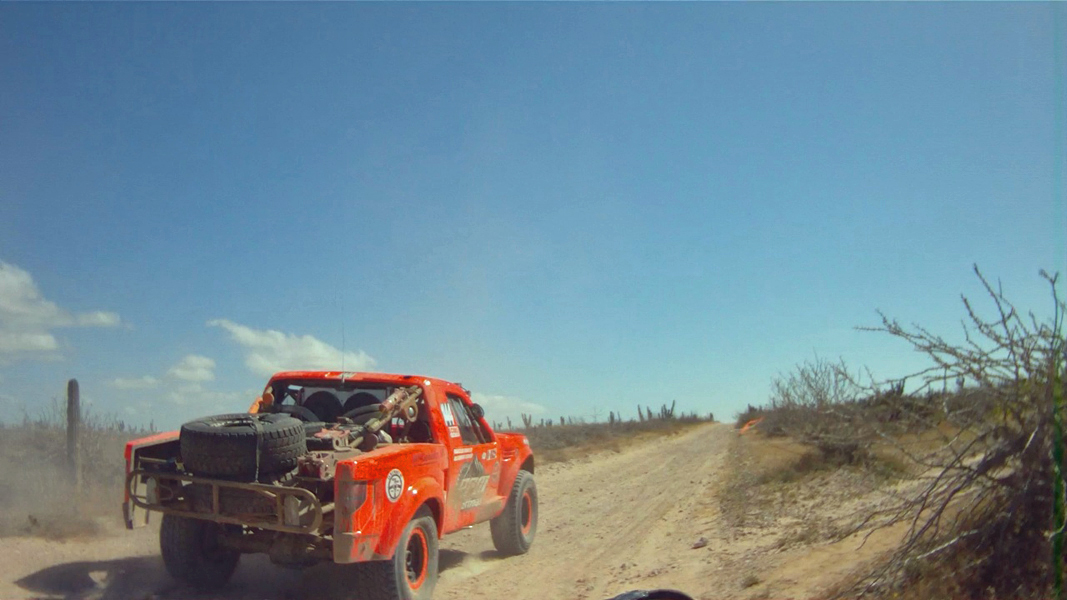 Thanks for the push!
Between San Carlos (mile 1086) and the finish line in La Paz (mile 1275), we experienced serious electrical
problems that caused the engine to quit numerous times. The electrical problems began when a front
suspension "torsion adjuster" failed, resulting in a failure of the suspension support structure followed by
multiple electrical failures as the jagged edges of the failed structure cut into main electrical cables. Trevor
and Victor found and repaired each "short circuit" but lost critical time waiting for someone to come along
and give them a push to "bump start" the car each time (each short killed the battery, we went through 5!).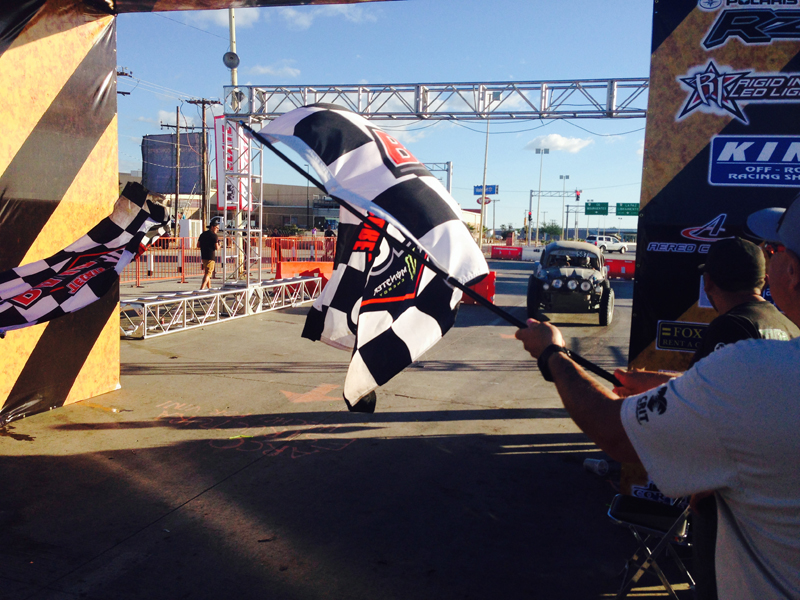 Taking the checkered flag 49 hours after the start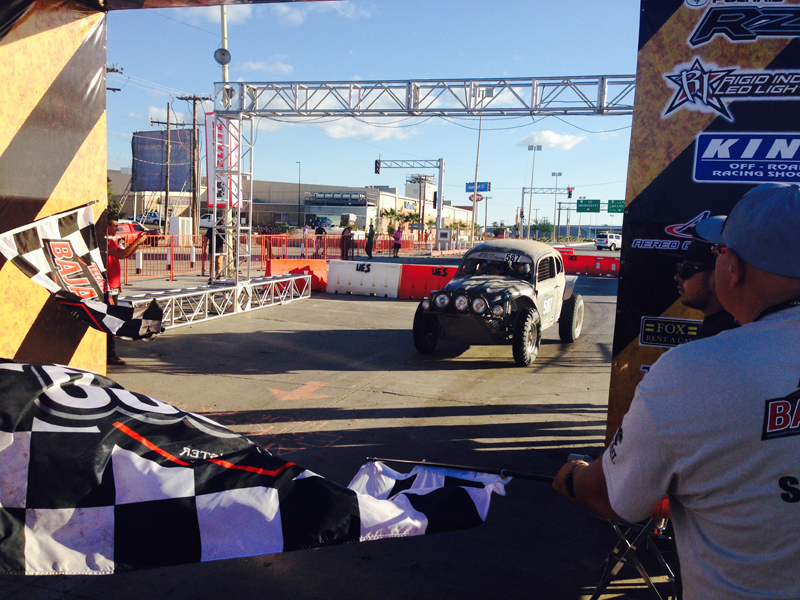 It was a long, difficult battle to get to the finish line
We had major problems along the way, structural, suspension, steering and electrical. It's a testament
to the driver and co-driver's strength of character that they made it at all!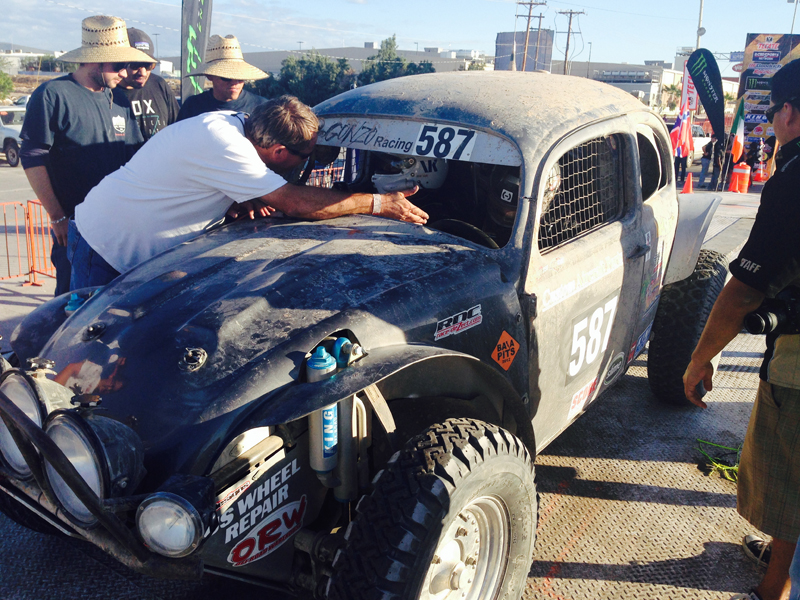 Mark happy to have them at the finish line and safe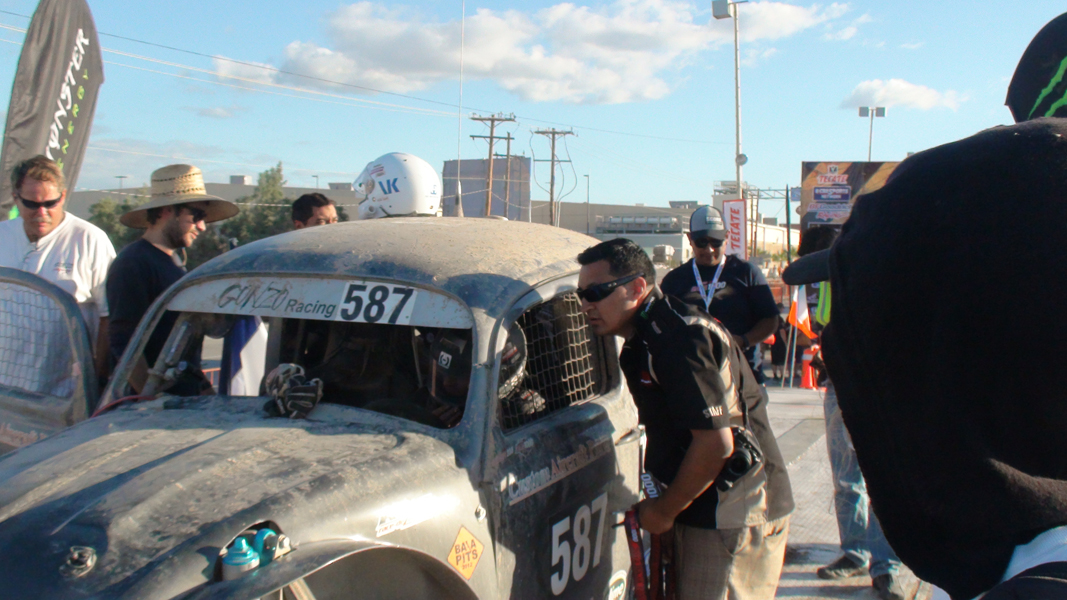 SCORE official greeting Trevor on the ramp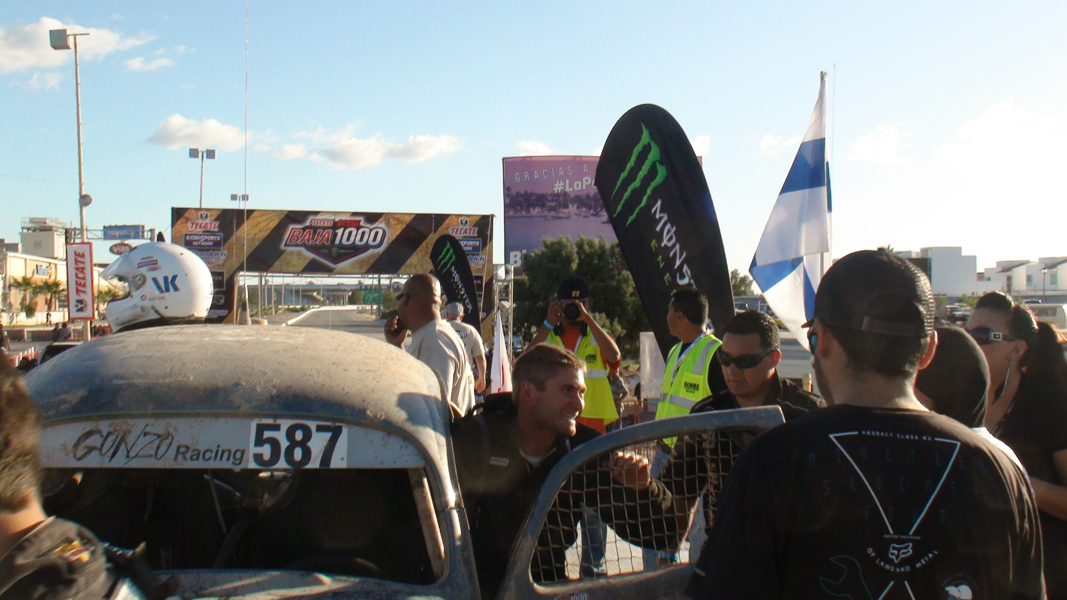 Trevor happy to be done!
Trevor admits that "solo driving" this race was not the best choice..... It's difficult to predict how things are going
to go - if everything had gone well, it would have been an okay choice. Given that everything that could go wrong,
did, it was not the best choice (20/20 hindsight....). Plan for the worst, hope for the best.......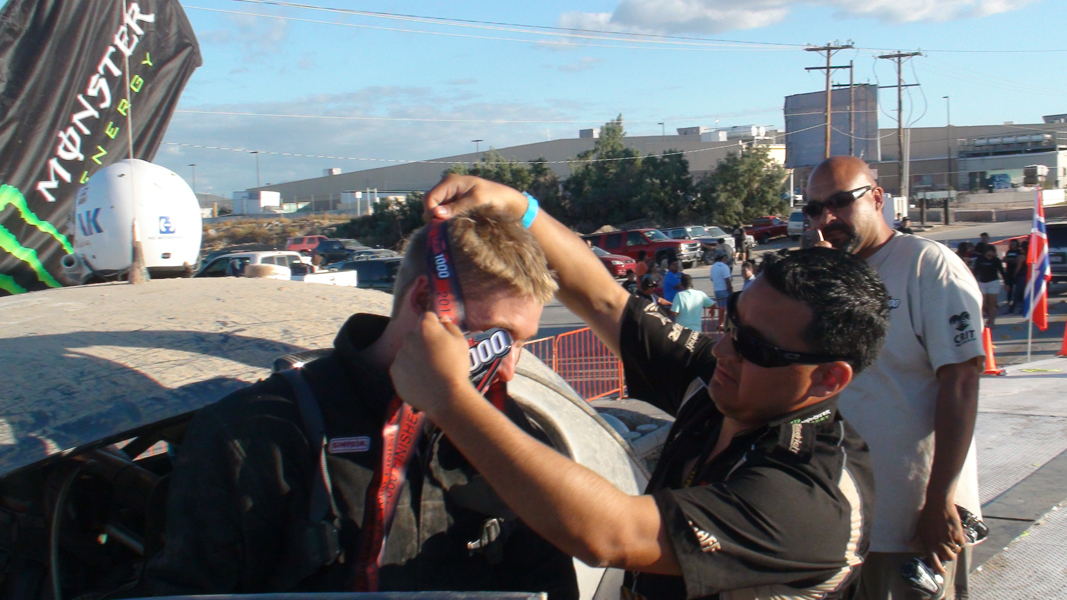 Trevor getting his official "Baja 1000 finisher" medal
While he got the medal, SCORE shows us as a "DNF" - we had 49 hours to finish and took 49 hours, 45 seconds.....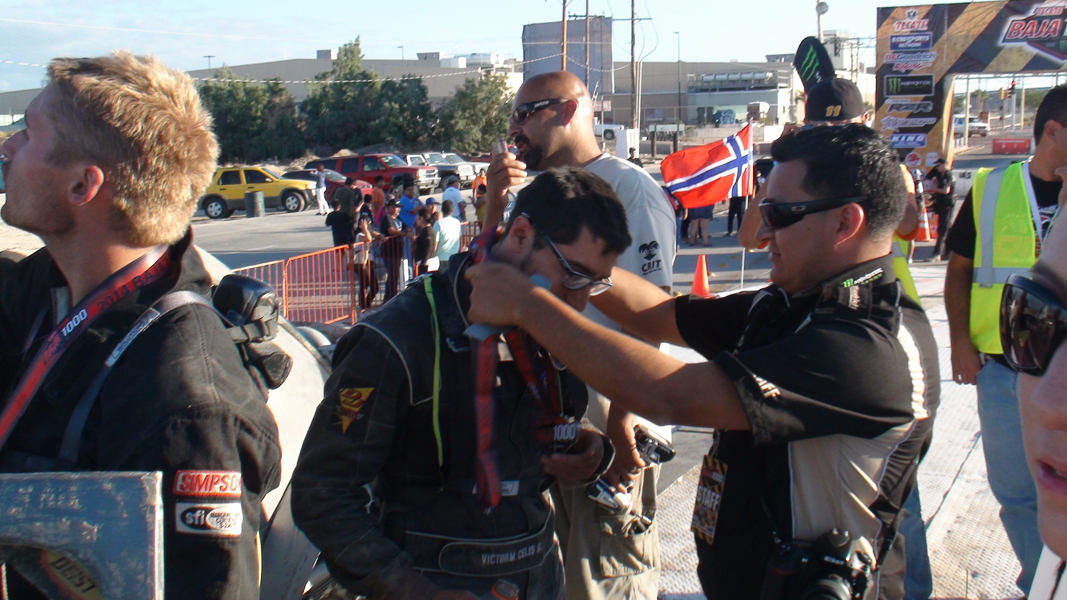 Victor getting his finisher medal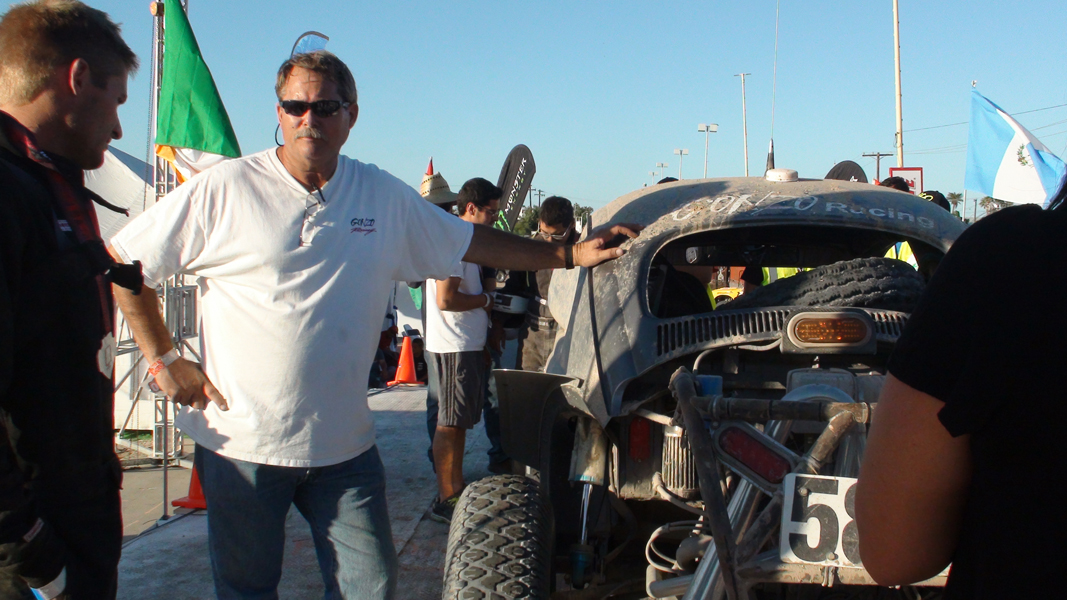 Mark and Trevor at the finish

Trevor and his co-drivers, plus dad and mom
Mark, Victor, Bobby, Ivan, Trevor and Teryl. Trevor's first co-driver, Ruben had to go to work back in
Ensenada and couldn't join us in La Paz.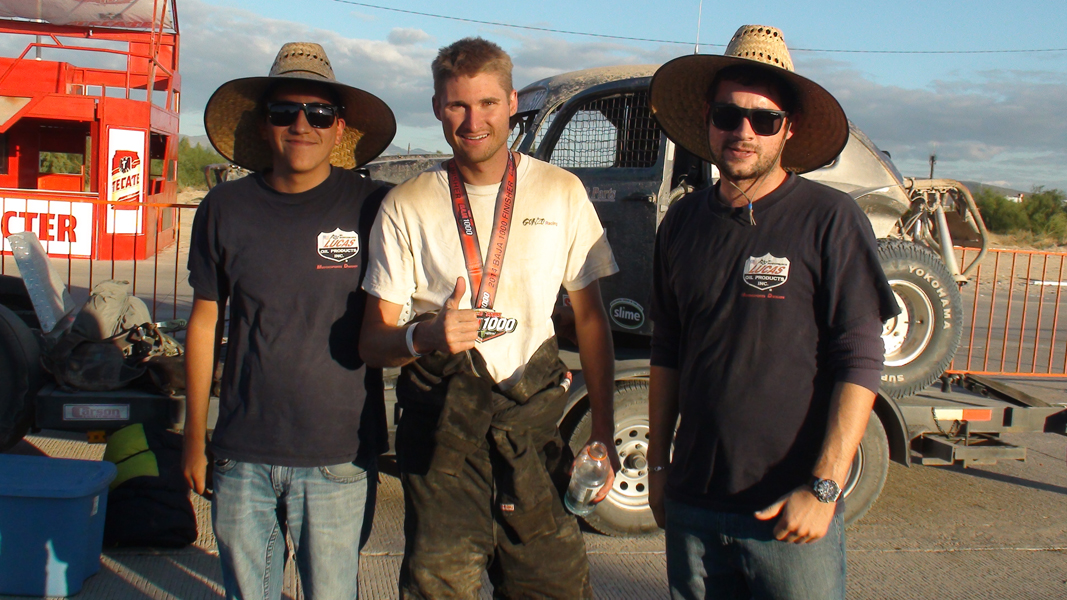 Trevor with Marcus and Marcos, great guys and part of our chase team!
---