Lowering the transaxle/engine
(and changing transaxle mounting arrangement)
This is another area where we made a decision during the original construction that turned out to be an error. By the SCORE rule set, we are allowed to relieve the horns down "to the seam" for CV clearance. By doing so, we are able to lower the transaxle and engine approximately an inch. This does a few things for us; it lowers the car's center of gravity making it more stable, it allows us an additional inch of "up travel" before we run into tire/body interference issues and gains us another inch of ride height without increasing axle/cv angles or allows us to run the same height with a lower cv angle (less power loss). The difference in stability and controllability before and after is remarkable. Where previously we were not one of the fastest cars in rough terrain, we now are.....
We had also begun having problems with our transaxle mounting arrangement. We had originally used a "mid-mount" at the nose of the transaxle along with the lower engine studs to secure the assembly to the horns. It's common practice to utilize the lower engine studs as mount points on non-race vehicles. The studs do double duty; they attach the engine to the transaxle and the assembly to the car..... As our experience level increased and we began racing harder, we started shearing the engine studs regularly. That's an obvious problem and this was the perfect time to address it. We designed an additonal "mid Mount" plate to install between the transaxle bell housing and gear box that allowed us to free up the engine studs from their second duty as transaxle mounts. Here are a couple of photos: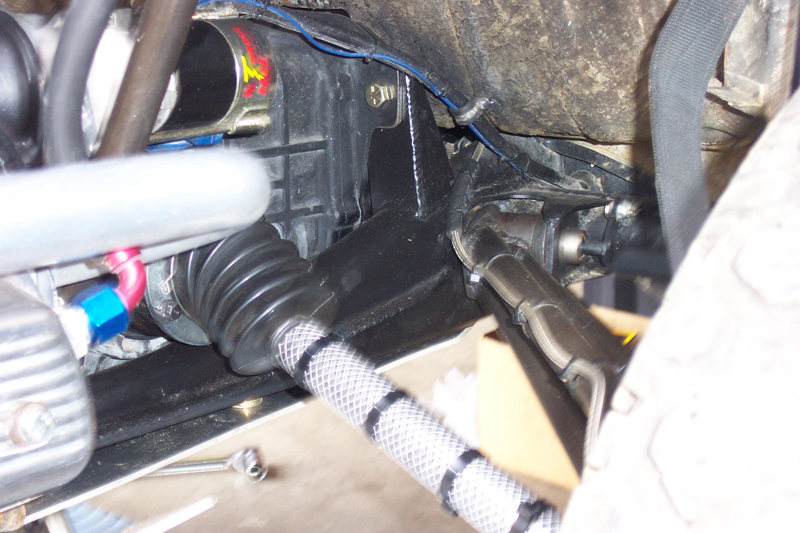 Original "high mount" transaxle/engine location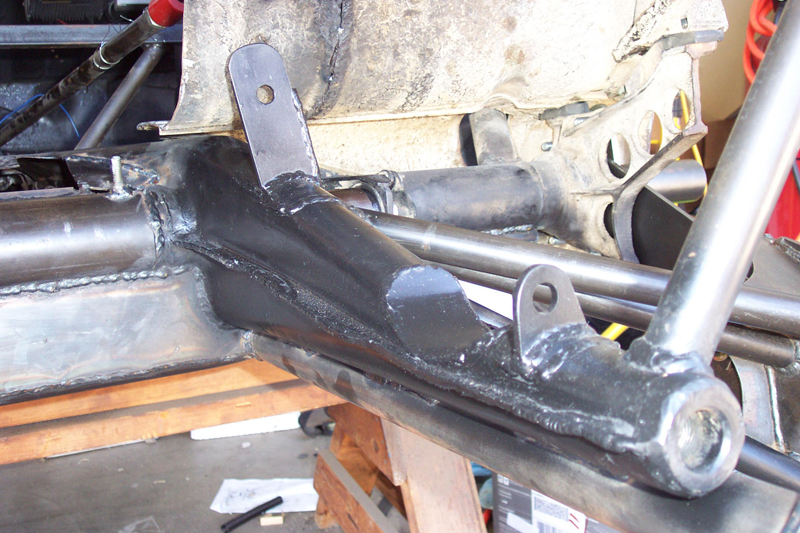 "Notched" horn and new transaxle mount tabs

Transaxle/engine secured one inch lower with new rear "mid-mount"

Much more secure and better performing mount arrangement complete
(notice we also utilize the "hanger mount" provisions)