Adding Power steering
We were "purists" when we built the car; we didn't believe in power steering for a VW bug and built ours without.
It was a good learning experience to race the car that way for a couple of years...... The heavy duty rack and pinion steering box we use did a great job of transmitting Trevor's steering commands to the front wheels; unfortunately it also did a great job of "feeding back" the impact of every rock, bump and ditch on the course to the steering wheel. There were several occasions where the steering wheel was literally torn from Trevor's hands, causing us to careen off course. Fortunately, no serious damage resulted from any of these unplanned adventures (though there was that one time that I was almost impaled by a tree limb......). In addition, Trevor was going through a set of driving gloves every race. He'd start a race with a new pair and finish it with worn-out gloves and blisters on his hands....... Racing the 2010 Baja 500 without power steering convinced us that we needed to make a change! Knowing that we wanted to run the Baja 1000 later that year, we began researching the best way to go. A "power rack" would have been the ideal way to go except for the fact that we have very limited space for installation and a rule set that doesn't allow us to clearance the frame head for tie rods more than one inch (look at most 5/1600 cars and you will see that the frame head has been clearanced well in excess of that amount, making them illegal by the SCORE rule set). "Bump steer" becomes a huge issue under those circumstances, making a "power rack" a difficult install in a 5/1600 car. Most 5/1600 cars therefore use a "Char-Lynn" type power steering system, a single unit that combines a "torque generator" and a "steering control valve" between the steering wheel and the rack and pinion unit. The Char-Lynn unit is compact and simple but is hard on the rack and pinion unit; all of it's power is transmitted to the input shaft of the R&P unit rather than directly to the tie rods. It does, however, completely isolate the steering wheel from the feedback problem we experienced previously. We can now drive the car with our fingertips; it goes exactly where we want without any of the unplanned excursions! There are a few trade-offs involved; we lose a small amount of horsepower driving the power steering pump, we have high pressure hydraulic fluid inside the car with us and we have to inspect the rack and pinion unit frequently for wear.
Overall, we believe the trade-offs are in our favor and that we are faster on average with power steering than without.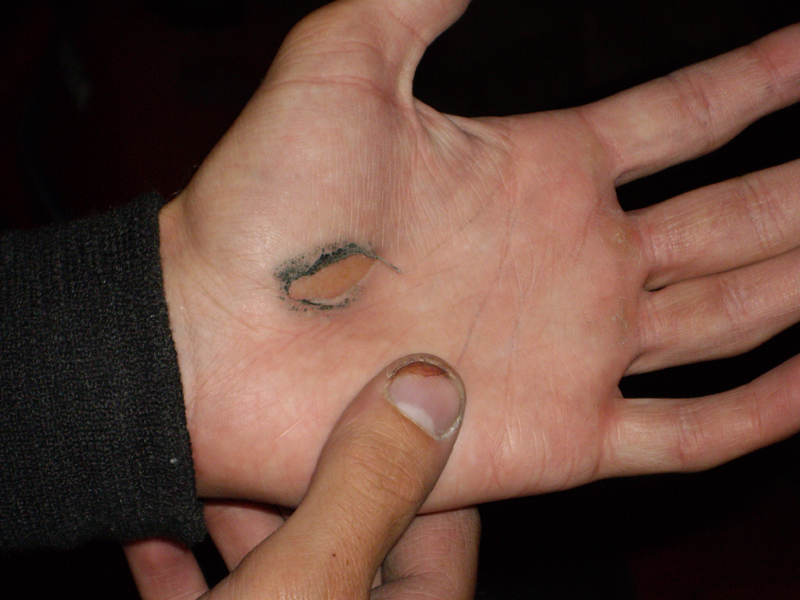 Trevor was wearing new gloves at the beginning of the 2009 SF250.....

Tree Branch that came through the window net between my head and the door
This happened during one of the times that the steering wheel was torn from Trevor's hands,
causing us to depart the course out of control. We ended up in a tree sized bush........
We started having serious discussions about the merits of power steering about that time!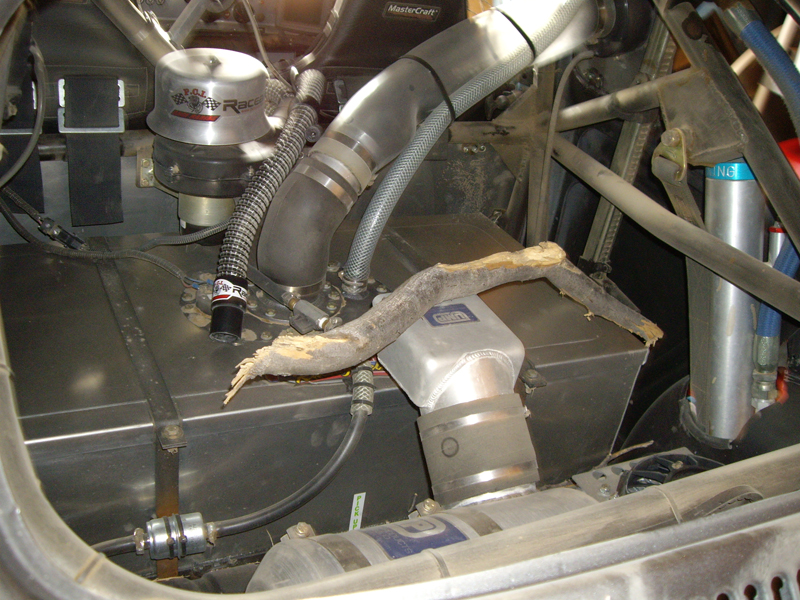 It was a substantial limb......
This missed my head by just a few inches (you can see the hole it made in the net in the previous photo).
Since installing our Char-Lynn unit, the car has never once done anything on it's "own" (well, other
than the usual "hop and swap" that 5/1600 cars will do when you push them too hard in the whoops!).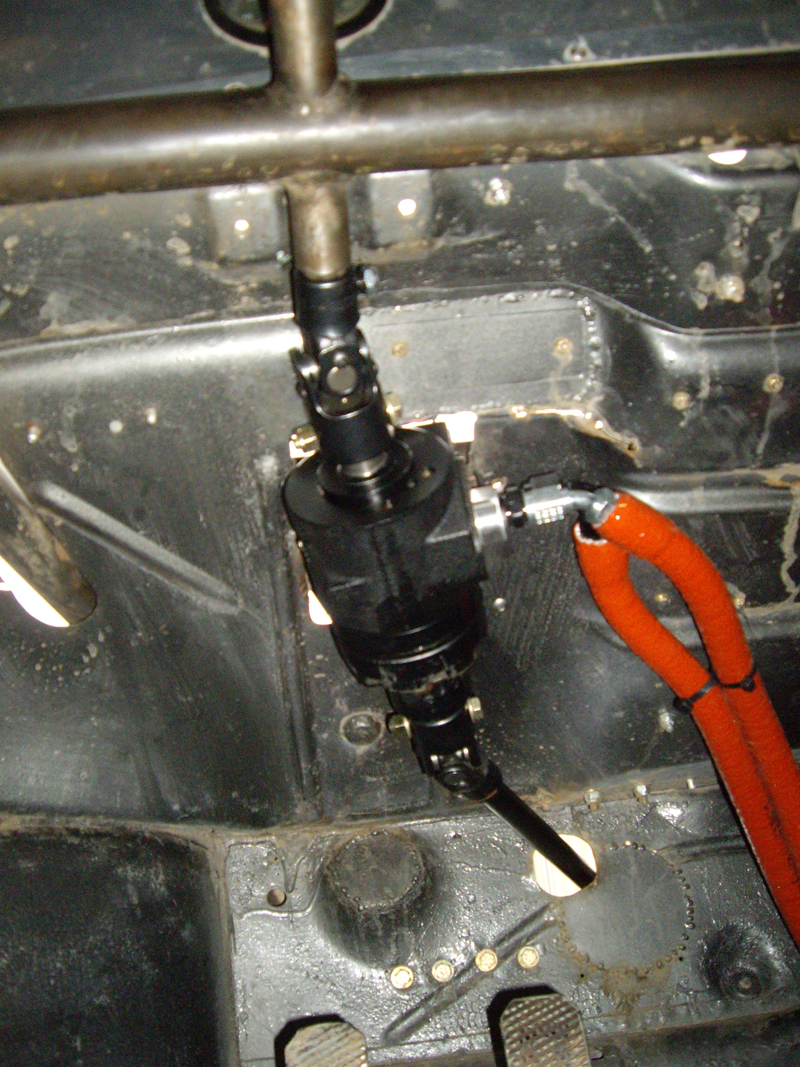 Char-Lynn unit installed under dash