CV Prep.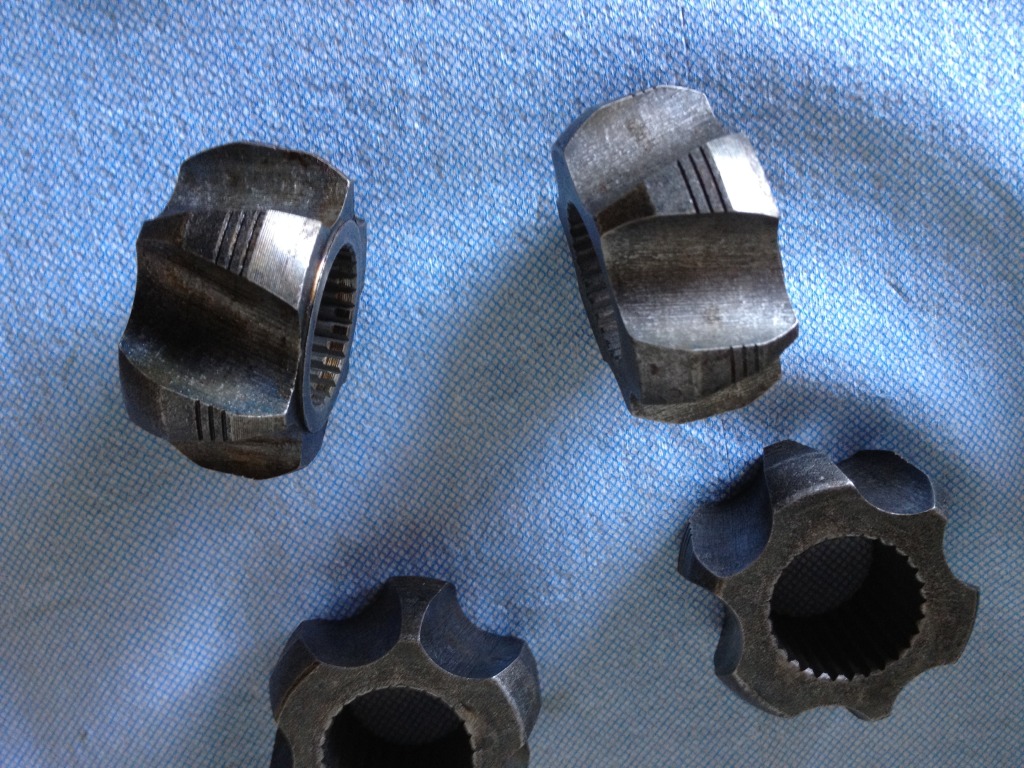 Bone stock CV "Stars" ready for polishing.
(Stock CV's have a very rough finish, by polishing them we can get a little more angle/performance....)

Stars smoothed to eliminate "Stress Risers"

All polished up and ready to go.

CV Flanges, new CV Boots and Contact Cement


CV Flanges
The flanges have a recessed area to accept the boots and the boots have a ribbed
surface to engage the recess. The boots also need to be clamped to the flange in
some way to ensure they stay attached.


New boot installed on "CV Boot Flange"
Here you can see the new boot installed on the boot flange with two safety wire wraps
to keep the boot secure. We do two separate wraps for security but one is probably
fine. We've never had a failure of this type of installation; there are other methods that
can be used to secure the boots but this one works for us.

Installing the retainer clips

Ready to grease
Note that the inner "star" is oriented so the "shoulder" is towards the center, allowing a
little more plunge before the axle clip begins to pull on the CV. Also visible is the stamped
"L" denoting that this is the left side axle assembly.

Greasing the CV's
This is a messy, two person job..... We mix up our own blend of several types of grease
in a gallon size zip-lock bag. Then, we cut one corner and use the bag to "pipe" the grease
into the CV's. That really seems to help keep the mess to a minimum (keep lots of paper
towels on hand anyway!). If you're using grease straight out of the tube, you could just
use a "caulking" gun to dispense it; mixing our own blend complicates things.....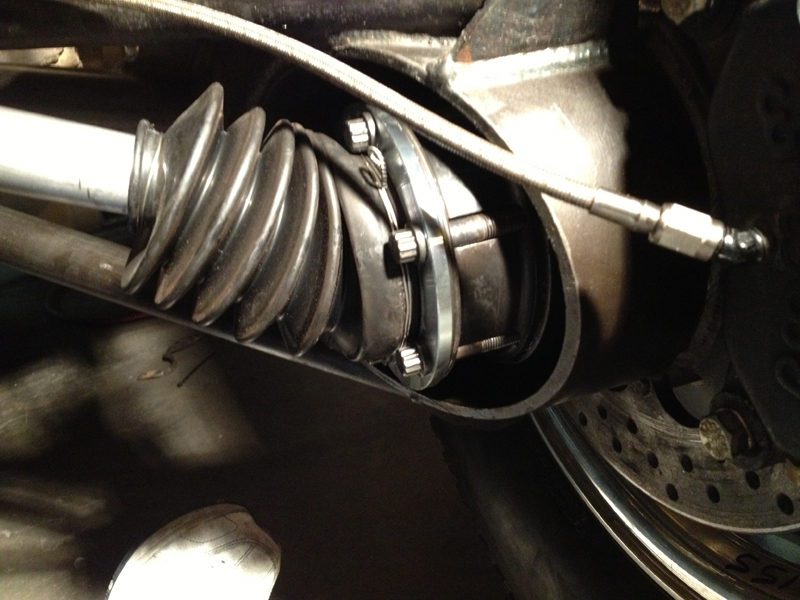 Right side CV/Axle assembly installed.
Not shown here is the thick vinyl tube we install over the exposed axle to help keep them
from being damaged as our front tires throw rocks at them.

Notes:
1) We Locktite and silicone all the CV bolts to keep them secure, never had one come loose.

2) We know that CV design is supposed to eliminate the need for "clocking" but we choose
to do so anyway. It doesn't cost us anything and we believe that we get just a little more
angle out of them before they start to bind...... Your mileage may vary.

3) Dirt is your enemy. Any grit that you trap inside the CV is going to destroy it quickly.
Work on yours in a clean area and make sure all the components are clean before
reassembly.

4) We clean and inspect our CV's after every race. We replace any parts that are showing
signs of scoring or pitting; a CV failure during a race is a very bad thing......

Overview and Checklist
Post Race Disassembly
Post Race Inspection
Repairs and Preventative Maintenance
CV Polishing and Prep.
Suspension Tuning