26 December, 2019
While I'm still "on the payroll" for a few more days, I've been effectively retired from airline flying since 7 December. I've had a couple of days to do things I want to do but there are literally hundreds of details surrounding retirement in addition to family matters that have required my attention..... Hopefully, that'll be behind me in the new year and I'll find some time to work on my new airplane project and our Lothringer pre-runner project. Trevor and I spent a few minutes on Christmas day looking at and measuring the Lothringer's steering setup - we're going to fabricate the tie rods and steering column in the next few days, then we'll clean and paint the chassis so we can final install the steering and suspension. Once that's done, we can mount the hubs, brakes and wheels to begin the process of "plumbing" the brake lines. After that, we'll plan the next stage of the build - time and money will dictate the direction we go.
We had planned/hoped to go to Baja for a week over New Year's - our traditional first Baja trip of the year but unforseen family issues make that problematic. Oh well, I'm retired; we can go another time.
17 December, 2019
Trevor and I spent part of the day removing the engine and transaxle from his Baja Bug; the engine is perfect but he wants to change the gear ratios. At present, 4th gear is too low for freeway driving and while that's not the primary use for the car, we need it to run a reasonable RPM at 70 mph.... We delivered the transaxle to Rick St.John at Power Box today for modification; hopefully we'll have it back before too long. While the engine and trans are out of the car, we'll do a little more work on the CV's to make sure we don't have any binding issues. We had originally done a very mild "race prep" on them but now we're thinking we'd like to go a little further with that.
09 December, 2019
Well, it's been a busy few weeks. We supported Base Camp Off-Road at the 2019 Baja 1000 in November - the rain, mud, bottlenecks and engine trouble forced an early end to our race. Things were looking good until Race Mile 277 but then we had engine trouble for several hours that stopped us from going further. After exhausting all the available troubleshooting options and running out of flashlight batteries (it was the middle of the night, pitch black and REALLY COLD), John and Brian were forced to retire down the mountain towards the nearest pit they could actually get to (Baja Pits #6, 27 miles back). By then, enough time had elapsed that it was no longer possible to earn an official finish and pushing John and Brian back into the dark mountains made little sense to us. Prior to the start, we knew that the heavy rains preceding this already challenging race would make finishing very difficult at best; ultimately our unresolved engine troubles eliminated any real chance of doing so. The team leader, Matt, made the difficult but smart choice at about 4 am and had the nearest chase crew go meet the car and put it on the trailer..... The "finish rate" at this race was unusually low (about 45% for 4-wheel entrants) and only one 5/1600 car earned an official finish. Disappointing to say the least - the Base Camp Off Road guys came all the way out from New York and we really wanted to get them a "finish".......
On another note, I flew my final flight as a Boeing 767 Captain on Saturday, December 7th (airline pilots have a mandatory retirement age of 65 - I'm a little over a year shy of that but for contractual and personal reasons, I chose to retire a little early) . I Captained flight 3713 from Indianapolis to San Diego and landed at Lindbergh Field around 6:21 pm. I was surprised when, at almost every air traffic controller frequency change along our route, they congratulated me by name on the radio! In my 33 years as an airline pilot, I had never heard that done before! I'm not ashamed to admit that I shed a tear or two after we landed, taxied in and were treated to a "water canon salute" by the airport Fire/Rescue department. This "salute" has been a traditional airline pilot retirement event, at least until recently; the environmental extremists have dictated that "we can't add to the runoff stream" with this sort of thing any longer. Thanks to Scott, Eliot and Brad for pulling strings to get around that for me! My family, friends and several fellow crewmembers greeted me as I parked the airplane for the last time; it's a bit surreal and it's going to take some time to sink in.....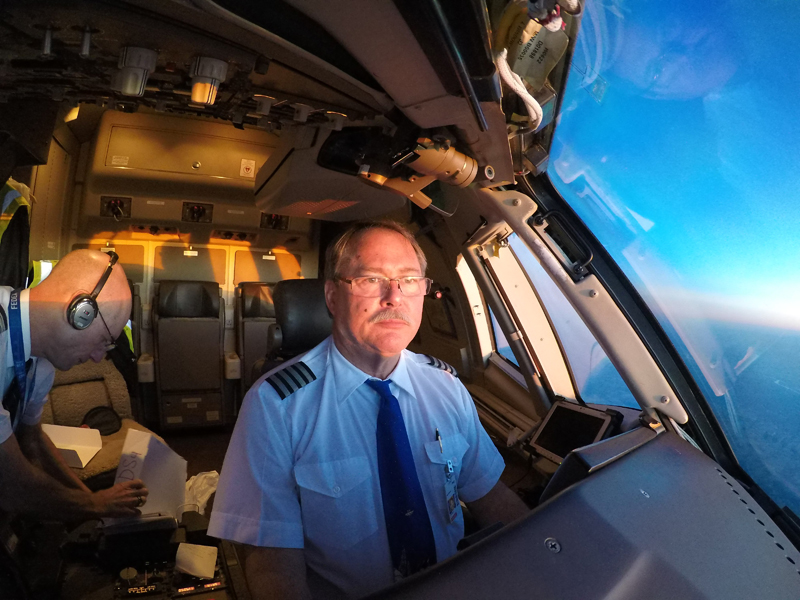 Somewhere over Oklahoma, Texas or New Mexico on my final flight as an airline pilot on Saturday, 12/7/2019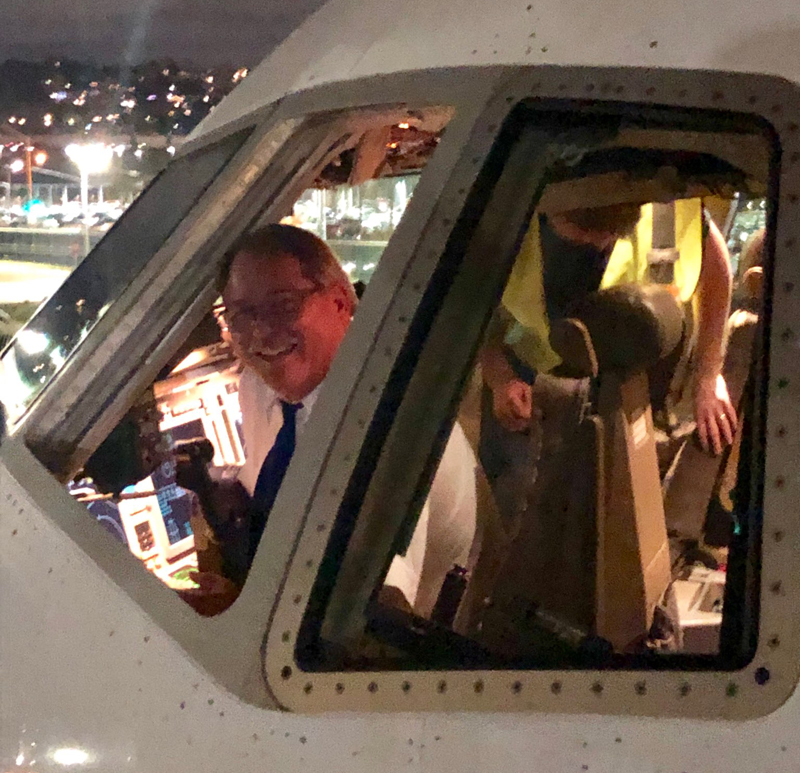 Parked in San Diego after my last flight - Trevor getting into the copilot's seat for a photo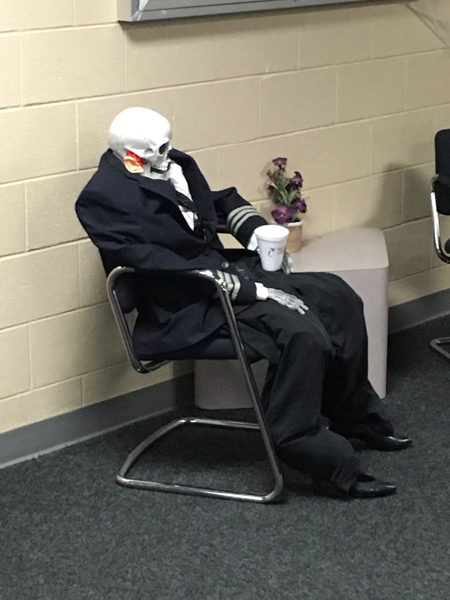 This guy waited too long to retire, I didn't want to be like him......
07 October, 2019
Gonzo Racing will be supporting "Base Camp Off-Road" and their 5/1600 car at this years' SCORE Baja 1000 and now that the course map has been released, we're beginning to plan the race/chase/fuel/driver change/pit strategies. Without the actual GPS course trail, we can only begin the planning; we'll decide on the overall plan, then adapt that plan to the specifics of the actual course layout. This is a Baja 1000 "loop" race, not point to point; typically loop races are easier to support but this one sprawls over large portions of Baja California Norte and will require at least 4 chase trucks (more would be better). I don't know if we can arrange that many; we may have to leave some sections un-supported by a nearby chase vehicle, knowing that help will be hours away at best.......
Trevor will be driving roughly a third of the race with two other drivers responsible for the remainder. Currently, we think he'll be driving the San Matias/Laguna Diablo/Matomi Wash/San Felipe/El Chinero/La Ventana section (RM 230 to RM 480 or so) - that's all yet to be determined once the actual course file and pit locations are released. That particular section is one that Trevor is familiar with, having raced most of those areas many times. It presents some difficult challenges but the other driver's sections have challenges of their own.....
19 September, 2019
Now that the car is at home, I've been able to wrap up some of the "loose ends" - little things that weren't "show stoppers" but that needed doing eventually. The turn signals and emergency flasher now work for the first time in years; no big deal for off-roading but necessary for street driving. We had noted some oil leakage from the valve cover bolt heads so new "O" rings were installed. The fuel level gage wasn't working and the HI/LOW headlight switch had a mind of its own - resolved. Some minor body trim issues were also resolved and the "trunk" area has been cleaned up and organized with spare tire, jack and battery powered compressor. The transaxle will need to come back out of the car eventually; the 3rd and 4th gear ratios are too low for sustained driving above 55mph........
07 September, 2019
Trevor and I are bringing the Baja Bug Prerunner home today; it's been about 7 months since we started the update project and it's nice to see the end result! We still need to do some tuning of the new suspension and engine to get everything set properly but the car is ready for initial testing now.
05 September, 2019
I spent the day at the shop working on some final details on the Baja Bug Prerunner project. I had a list of little things that we wanted to do before bringing the car home: check the exhaust headers for leakage (a "type 4" thing), adjust the valves again, check the transaxle oil level, trim some overly long bolts that protruded from the bottom of the "pan", complete the wiring of the headlights/front turn signals and replace the turn signal switch. All went well except for the turn signal switch - it worked perfectly for about 10 minutes, then stopped working...... I took it apart and found that the plastic parts had cracked and rendered the switch unusable (it was a part that we'd had on the shelf for years....). I also removed the emergency flasher switch to check the wiring and it fell apart in my hands - guess I get to replace that as well as the turn signal switch!
31 August, 2019
Today was a big day in the Baja Bug Update project; It's all back together and Trevor drove it around the shop area for 15 minutes or so to verify that everything worked as expected, the transmission shifted normally and that we didn't have any oil leaks. 100% success!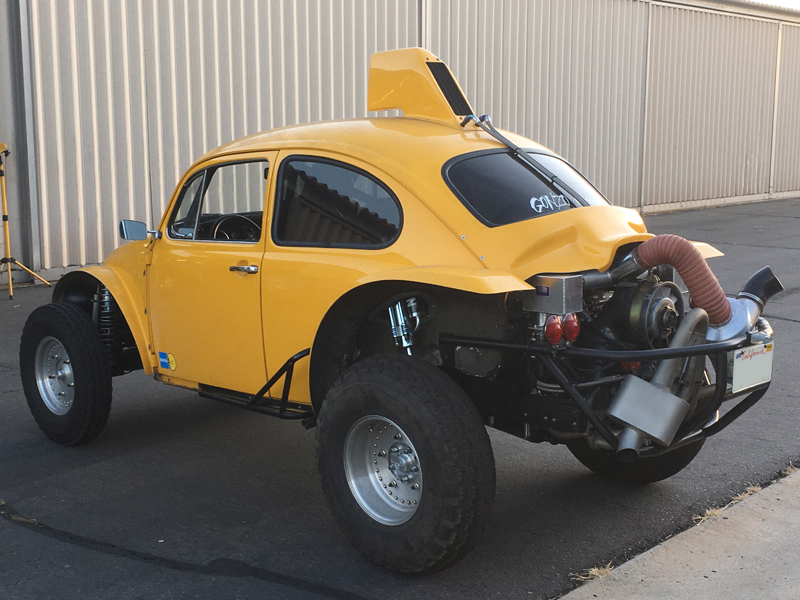 Back Together and Running!
Now that the fabrication and assembly is complete, we can focus on "fine tuning" the new suspension and engine for optimum performance. Ideally, we'll get the car on the dyno to get the carbs jetted perfectly but it runs fine for now. We'll spend some time adjusting the suspension when we get it off-road; that may be a ways down the road when the weather is cooler. We ran the car from both fuel sources - the stock fuel tank and the new fuel cell with no problems drawing fuel from either. There are a couple of small electrical details to tidy up and some bolts protruding through the floor pan that we want to trim shorter but otherwise, the car is done!
29August, 2019
Trevor and I met at the shop after work today and finished "tabbing" the rear bumper for brake lights and air filter mounting. I put our new mill and lathe to good use before Trevor got off work - the skid plates required fabricating spacers so that when bolted to the bumper and frame horns they fit correctly. The new transaxle/engine mounting location meant we couldn't use the old parts and having a lathe and mill made it easy to fabricate what's needed now. The new engine location also required a new throttle cable (longer) so I installed a new heavy duty cable and double "barrel" clamps at the carburetor linkage. Then, I adjusted the "shift shaft" a bit to get the shifter working smoothly and all the gears available (stock shifters are indexed at the factory and don't require any fiddling as long as the coupler isn't worn out; ours is custom made and allows us to adjust the length and "clocking" - nice but more work to set up). Once Trevor arrived, he final welded all the tabs on the rear bumper and painted it; it'll be ready to "final install" when we work on it again Saturday. We also spent a bit of time trying to decide how to trim the "deck scoop" to fit with the new UMP air boxes installed. Trevor has an idea that retains much of the deck scoop but we'll just have to see how it works out..... Photos to come later.
25 August, 2019
Trevor has been coming to the shop after work every day this week; he's been finishing up the rebuild of the Type 4 engine for his Baja Bug and wanted to get it installed and do the first run today. I've been out of town all week so today was my first opportunity to see his progress.

Overhauled Type 4 engine ready for installation
We spent the entire day installing the engine - there were lots of little details to work out due to the new mounting location and air box configuration. Our new Bridgeport mill was put to good use making some throttle linkage parts that were needed with the new UMP Air Boxes. We also had to make a custom primary ignition lead due to the increased distance between the distributor and coil. After adjusting the valves and adding oil, we were careful to ensure that the oil pump was primed and creating good pressure before the first start. Once we got the timing in the ball park, it started right up and ran smoothly!

Engine installed and First Run complete
17 August, 2019
Trevor finally has all the parts he needs for the Baja Bug "Type 4" engine rebuild; the cam has been the holdup for weeks and he finally cancelled the original order after repeated delays and promises that came to nothing. He ordered his cam from another vendor and it was shipped and received the following day...... Now that we have all the necessary parts, we spent today reassembling the engine. We were able to build it to a little more than a "short block" condition before we had to call it a day (we were only able to devote about a half day to it and we had some clean up and machining to do in addition to assembly) - we'll finish it up with a few hours' work next time and we'll post photos then.
16 August, 2019
I just got home from a week of "you bet your job" in the B767 simulators in Memphis this morning - my last training event before I retire in December. That's a relief, but I had to hit the ground running when I got off the airplane after being up all night; we bought a Bridgeport mill and it's being delivered today so no nap for me! I headed to the shop to await its arrival - it finally arrived a couple of hours later than promised but that's life in the big city and I'm just happy to have it in the shop! We set it in place and I started getting it wired and ready for use - it's not new but in great shape and usable as is but I'll be cleaning it up, getting it "trammed in" and adjusting all the gibs to get rid of as much "slop" as possible. Given its age and history, it'll never be as "tight" as it once was but it'll be fine for our needs. We may still adjust its location but for now it sits next to our Logan lathe along our "machine shop wall".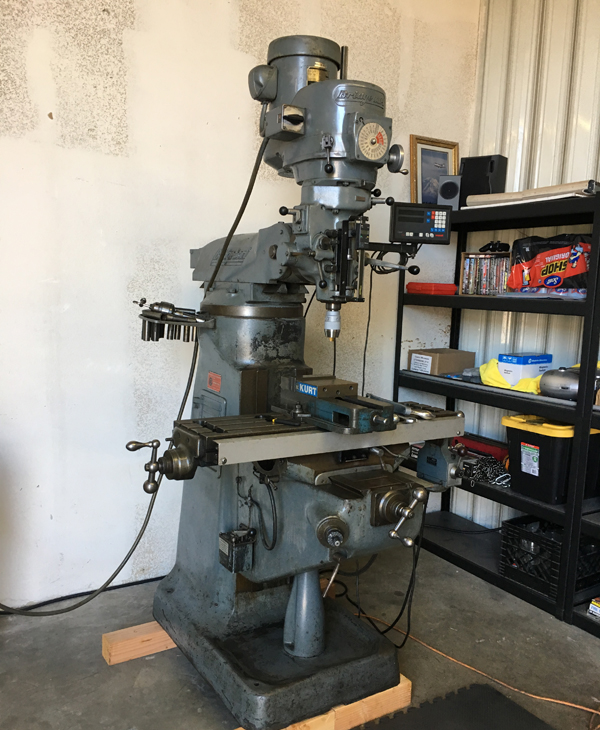 Our "new" Bridgeport Mill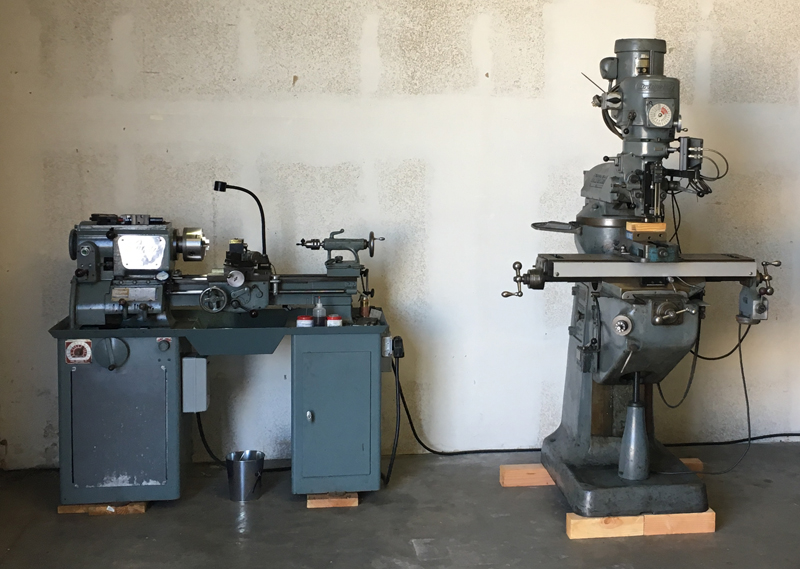 Our Logan Lathe and Bridgeport Mill
The machines are sitting on wood blocks for now; I'll make adjustable feet for them so we can level them and ensure that there is no "twist" being introduced by the uneven floor they're sitting on.
11 August, 2019
We spent the day at the shop finishing up the rear bumper on Trevor's Baja Bug along with re-plumbing the clutch slave cylinder and the fuel lines. Trevor added a selector valve so that he can choose which fuel tank to use - the stock fuel tank for normal street driving or the fuel cell for long distance off road trips. The fuel cell will normally be empty for street driving but would become the primary fuel tank and the stock tank a reserve supply when off road. We also rearranged a portion of our shop to make room for a Bridgeport mill that we expect to acquire in a week or so.
04 August, 2019
Trevor and I spent today at the shop - designing, fabricating and installing a new rear bumper for his Baja Bug update. The new transaxle/engine location requires that a new bumper be fabricated and Trevor wanted to change to an "old school" look anyway.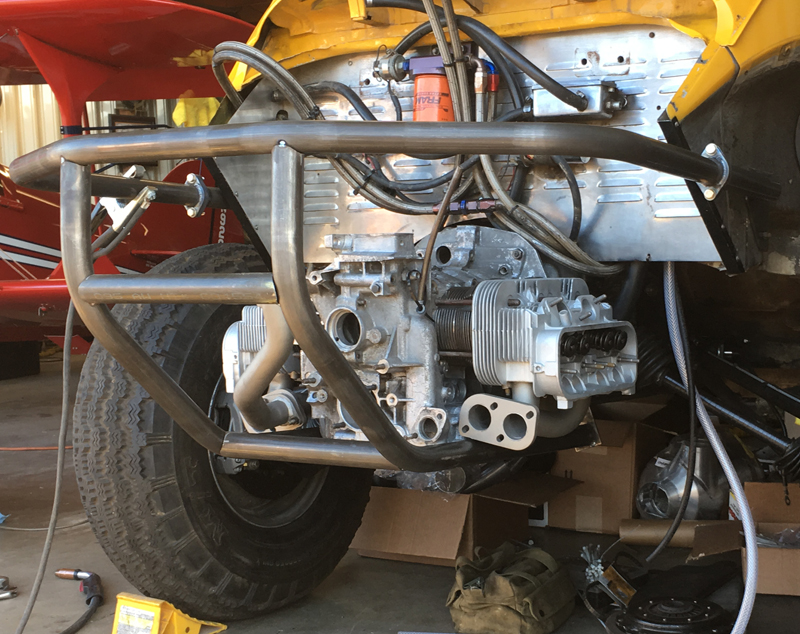 New Bumper basic configuration
The photo above shows the basic structure of the new bumper tack welded in place - we'll add side impact protection tubes once we completely "mock-up" the engine and exhaust so we can see what's needed. It took us most of the day to get to this point; designing, bending, hand fitting, aligning and making new upper and lower bumper mounts required problem solving at every step......
02 August, 2019
I spent a little time at the shop today - finalizing the brakes and wiring the fuel cell quantity gage. The interior is now complete and if the engine was ready, we could drive the car tomorrow..... We still have a rear bumper to fabricate along with the details that go with it - new brake/turn signals, license plate and skid plate mounting provisions.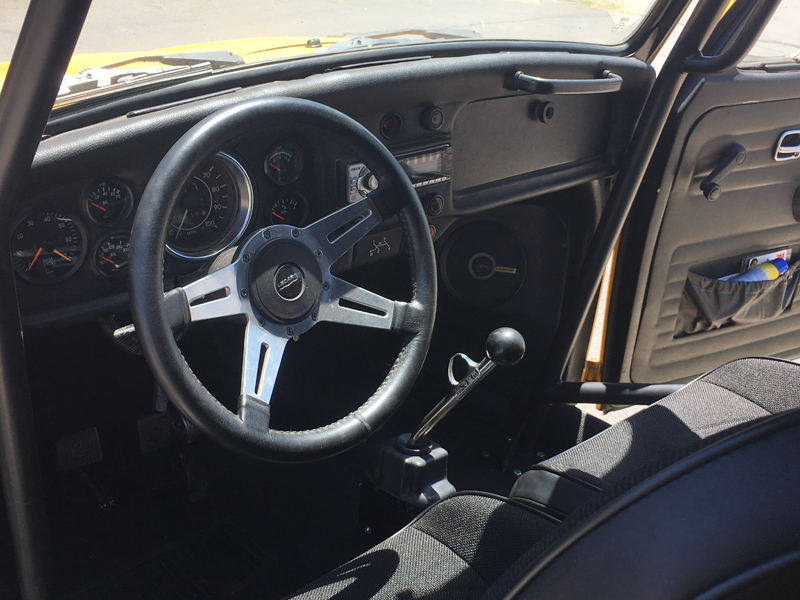 Interior all put back together

Newly re-covered seats installed
20 July, 2019
We spent most of the day at the shop working on the Baja Bug update. I had done a preliminary brake "bleed" during the week and wanted to see how they felt today; not good - we immediately saw that the left rear caliper was leaking from the body somewhere. We checked all the fittings and bleed screws - no leaks there. It appears that the caliper body is leaking somewhere, one of the piston seals is the most likely problem. This is a bit frustrating - these are new SACO calipers. I guess we'll have to remove it and see what we find.
On a positive note, we finalized the fuel cell installation with the plumbing and wiring complete and routed through the body. Once that was complete, we reinstalled the rear glass; we had removed all three windows for access during the cage construction. Moving along, we fabricated an aluminum cover for the exposed shift linkage then reinstalled the carpet in the rear seat area. Next came reinstallation of the newly refurbished front seats - that required that we make some spacers to install under the seat frame rear legs to adjust the seat angle to a more upright position for both driver comfort and cage clearance. Photos to come.
14 July, 2019
Trevor and I spent a half day at the shop working on his Baja Bug update. We finished prepping the CV's for better performance, then assembled, greased and installed the axle assemblies. We were pleased to find that with the rear suspension on the bottom stops, we had no binding of the CV's and don't need to limit the rear suspension travel. We may still install "limit straps" but only to keep the suspension from banging onto the bottom stops when it "unloads". We also began designing the new rear bumper.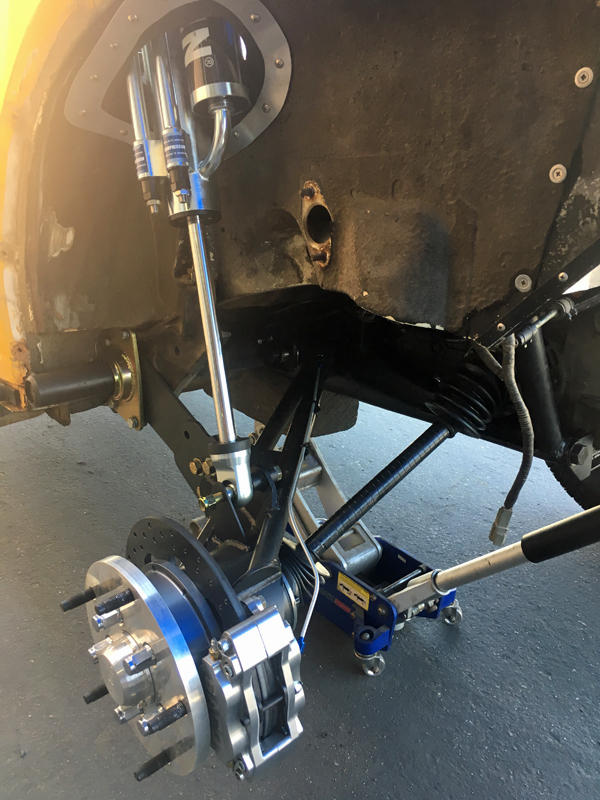 Rear suspension and axles installed "final"
06 July, 2019
Trevor and I have worked on the car several times since my last entry and we've made considerable progress; The roll cage is complete and painted, the fuel cell is installed, the shocks are installed and the brakes are plumbed and ready to bleed. We've prepped and polished the new CV's, inspected and polished the axles (race care parts that had been replaced and then used for spares) and are ready to install them next time. With the cage and fuel cell installations complete, we can reinstall all the glass we removed and begin the process of plumbing and wiring the fuel cell, followed by reinstallation of the interior and seats. Once those things are done, there will be a bunch of little finishing details to attend to but the majority of the udpate will be complete. The only thing left will be to rebuild the engine and reinstall it. Nearly done! Photos to follow.
22 June, 2019
Trevor and I spent a half day at the shop today, fabricating and installing the roll cage to frame horn support structure. That completes most of the fabrication portion of the Baja Bug update; now it's simply a matter of painting the roll cage, reinstalling the glass, reassembly and installation of the engine and building a new rear bumper. I forgot to get any photos today.
20 June, 2019
Spent today working on the Baja Bug update shifter installation; with the Bus transaxle in a beetle body, it's necessary to run the shift tube above the "tunnel" and that requires some adapting of the actual shifter to make it all mate up properly. I also spent some time doing a little shop clean-up; my tools were scattered all over the floor and we were spending more time looking for tools than actually making progress......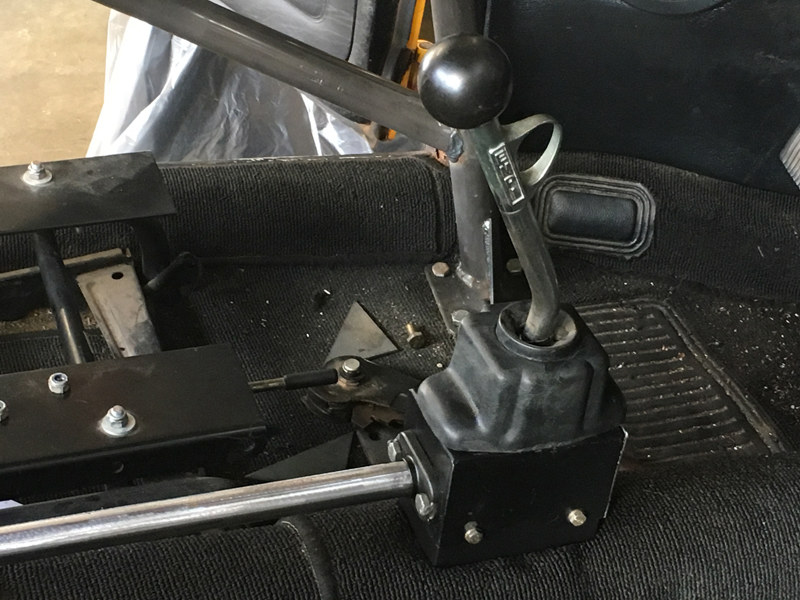 New shift box location
8 June, 2019
Good progress today; we picked up the rebuilt transaxle yesterday and spent today fabricating mounts for and installing it. We didn't go "full race" with the installation; it's destined to be a pre-runner so we dialed back our ambitions a bit..... We've tried to make the installation as secure and off-road capable as possible but didn't attempt to optimize it for racing. There are performance gains to be realized but their price (in time) isn't justified in a pre-runner.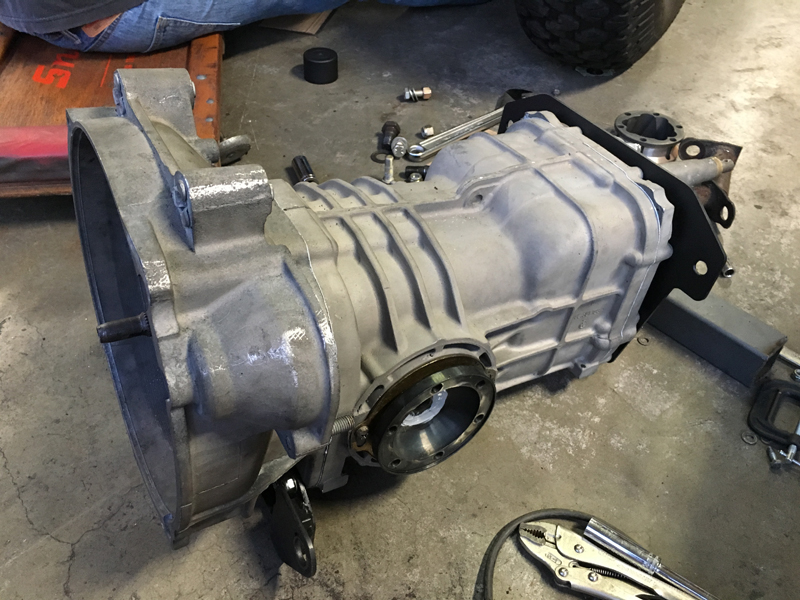 Trevor's "002 with 091 bell housing" transaxle
5 June, 2019
Since our last update, Trevor has disassembled his Baja Bug Type 4 engine for overhaul and dropped the parts that need some machine shop attention at Paradise Motor Sports. He has a new cam and lifters on order - hopefully he'll have everything ready for reassembly in the next couple of weeks. His transaxle is nearing completion at "Power Box" so we should be able to begin designing and fabricating the mounts and shift mechanism soon.
I've been working on a recent shop acquisition - a 12" Logan Lathe. Mechanically, it's in great shape - I just wanted to clean it up, change the gear oil, adjust the gibs, lubricate everything properly, replace the drive belts and do a little re-wiring. As received, the 3-phase motor was wired to use the forward/reverse selector as the start/stop switch - it was bypassing the "Furnas" magnetic starter completely. This meant that the normal start button and brake switches were not functional and the fwd/rev selector was carrying electrical loads it wasn' really meant to handle all the time. In addition to installing a phase converter to provide the necessary 3-phase power, I replaced the old magnetic starter (it was set up for 440 volts and wouldn't actuate with 240 volts - given its age, I chose to replace rather than tinker with adapting it) with a newer 240 volt unit and rewired the start button and brake lever switches to provide the correct start/stop functions. Now, the fwd/rev selector does only that and the magnetic starter carries the big electrical surges encountered when starting and stopping - it all works correctly now. We'll need to rearrange the shop a little to make a permanent place for it; it's currently just sitting where we unloaded it.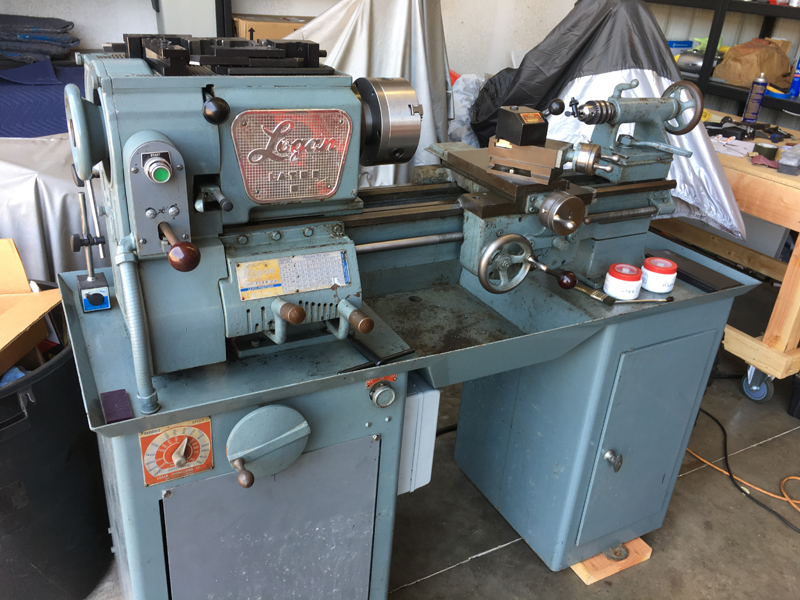 Our 1968 vintage Logan 12" lathe
25 May, 2019
Today was "roll cage fabrication day" on Trevor's Baja Bug update; we cut, bent, fitted, welded and gusseted the entire roll cage today. We now have a safe structure to protect the occupants and to carry the rear suspension shock loads. It's really nice to have the right tools to do this job - when we built the 5/1600 car, we used hack saws and a manual tube bender..... With our hydraulic tube bender, plasma cutter and hydraulic press brake we were able to do in one day what took several days previously. Having done this before may also have helped......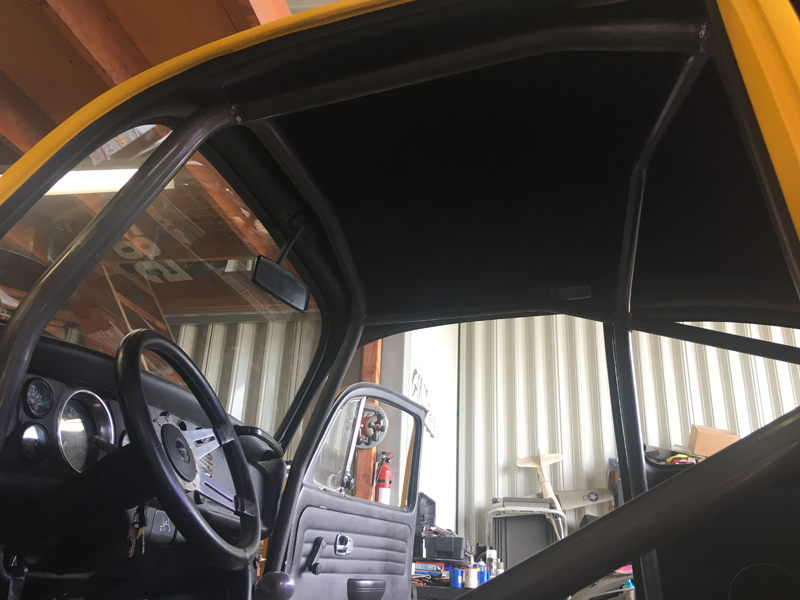 Occupant area roll cage elements
18 May, 2019
Trevor and I wrapped up the microstub install today; we greased the stub axle splines, torqued the axle nuts then installed split pins to secure them. Following that, Trevor fabricated and installed the IRS pivot pin locks. With the rear IRS conversion complete, it was time to move on to creating openings for the new shocks in the wheel well areas then fabricating and installing the roll cage structure. We have a good start on the roll cage with the "B" pillar, rear diagonal hoop and its support tubes. We have much more to do on the cage structure but we ran out of tubing.....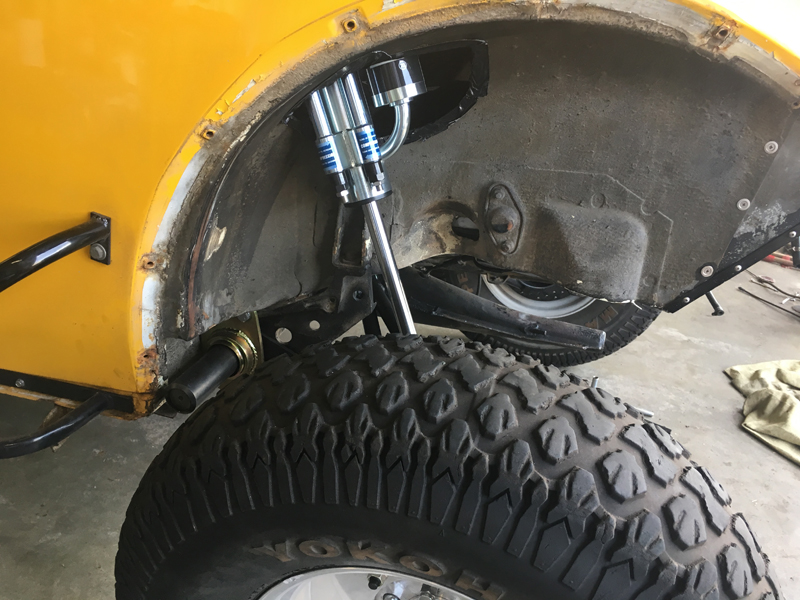 Left side rear shock installed for reference while building the cage structure
11 May, 2019
Big day at the shop - Trevor and I were able to final install all the IRS suspension components (less the shocks) and get the car back on the tires. We were able to get the component blasting done during the week and I painted everything immediately afterwards so the paint was dry for final assembly today.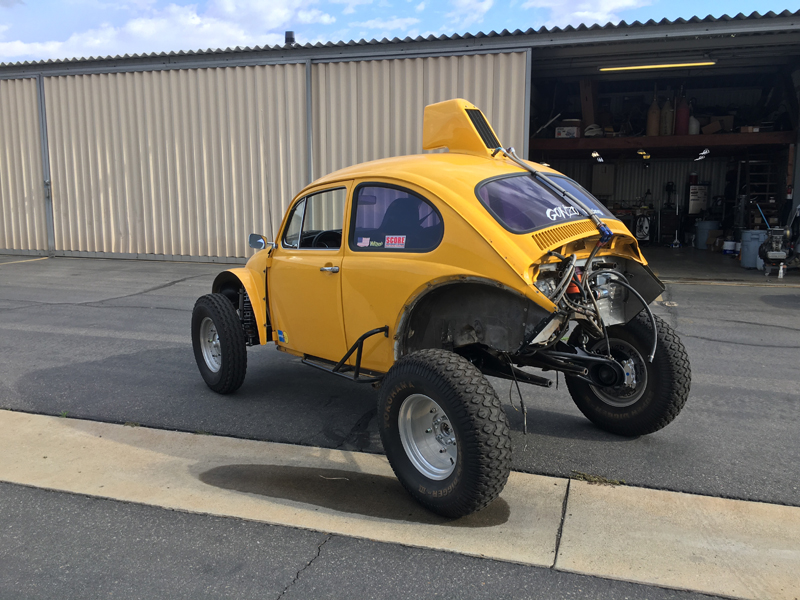 Back on the tires with IRS suspension
04 May, 2019
Trevor and I worked on the Baja Bug update project today; we finished the IRS inner pivot installation, crack checked the IRS spring plates (old race car spares) and repaired the drive's side rear trailing arm we are using (a race car part that was damaged at the 2012 Baja 500 roll-over and used as a spare afterwards). Next, we'll take the old "spares" to Custom Aircraft Parts (my brother's shop) to bead blast them in preparation for paint. Once the paint is dry, we can begin the actual final install of all the new rear suspension components and get the car back on the wheels! Next will be the installation of the new "bus" transaxle - that will require fabricating new mounts and running a new shift linkage above the "tunnel" (we're not going to use a "10 degree mount" for several reasons).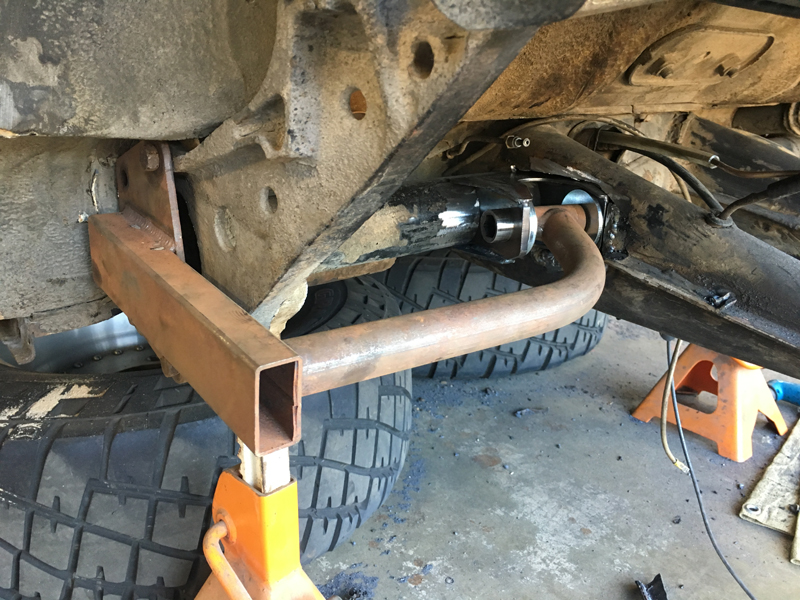 Driver side IRS inner pivot located with a jig
27 April, 2019
Trevor and I spent the day removing the engine and "swing-axle" transaxle, then began fitting the driver's side IRS inner pivot before calling it a day. The project is moving along fairly quickly - we've done much of this previously when we built the race car so not much we haven't already seen....

Type 4 engine and "swing-axle" transalxe removed
15 April, 2019
Trevor and I spent all day on Saturday finalizing the front end on his Baja Bug update - the steering is installed and adjusted and we modified the fuel tank to fit around the new steering box. Trevor test drove the car around the shop area and says the steering works great - just like the race car before power steering. The fuel tank mods were challenging: we wanted to retain as much capacity as possible while eliminating the interference issues and we need it to be "leak free". In the end, we were able to fit the tank in the stock location with minimal loss of capacity. We leak checked all the welds before adding any fuel; it took several tries to close up all the little leaks but now, after a couple of days with fuel in the tank, we don't see any leaks. This is an area that we'll keep our eyes on for a while.....
I picked up our "new" shop lathe today - a 1960's vintage Logan Lathe. I need to wire in a "phase converter" so we can run the 3-phase motor off our "single phase" 220 power at the shop. Hopefully, that'll be fairly easy......
07April, 2019
We've had a bit of a break from the Baja Bug update project - I spent nearly the entire month of March in Memphis learning a new airplane for work (Boeing 767) and we were waiting on SACO to manufacture and ship our somewhat unusual "offset input" steering rack. We could have purchased a standard "center steer" rack off the shelf but that would have forced some fairly acute steering shaft angles and the resulting potential for binding and excess "slop"..... The rack finally arrived just as I returned home from Memphis so we're back at work on the project.

New "Rack and Pinion" steering unit fitted but not "final installed"
We still need to add a steering shaft support bearing near the universal closest to the steering wheel and secure all the hardware.
17 February, 2019
Trevor and I have been steadily making progress on his yellow Baja Bug conversion; the link pin suspension conversion portion is essentially complete but we are waiting for the new steering rack to arrive so we can finalize the steering geometry. We are also awaiting the arrival of new front wheels/brakes so we can get the car back on the tires - his existing wheels will not work with "combo spindles". Soon, we'll have enough spare parts left over to build another car.....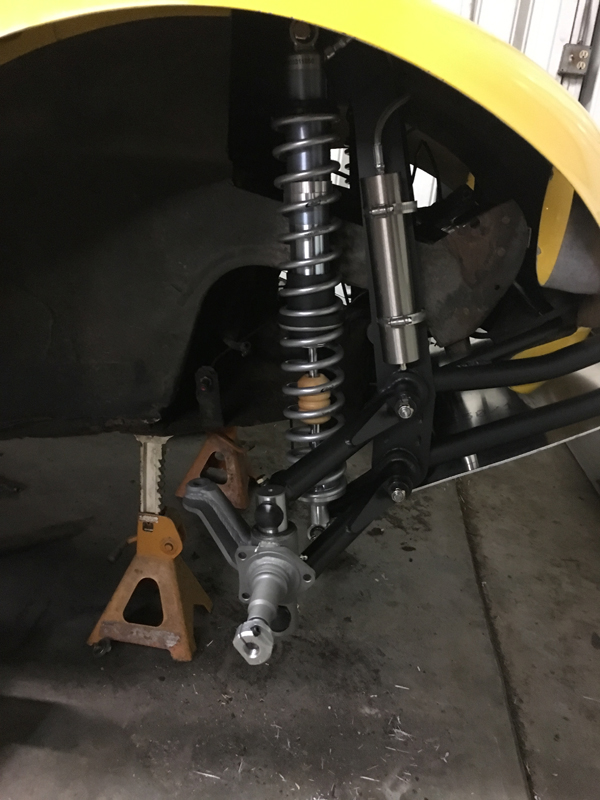 New front suspension complete and ready for wheels/brakes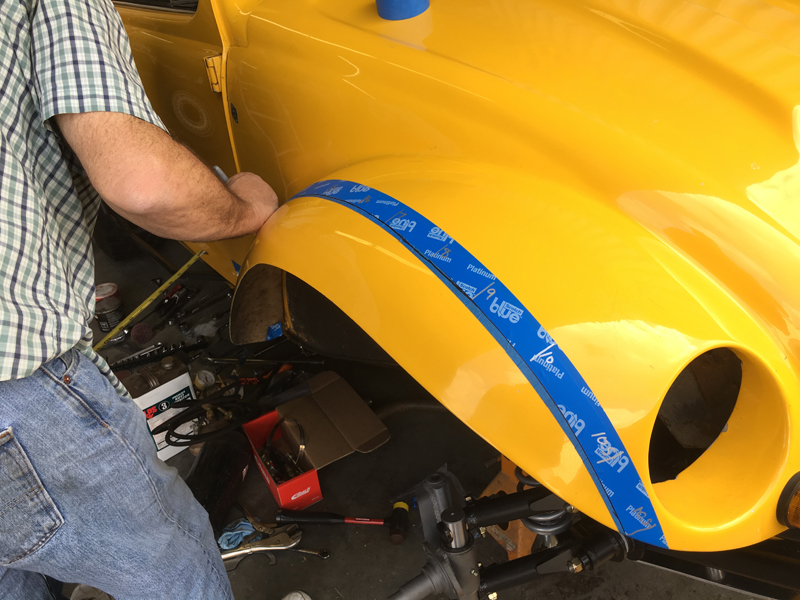 Marking for "fender reduction surgery"
The new suspension allows nearly 10" of travel and would create tire/fender interference problems without some trimming.
We were able to avoid the need to cut clearance holes in the hood for the upper shock mounts - it's a tight fit that required
a bit of "massaging" to get right......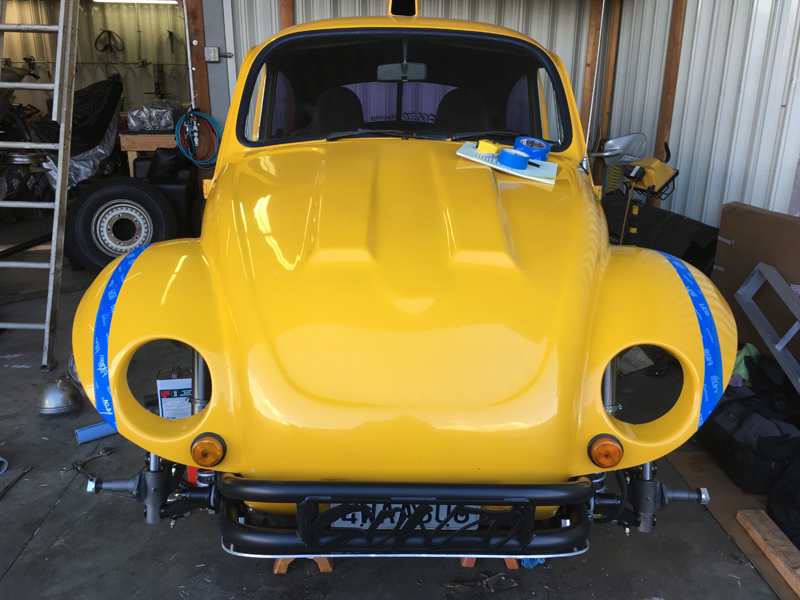 Original fender shape with tape marking proposed trim line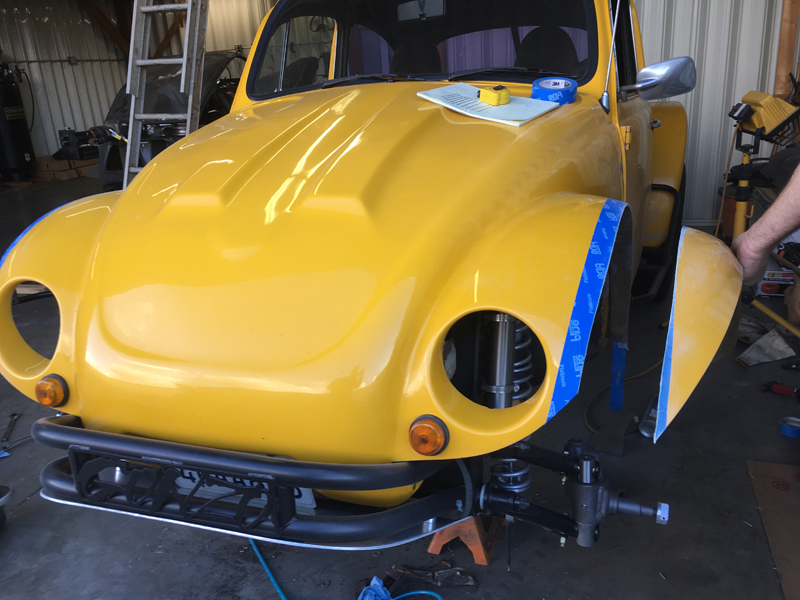 No going back now....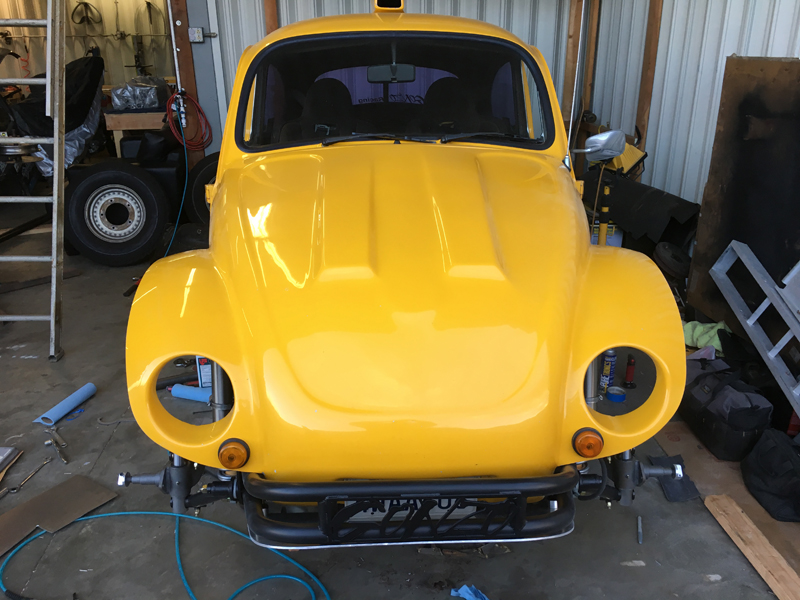 Final fender shape - I really like the new look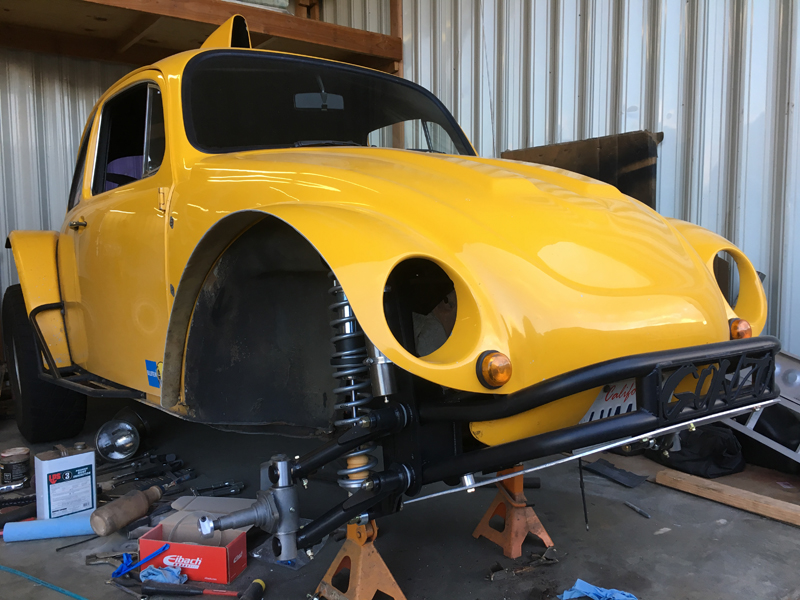 Final trim shape block sanded and edges smoothed.
We gained all the clearance we needed and still have a "finished" look.
04 February, 2019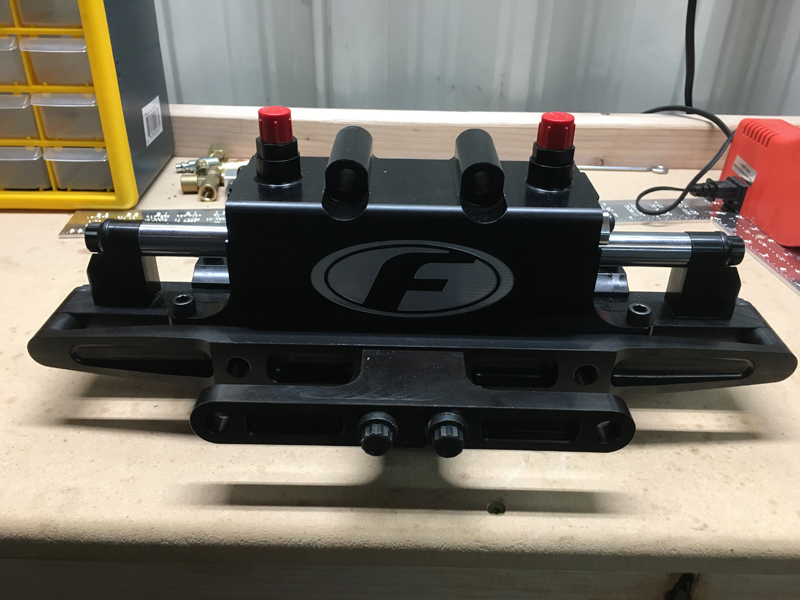 Our Fortin 2.5 Power Rack

Trevor and I made a run to McKenzie's on Saturday; the pre-runner has been sitting in Trevor's garage since we brought it home in September and we haven't had time to work on it between the Baja 1000, work and school commitments...... We've been wanting to get it to a "roller" condition and some of the first things we need for that are the rack and steering control valve. Now that they're on hand we can mount them up, then fabricate the steering shafts and tie rods. Once those are installed, we'll make and install "spring carrier simulators" and install wheels/tires so that we can roll it around as necessary.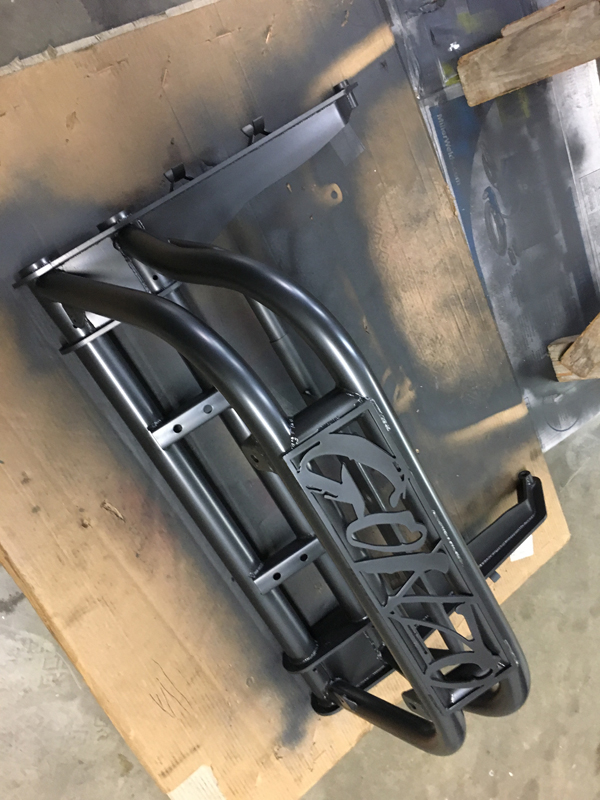 New Baja Bug Bumper/Beam for the Daily Driver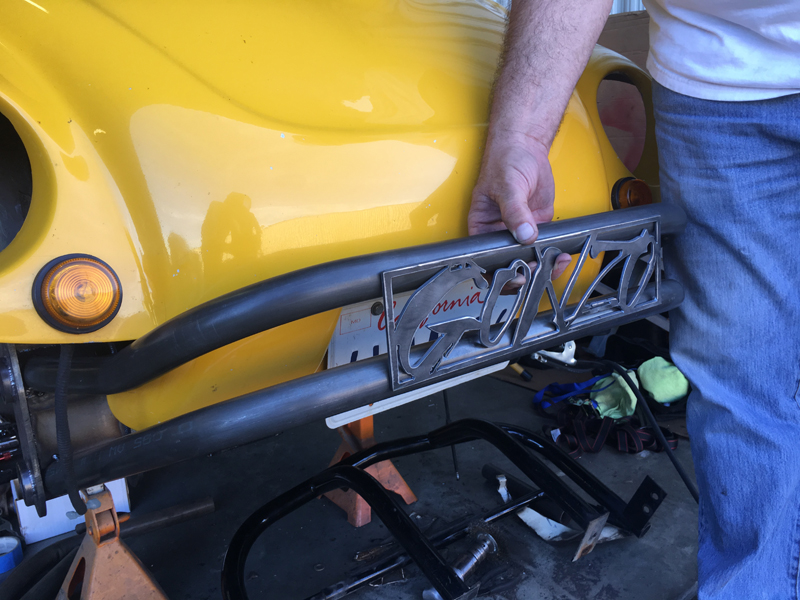 Partially completed beam/bumper mocked up.

Trevor's 1968 Baja Bug has all the least desireable VW suspension elements for off-road use; it has a "ball-joint" front suspension and a "swing-axle" rear suspension. He's always wanted to convert it to "link-pin/IRS" like the race car and now seems like a good time. We've begun at the front end; converting to a link pin beam required fabricating a new beam and installing some "ball-joint to link-pin beam adapters" (we didn't want to change the frame head). As you can see above, the beam and bumper are complete. Now we need to mount it, install the arms and spindles, shocks and brakes, then we can fabricate new steering linkages and tie rods. Hopefully, only a couple more days' work on the front end.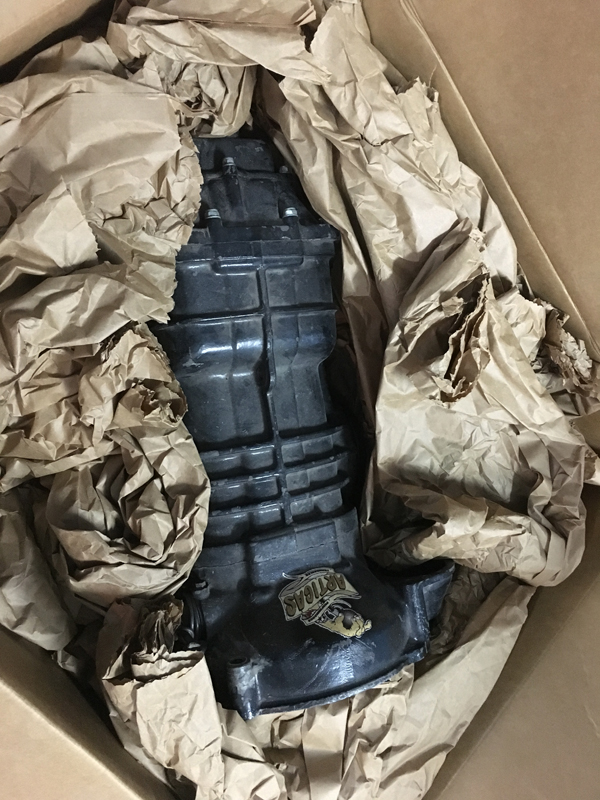 002 IRS transaxle to replace the swing-axle type 1 transaxle

Converting the rear end to IRS is a bit more involved than the front end conversion...... Trevor could use a type 1 IRS transaxle but the bus box is stronger. It will require some mounting provisions that don't exist on the car now, and will also require that the shift linkage be modified and moved to "above the tunnel". We could use a 10 degree mount to avoid the shift linkage issue but that causes other complications in our case (type 4 motor with dual Webbers), so above the tunnel it goes. We will also need to install IRS pivots on the torsion housing/frame horns and we'll "notch" the frame horns so we can set the transaxle as low as possible. We'll post updates here.