11 November, 2018
We spent the day with "BaseCamp Off-road" and their new 5/1600 car - they are a group of great guys from New York who have built a 5/1600 car over the last several years with the goal of competing in the Baja 1000 this year. They stumbled upon this website several years ago and decided it was time to pursue their own racing dreams. Using our "Build" pages as a reference, they put together a really nice car that they've entered in this years' Baja 1000! Trevor has been a main source of information during the build and now that the race is at hand, we're joining forces with them for the actual race. Gonzo Racing will not play an active role in the driving/co-driving but we are supporting them as their "East Side" chase crew (RM135 - RM370, San Matias to Coco's Corner). Today was a pre-race prep. session - Trevor had visited them in New York earlier in the year and saw the car but we wanted to have a final look to be sure it was ready to race. There were a few areas that needed some attention - suspension and shift lever setup along with some very minor changes to the routing of some of the wiring. Overall, the car looked really good and it's ready to race!
We've been concentrating on this effort for a the last couple of months so the pre-runner project hasn't moved forward much - except for some engine work. Hopefully, we'll get back to it once BCO wins the Baja 1000!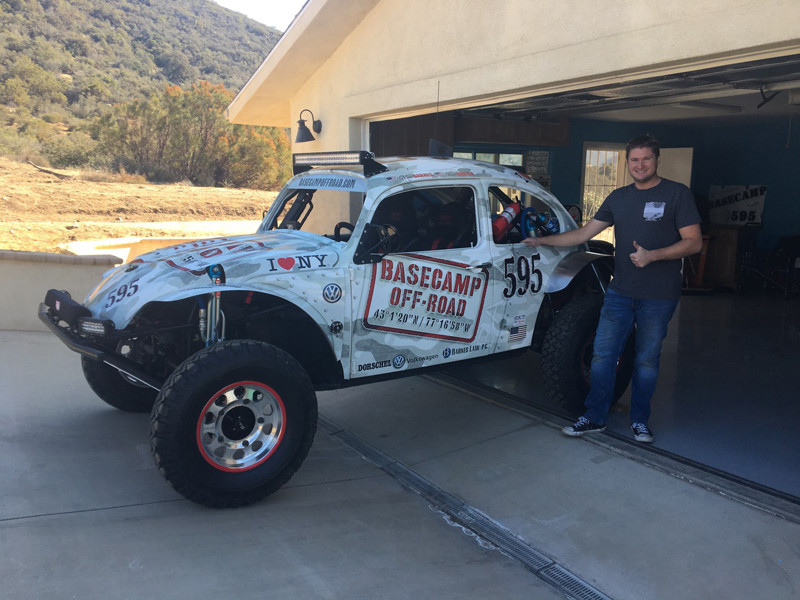 Trevor with Base Camp Off-Road's new 5/1600 car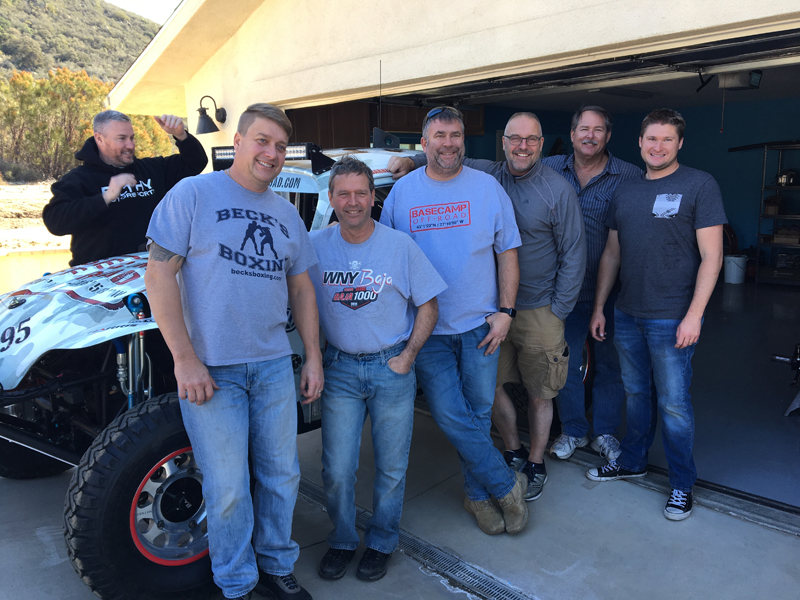 Most of the BaseCamp Off-Road crew (plus Trevor and I)
06 October, 2018
Trevor and I spent the afternoon installing the trailing/control arms on the pre-runner chassis. We're beginning the "initial assembly/fabrication" phase of this project; getting the car into a "roller" condition is the first objective. Now that the main suspension components are installed, we'll fabricate some temporary struts to take the place of shocks, bolt on the hubs, then install wheels and tires. Here are a couple of photos of our progress today: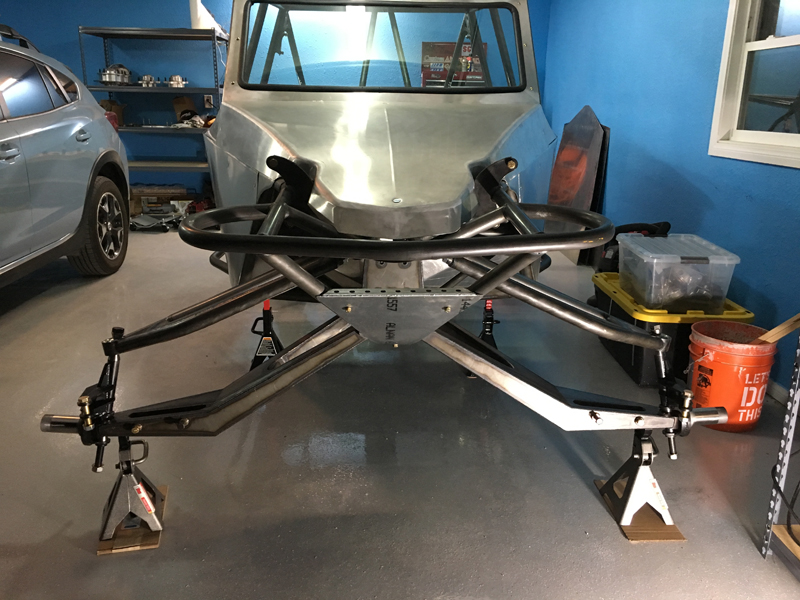 18 September, 2018
Big day for us; we headed up to Lothringer Engineering in Oak Hills, CA and picked up our pre-runner chassis! We're really excited to have it in our hands so we can begin building it up to what we eventually want it to be. We can't say enough good things about Kent and Lothringer Engineering; he took good care of us - all while in the midst of setting up his shop in a new location during the build. Here are a few photos from today (lots of stuff not shown in the photos - Front and Rear Arms, skid plates, etc.):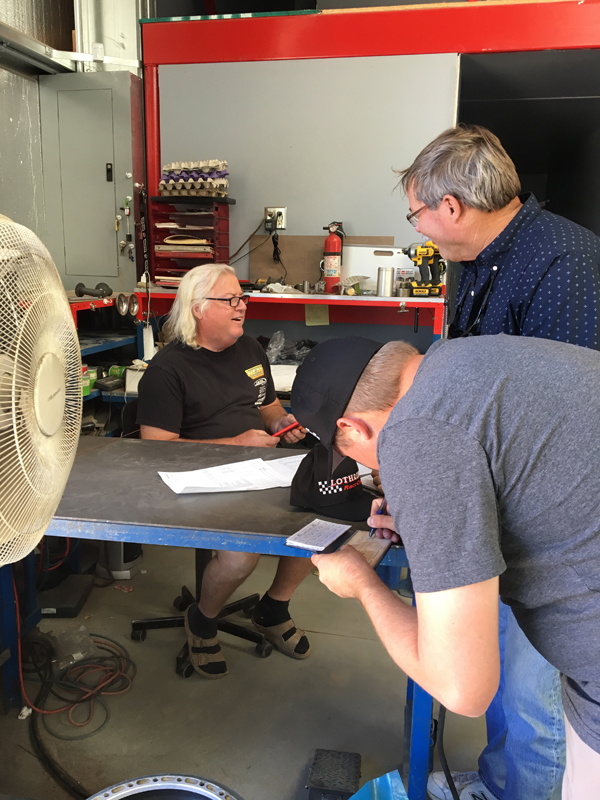 Everybody happy;
Kent getting paid, Mark and Trevor getting our chassis!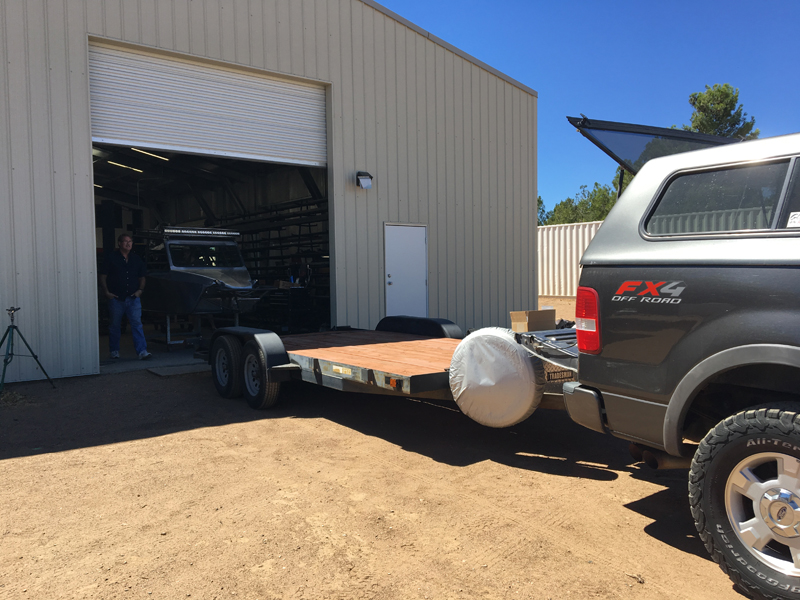 Ready to load on the trailer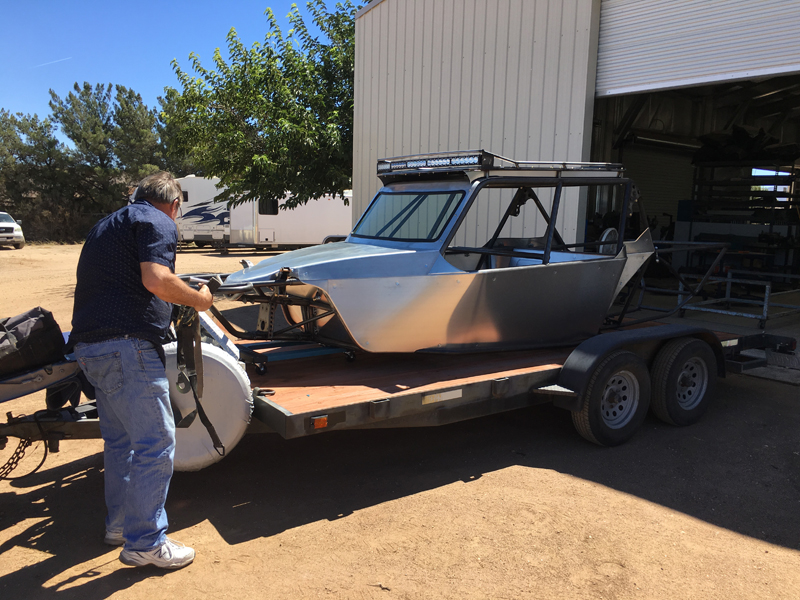 Strapping it down

All strapped up, ready to roll!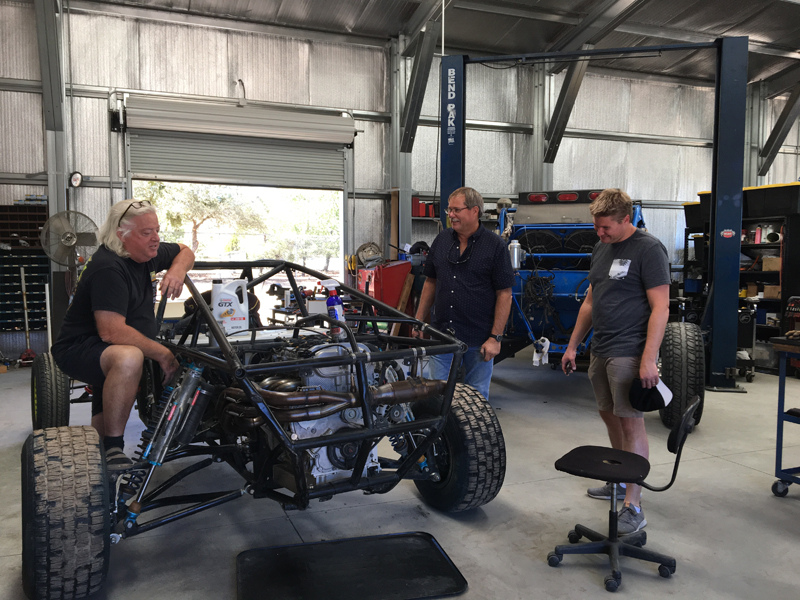 Kent, Mark and Trevor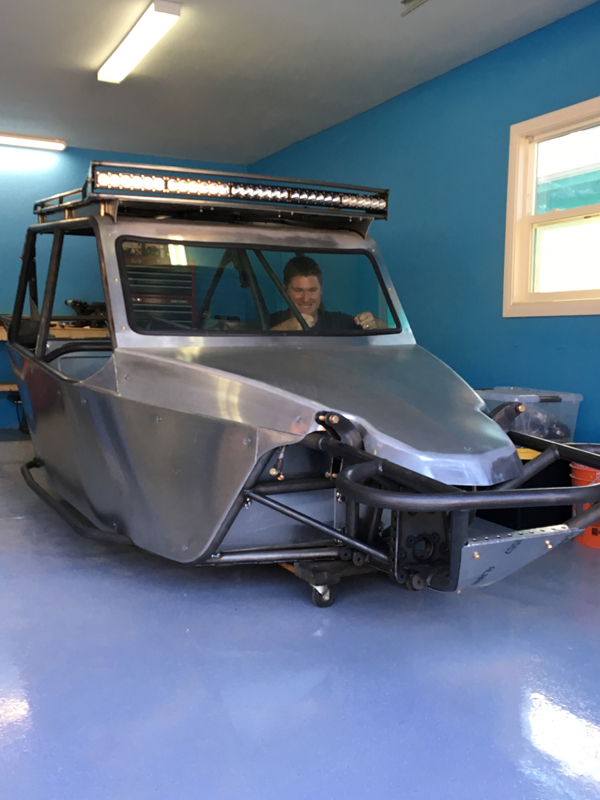 Never too soon to enjoy a new project!
13 September, 2018
Exciting news: our Lothringer Pre-Runner chassis is finished and ready for us to bring home! Trevor and I will be making the drive up to see Kent Lothringer next week and finally bring the project down to our shop for completing all the thousands of little details.....
Kent has been absolutely awesome to work with!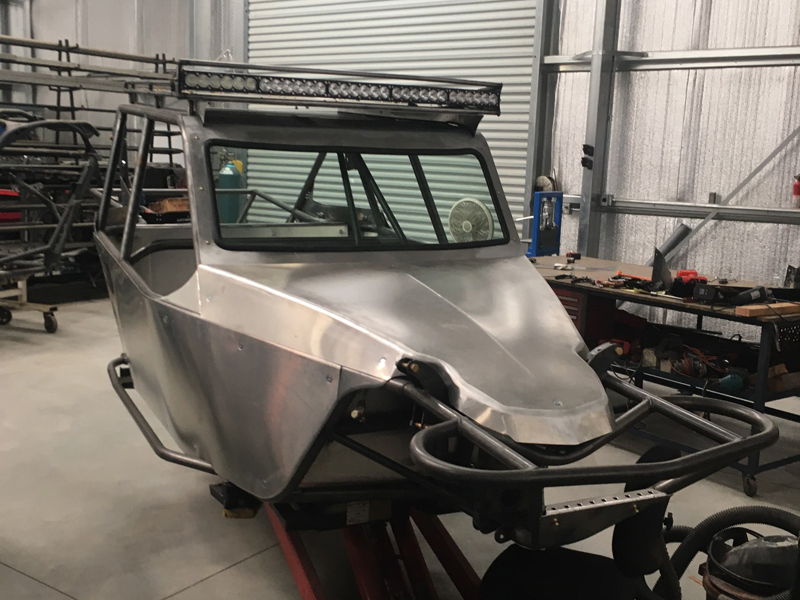 16 August, 2018
Our Lothringer Pre-Runner chassis is nearing completion - hopefully just a couple of weeks left before we can bring it home! I've added a few photos to the Pre-Runner Project "Chassis Construction" pages that show where we're at.
16 June, 2018
We spent the first part of the day running the car at Plaster City for the first time since the 2014 Baja 1000. The car ran and drove perfectly; always nice to know we put it back together correctly!
Our primary "mission" for the day was to do a little training for a new 5/1600 car owner/builder - Matt from Rochester, New York. Matt has been building his own 5/1600 car over the last several years, using our website build thread as a starting point. Matt's car is now nearly ready to race and he intends to enter this years' Baja 1000. Rochester, NY is almost as far from the desert as you can get and still be in the continental U.S. so there is nowhere nearby for him to gain experience prior to the race. Early in the build, Matt contacted Trevor for advice/help and now that the race is only a few months away Trevor made it clear that Matt needed to experience what driving a 5/1600 car in the desert at race speed is like....... Trevor was persistent and, finally, Matt was able to set some time aside to come out for a few days. Trevor picked him up from the airport Friday afternoon and brought him directly to the shop to begin the orientation with our car and support equipment. We spent several hours talking with him about our car and the "why and how" of many of our design choices; I think there were some ideas he hadn't considered in his build that he'll take home and incorporate in his build. On Saturday morning, we all met at the Plaster City OHV area for more talking and some direct experience with running a 5/1600 car. I think it's safe to say that Matt was surprised by how hard Trevor drove the car and how fast it could go in really rough terrain! Ideally, Matt needs to drive his own car in the desert to learn its particular strengths/weaknesses but this at least gave him a taste and a few things to contemplate.....
After the driving experience, Trevor, Kristen and Matt headed to Baja to expose Matt to what he can expect to see and experience in November at the race. There is so much to learn.....
21 May, 2018
Trevor and I headed up to visit Kent Lothringer in Oak Hills, CA today; we needed to collect Trevor's engine so that we could move to the next stage in its overhaul - Kent had needed it to build the chassis around so that we would be sure that everything fit and was correctly supported. It was exciting to see how far along the chassis build was! Kent's guys are in the process of fabricating the body panels and we were interested to watch a little of the work being done. Trevor and I decided to have Kent build a "roof rack" for it in addition to the basic chassis - we obviously could do it ourselves but it seemed better to just have him do it. That obviously adds to the cost but it wasn't significant. Kent is in the process of setting up his new shop and the build is taking longer than we discussed as a result. He feels bad about it and told us that if we wanted to have him buy all the suspension bolts, rod ends, spherical bearings, etc., he'd just charge us for the parts and do the suspension set up for free - sounds good to us! We really like doing business with Kent.
On our way home from Lothringer Engineering, we dropped the engine off at "Danzio"; they'll do the final machining operations before we begin the reassembly process - now we need to source all the little parts needed for that.....
15 March, 2018
Lots of "family" stuff has been keeping us busy and we haven't had much free time to play in the desert recently. Our Pre-runner is coming along at Lothringer Engineering; hopefully the chassis will be out of the jig this week and work on the body panels can begin. We're looking forward with anticipation to the day that we can bring it home! We still have to figure out where to put it once we get it home though...... We may have to rearrange the hangar/shop....